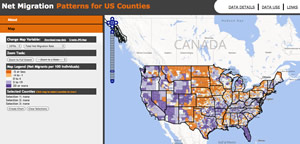 Assistant Professor Richelle L. Winkler in the Department of Social Sciences leads a project on mapping migrations in the United States. The project was the subject of a recent article in The Atlantic Cities, an online exploration of the most innovative ideas and pressing issues facing today's global cities and neighborhoods. The article, entitled "Mapping 60 Years of White Flight, Brain Drain and American Migration," relates the population seepage to deeper problems driving demographic change.
The mapping project involves researchers at the University of Wisconsin, Michigan Technological University and the University of New Hampshire. The group has published a website Net Migration Patterns for US Counties, which allows interactive exploration of map data going back to the 1950's.
Image courtesy of the net migration mapping tool created by the Applied Population Laboratory at the University of Wisconsin.