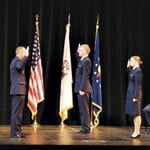 Taking the oath
7 Army, 13 Air Force offices commissioned
Each of the seven Army ROTC cadets was introduced by Lt. Col. Adam Melnitsky, Battalion Commander and professor of military science at Michigan Tech.
Lt. Col. Michael Brothers also introduced each of the 13 graduating Air Force ROTC cadets, making sure to share an embarrassing story when possible.
After the oath of office, each cadet exchanged his or her first salute with a service member then handed over a silver dollar – a tradition dubbed the "Silver Dollar Salute" dating back to before the U.S. Armed Forces were organized.