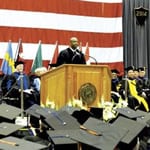 The next generation
Michigan Tech holds commencement
Nearly 1,000 graduates were honored at Michigan Technological University's Spring Commencement Saturday with 747 students receiving bachelor's degrees, 203 master's degrees and 38 Ph.D.s.
Student speaker Collin Doerr-Newton, a sound design major who was chosen to speak after submitting and reciting his speech to a panel, likened Michigan Tech to a piece of music.
Leland D. Melvin, a former astronaut and associate administrator for education at NASA, shared his journey to space with the graduates as the featured speaker.