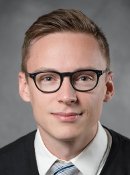 Kenneth Showler, BA 2007 in Sound Design, was inducted into the College of Sciences and Arts Academy on October 1, 2015.
Ken Showler enrolled at Michigan Technological University in the fall of 2002, as an electrical engineering major. Ken's interest and skills prompted his transfer into the newly available BA in sound design. Shortly after graduation, Ken began a short internship with the Detroit Chop Shop, a sound effects production house. Ken's strong computer skills landed him a fortuitous freelance gig, developing video playback systems for a theme park attraction mock-up in London. This job brought him into contact with his next boss from the audiovisual systems integration company Bond Communication. Following a pattern, Ken met his next bosses while working with their product (7thSense Delta Media Server) at Ferrari World.
The company established 7thSense LLC in the US and opened a small support/service office in Southfield, MI. In April 2015, Ken and fellow partners Matt Barton, Ian Cannell, and Richard Brown assumed ownership of the company through a management buyout from Adam Neale and Ian Macpherson. 7thSense provides high resolution, uncompressed video playback products and support to respected visitor attractions globally. Ken feels very fortunate to be involved.
Learn more about Kenneth Showler.