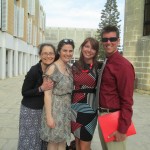 Associate Professor Mary Durfee reports on a talk given by alum Marc Sanko, History '11, in Malta. Sanko gave a very successful talk on his Master's work about Catholicism and the Maltese Diaspora of Detroit at the University of Malta.
Photo, from left: Michelle Jarvie-Eggart, Melissa Martinie, Amanda Morley, and Marc Sanko.
Sanko received his MA at Edinboro University of Pennsylvania and will be doing his Ph.D. at the University of West Virginia. Michelle Jarvie-Eggart received her BS in Environmental Engineering, an MS in Environmental Policy (from Social Sciences), and a Ph.D. in Environmental Engineering all at Michigan Tech.