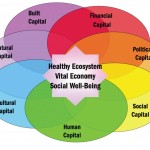 This summer a group of students traveled with Professor Richelle Winkler to the Community Development Society 2014 Annual Meeting in Debuque, Iowa to share their research.  The Annual Meeting focuses on research and developments in the field of community development with members representing a variety of fields including: education, health care, social services, government, utilities, economic development practitioners, citizen groups, and more.
Students from Michigan Tech presented two posters on community development projects the Social Sciences department have been working on with the local town of Calumet.  The poster presented by Rhianna Williams, Lorri Oikarinen, Heather Simpson, and Dr. Winkler was on the effect First Friday's art tours had on the community of Calumet and won an award for best presentation of content.
A poster on Mine Water Geothermal for Sustainable Community Development: Campus-Community Partnerships for Revitalization in Calumet, Michigan was presented by Travis Wakeham, Mayra Sanchez Gonzalez, and Dr. Richelle Winkler, and won runner up for best presentation of content.
In addition to poster presentations Dr. Winkler hosted a panel session on community-engaged scholarship and community development and Master's Student Rhianna Williams gave a presentation based on her research on water use, allocation, and policy in the Gunnison River Basin, Colorado.