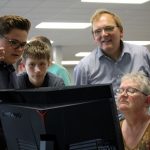 Student interns from Calumet and Houghton High Schools, under the guidance of Don Lafreniere (SS/GLRC), Ryan Williams (GISP/GLRC) and students from the Department of Social Sciences, recently launched a new WebGIS for the Calumet and Laurium region. The map can be found at calumetmap.com.
The WebGIS is the beginning of a multi-year partnership between many local organizations including Michigan Tech Social Sciences, the Geospatial Research Facility, Western Upper Peninsula Planning and Development Region (WUPPDR), Keweenaw Economic Development Alliance (KEDA) and local municipalities to create a regional geographic information system (GIS) for local planning, economic development, heritage management, tourism and health promotion.
The WebGIS is an output of the NSF-funded Innovative Technology Experiences for Students and Teachers, "GRACE- GIS Resources and Applications for Career Education" project. GRACE is a multi-institution collaboration to bring GIS technologies to Michigan's high school educators and intensive community-based internship experiences to high school students.
More about the GRACE project at Michigan Tech can be found in Unscripted.