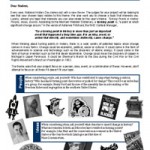 'Turning Points' focus of History Day 2013
Students in grades 4 through 12 across the Upper Peninsula are invited to participate in the District 1 regional competition for National History Day. The District 1 Competition is set for March 2 at Michigan Technological University in Houghton.
District 1 is comprised of 12 counties in the Central and Western Upper Peninsula. The District 1 competition is sponsored annually by the MTU Department of Social Sciences, the MTU Archives and Copper Country Historical Collections, the Quincy Mine Hoist Association and the Historical Society of Michigan.
Read more at the Mining Gazette.
NATIONAL HISTORY DAY THEME 2013: Turning Points in History: People, Ideas, Events
Read more at the Historical Society of Michigan.