Effective Immediately!
Attention Student Organizations that use the SDC Soccer Fields
Effective immediately, the SDC parking lot next to the loading dock has been changed from a 7 am – 4 pm        red tag only parking lot to a 24/7 red tag only parking lot. This is Parking Lot 24A.
Any vehicle without a red tag will be ticketed even if after 4 pm.
---
Husky Alpine Run
Are you up for a Halloween challenge?  Come join the Michigan Tech Army ROTC program in our inaugural Husky Alpine Run, on October 27th, which is a 5 km trail race ON Mont Ripley!  Don't ski?  Don't snowboard?  No worries.  Many people enjoy skiing and snowboarding the slopes of Ripley and now you get to r
un them!  We encourage everyone to show up and run in their Halloween costume as prizes are awarded to the costume contest winner!  All racers will get complementary food and beverages after the event and there will also be raffle prizes.  The winners of each age group (male and female) will receive medals, and the overall male and female winners will get their names engraved on a plaque that will be posted in the ROTC building.  Sign up now and get a free event t-shirt.  Students get an incredible deal of ONLY $15 for registration!
We also want to give back to our community in Houghton and help fund road repairs caused by the devastating Father's Day flooding.  To do so, we will donate part of our proceeds to help fund flood relief efforts.  So, come out and have a fun time and help us support our community!
---
Arnold Air Society of Michigan Tech
We are a professional, honorary, service organization dedicated to the promotion of service within local communities and to supporting Prisoners of War and Missing in Action service members. Every year we put on a 5K run that commemorates POW/MIAs and the sacrifice they gave for us. The Annual POW/MIA 5K Run or Walk is to help raise awareness for all past, present, and future POW/MIAs, and all proceeds go to the Lake Linden VFW to help local veterans. This year's race will be held on Saturday, September 22nd at 10 am at the ROTC building.
---
 Sorority Recruitment
It's time for Kick-Off! (No, not football) Sorority Recruitment Kick-Off is TONIGHT at 8 pm in MUB Ballroom A1!  Join us for your last chance to learn all about the 9-day experience filled with sweet treats, fun times, and great people! This informational event is perfect to get all of your questions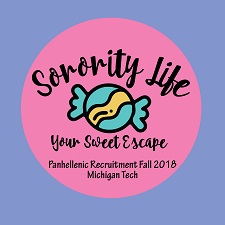 answered, sign up for recruitment (if you haven't already), and make some new friends!  We will see you there!!
---
Homecoming Registration is now open! 
The theme for homecoming this year is The Greatest Homecoming! So grab your top hat and join the circus!
Homecoming
 Team 
Registration
:
Registration
 closes 
September 19 at 5:00 PM
.
Please note that if a group wishes to only participate in cardboard boats, they must sign up under Team 
Registration
.
---
 Study Abroad Fair
The Michigan Tech Study Abroad Fair will be taking place next week — September 19th, 10:00 am – 2:00 pm on campus under the Career Fest Tents (between EERC and Chem Sci).
The fair is an opportunity for you to meet program representatives from International Studies Abroad, University Studies Abroad Consortium, Japan Center for Michigan University, Semester at Sea, and Michigan Tech faculty led programs. In addition, you can meet with exchange students from Europe, mingle with study abroad alumni, and learn more about Michigan Tech modern languages.
The representatives from ISA, USAC, JCMU, and Semester at Sea have time to also meet with you 1-on-1 to discuss their programs in great detail. If you want to sign up for a time to meet with them, please complete this Google form.  Questions — studyabroad@mtu.edu
---
Barn Dance Sponsored by the Christian Organizations of Michigan Tech
There will be a Barn Dance held in the Chassell Pavilion on Friday, September 21, hosted by St. Al's, and more Christan orgs. Dance lessons will be provided. The dance will be from 8-12 pm.
Come and have some fun dancing the night away! Friday, September 21st 8-12 pm!
---
Corporate Representatives Looking to Connect with Student Organizations
Career Services and academic departments at Michigan Tech are experiencing increasing demand from employers to connect directly with students, and in particular, student organizations. As such, corporate representatives are interested in connecting directly with your student organization!
What can this mean for you and your organization's members?
1.      An opportunity to learn about careers and industries you may not be familiar with.
2.      One-on-one engagement with recruiters that can give you access to internships/co-ops/full-time jobs.
3.      An opportunity to gain funds to support your organization and its programming.
Career Services has 43 corporate partners that have over $40,000 in the flexible spending accounts currently – funds that can be paid to your organization with a phone call.
If your organization is interested in this type of engagement with industry representatives, we are asking that you fill out this very short questionnaire.
This information will be passed on to companies so they will know how to engage Michigan Tech students while on campus. You can have your organization removed from this list at any time with a phone call to Steve Patchin, director of Career Services, at 906-487-2313 or email shpatchi@mtu.edu.
We need your information by Monday September 17, as companies recruiting this Fall have already been asking for this information.
---
IDEA PITCH FOR HAUNTED MINE EVENT
QUINCY MINE HOIST ASSOCIATION JUST UPPED THEIR HAUNTED MINE GAME!
The Quincy Mine Hoist Association (QMHA) and Michigan Tech Visual and Performing Arts Department are teaming up to offer the best Haunted Mine Event ever!  In preparation, the production team is looking for creative ideas for awesome and scary scenes.  All are invited to toss ideas to the production team via an "idea pitch."  Anyone interested in submitting an idea, or in taking part in the tour should fill out this form:  Idea Pitch Form.    Ideas will be selected based on feasibility and potential for the ultimate scare.  Scenes will be under the direction of a professional theatre director and actors will be auditioned to fill the necessary roles.
This year's theme:
Secret Portal to the 90th Level – Tourists have been disappearing only to reappear having passed through the eerie depths of the mine unseen for years!
Tours will be October 25, 26, 27.  There will be some rehearsing this year that will require a few hours of commitment before we embark on the actual mine experience.  Technical load-in will be October 21-24.
The Team is looking for a very brief description of a mini-plot or scenario that might take 1-5 minutes.  These scenarios are partly improvised situations where one or more individuals interact with each other and/or the customers who enter the mine during the tour. Envision costumes, lights, props, sounds, special effects, etc. Come on Saturday to talk to the Team and pitch your idea.  Individuals, partners, and groups are all invited to submit ideas.  There is no limit to the number of ideas.
If your idea is chosen, you and two friends will be invited to a special sneak preview of the whole mine tour before the event opens to the public.
If you are interested only in being a part of the Haunted Mine experience, just answer the survey questions in the form.
For more information contact Trish Helsel, Associate Professor of Theatre, Visual and Performing Arts Department, Michigan Technological University: helsel@mtu.edu,  (906) 487-3283, or Mary Kozmor (Production Manager): makozmor@mtu.edu or call 734-512-9901
Idea submissions will be open until midnight, Monday, September 10.
---
 Ole! at the Rozsa Center
The Rozsa Center and Parade of Nations present Olé!, the headline act for Michigan Tech's 2018 Parade of Nations celebration, on Saturday, September 15, at 7:30 pm. Olé! is a spectacular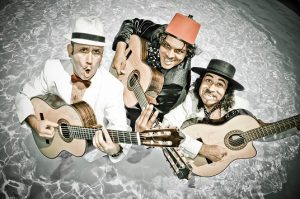 international comedy and music presentation featuring the exhilarating rhythms of flamenco, salsa, swing, blues, jazz, combined with hilarious slapstick comedy, full of surreal invention and fun! Paul Morocco, Guillermo de Endaya and Marcial Heredia perform together in a zany, unpredictable and spectacular show.
---
Parade of Nations
The Parade of Nations is tomorrow, Saturday, September 15th.  The Parade begins at 11:00 am in Hancock near the Huntington Bank building, and marches to the Dee Stadium in Houghton where the multicultural festival will take place from approximately noon to 3:00 pm.  The theme for the 2018 Parade of Nations is "Global Beats – International Treats."

This year's headline act is Ole!, sponsored by the Parade of Nations and the Rozsa Center for Performing Arts.  Ole! is a wonderful celebration of music and comedy, with all the exhilarating sounds from the rhythms of flamenco to salsa, swing, blues, jazz and pop.  The performance will take place at the Rozsa Center on Saturday, September 15 at 7:30 pm.  Tickets for Ole! go on sale August 1 and are $10 for adults, $5 for children, and free to students with the Experience Tech Fee.  Visit mtu.edu/rozsa for more details.
Be a parade spectator and have a chance to win the "I Love Parade of Nations" Weekend Getaway for two to Chicago worth more than $2000!!  Visit the Parade of Nations website or Facebook page for more details.
For more details on all Parade of Nations events, check out the event's website, or to keep up on Parade happenings, visit their Facebook page.
Check out the Parade of Nations video here!
---
Peace Corps Info Session Next Week
Are you interested in a career with the U.S. Peace Corps? Would you like to hear from a returned Peace Corps volunteer? Come join us for the Peace Corps Information Session happening
next Thursday, September 20, 2018 at 5:30pm in Dillman 214. In addition to returned Peace Corps volunteer Bryce Rinkenberger, Kari Henquinet, director of Peace Corps Programs at Michigan Tech will also be on hand to answer any of your questions regarding the Peace Corps Prep Certificate Program.
---
Cycling Club Looking for Volunteers 
The cycling club is looking for some volunteers to help with the conference championship race that we are hosting on October 6th and 7th. Here is a form where people can sign up and brief descriptions for each position at the top.
---
Registration for the 12th Annual D80 Conference is now open
The D80 Conference is a dialog and celebration of our efforts to solve issues that confront the world's poorest 80%. The Michigan Tech campus hosts this annual conference in the fall every year to give a platform to the voices of university students serving communities in need, both domestically and abroad. Our conferences highlight service and research work done by students from Michigan Tech and elsewhere, and are open to anybody interested in development, design, and discovery for the poorest 80% of humanity. The public is always welcome.
The theme for the annual D80 Conference is Connect, Collaborate, Create! We are very excited to welcome Erna Grasz, co-Founder of the Asante Africa Foundaiton, as our featured keynote speaker.
The 2018 conference will be held Saturday, October 13th in the MUB. Registration is now open. More information regarding the conference and registration can be found at mtu.edu/honors/D80/conference. The deadline to register for D80 is Friday, September 30th.
Students involved in community service domestically and abroad are encouraged to register to present. This conference is open to the public. If you'd like to attend, but not present, please register here. If you have any questions, please email honors@mtu.edu.
This year's conference is sponsored by Michigan Tech's D80 Center, the Sustainable Futures Institute, and the Pavlis Honors College.
---
Social Justice Series
The Center for Diversity & Inclusion is offering another awesome semester worth of excellent opportunities to engage with different ideas around diversity and inclusion (opportunities to hear from our students about their experiences and to bear witness to what faculty and staff are doing on our very own campus to support and promote equity!
Join us this fall for our Diverse Dialogues series and be part of the conversation of highlighting underrepresented voices, elevating the social justice work being done by our Michigan Tech community, and engaging and learning from difficult diversity and inclusion discussions that affect us all.
---
Register to Vote!
The Michigan Secretary of State Mobile office is coming to Michigan Tech on Monday, September 17 from 10 a.m. – 4 p.m. and will be located outside of Hamar House. Michigan resident
s who wish to register to vote in the November election are encouraged to register in person with the mobile office. Information tables, that will include neighboring states voter registration information, will be located at the Husky statue and in front of Walker.
---
The College Democrat at Michigan Tech
The College Democrats at Michigan Tech will hold their first meeting on September 20th at 6 pm in Chem Sci 104A. They will be talking abut the future of the club and how to get involved canvassing for local candidates.
---
Takeover Snapchat
University Marketing and Communications at Michigan Tech is looking for student groups to run temporary takeovers of its Snapchat account. UMC is seeking your help in identifying responsible and outgoing students in your organization who would be willing to run a Snapchat takeover. The benefit to you? Raising student awareness about Michigan Tech in general and about your organization in particular.
The university Snapchat coordinator, Ben Jaszczak, works with campus groups like yours to organize awareness-raising Snapchat takeovers targeted to current and future Huskies. With over 2,000 followers, our Snapchat account is a great way to reach undergraduate and prospective students.
To run a Snapchat takeover, all you need to do is identify a student(s) who is willing to run the takeover and choose a time slot of 1-3 days where they can highlight your program or event. With that information, contact us at video@mtu.edu to schedule your takeover.  You can direct any questions about this event to Ben Jaszczak, Multimedia Specialist and Snapchat Coordinator, at bjjaszcz@mtu.edu.  We appreciate your help!
---
At-Risk for Students Course
College can be stressful at times, and Michigan Tech wants to empower our students with t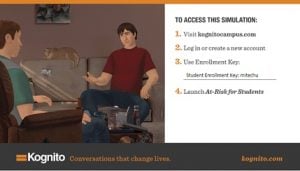 he resources they need to help one another.  We're excited to present the Kognito simulation At-Risk for Students course, which will help in recognizing signs of distress, determining if a friend needs help, how to talk to someone in need of help, or where you or your friend can turn to for resources.  It can be difficult to deal with these kinds of issues, but an effective conversation can help more than you think-it can help change someones life.  We hope you enjoy this simulation, as we all work together to help one another and build a stronger community.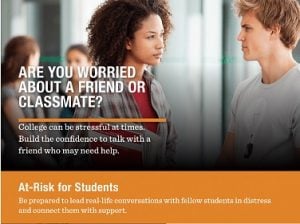 Kognito is an online training simulation to help students learn how to talk to others in need and help in a crisis situation using role playing.
If you encounter technical issues, please contact Kognito's support team at: support@kognito.com
Entry Deadlines
Frisbockey: Friday, September 13 @ 8:00AM
Season Begin September 16th
Soccer Fours: Friday, September 14 @ 8:00AM
Season Begin September 19th
**NEW EVENTS**
Bocce Ball and Cornhole Tournaments:
Entry Deadlines on Friday, September 14 @ 12:00 Noon
Tournaments will take place on Saturday, September 15th
Entry Deadline on Wednesday, September 19 @ 8:00 am
Tournament will take place on Sunday, September 23rd
Disc Golf Singles Tournament:
Entry Deadline on Friday, September 21 @ 12:00 Noon
Tournaments will take place on Saturday, September 22
Racquetball Singles:
Entry Deadlines on Friday, September 21 @ 12:00 Noon
Trails Relay:
Entry Deadline on Tuesday, September 25 @ 12:00 Noon
The Race will take place on Thursday, September 27 @ 4:30 pm
Entry Deadline on Thursday, September 27 @ 8:00 am
Season Begin September 30th
Register your team at www.imleagues.com/MTU
– For more information:  E-mail imsports@mtu.edu
---
Heathly Husky Workshop Series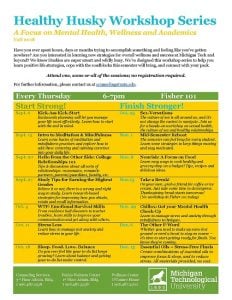 ---
HuskiesFit Programs
New to HuskiesFit Programs? Want to change up your workout? Try out a Fall fitness class for only $2 during Dollar Days September 9-15!
HuskiesFit Programs offers several group fitness classes throughout the week. There's something to choose from every day! Check out our week at a glance flyer and see what fits your schedule.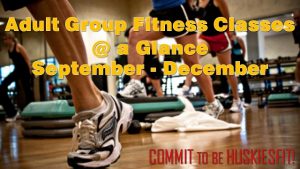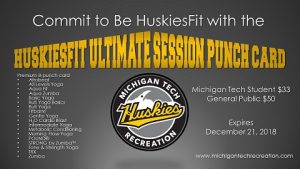 Get the most for your money with the HuskiesFit Ultimate Session Punch Card! This premium 8-punch card allows you to experience a variety of HuskiesFit group fitness classes without having to commit to one particular type.
For more information on individual programs, visit HuskiesFit Programs. Commit to be HuskiesFit this Fall!
---
Season Tickets on Sale at The Rozsa Center
The Rozsa Center is pleased to announce their 2018/19 Season Ticket Sale! Season Ticket Packages are on sale early this year, May 1st, with the best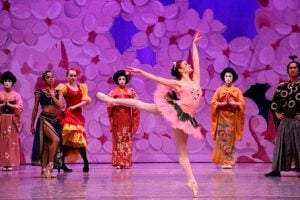 discounts available on all the season has to offer! There are four Season Ticket Package options this year, offering savings of 18% – 37% off single ticket prices. Featured this year are 12 Rozsa Presenting Series events, including five distinguished lecturers, and more than 33 Visual and Performing Arts events including music, theater and visual arts events, and the ever-popular 41 North Film festival. For full season details, please visit our website: mtu.edu/rozsa
---
Michigan Tech Recreation Offers AppAudio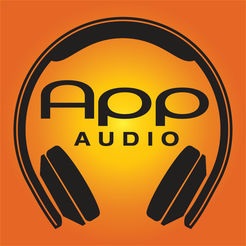 Customers have two WiFi networks to choose from – MichiganTech and MichiganTechGuest.
For more information on how to set up AppAudio on your devices, see HowToAppAudio.