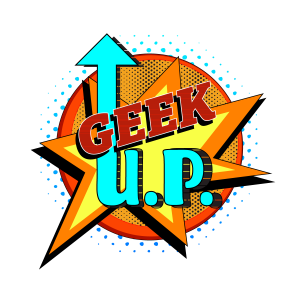 Join us for a fun-filled geektastic charity event!  GeekU.P. is a mini-con charity event celebrating geek culture offering an artists' alley, vendors, cosplay contest, celebrity Q&A's, autograph sessions, and more!
To be held September 14th at the Michigan Tech Memorial Union Ballroom in Houghton, MI. from 1:00 pm to 8:00 pm.  Tickets are available at Black Ice Comics, 403 Lakeshore Drive in Houghton or at the door. $10 for adults, $5 kids 14 and under, and $5 for students with ID.
The 2019 charity recipient is 'Don't Do It Yourself' (D.D.I.Y) which serves as an emergency funding source for the people of Houghton and Keweenaw counties that are facing a financial hardship due to a medical crisis. For more information regarding DDIY, please visit ddiyup.org.
With the help of the Department of Visual and Performing Arts and local businesses, GeekU.P. has an exciting celebrity guest line-up this year: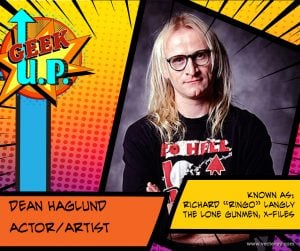 Actor/artist Dean Haglund is known the world over as "Langly", one of The Lone Gunmen, a role he played for nine seasons on the hit Fox TV series The X-Files and its spin-off series, The Lone Gunmen. Other television credits include Bones, V.I.P., Sliders, Home Improvement, Honey, I Shrunk the Kids, and The Commish. In addition, Dean is a long-time improvisational comedian having performed with the Groundlings and Second City. He is a regular performer at the Improv in Los Angeles.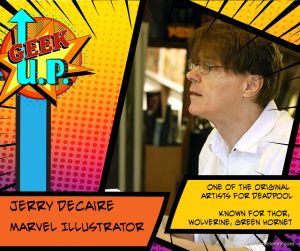 Marvel artist, Jerry DeCaire, is one of the original artists for the comic book character Deadpool and is known for his illustrations in Thor, Wolverine, X-Men, and Hawkeye. He will also reveal his forthcoming comic, "Which-When-Man", to be released in 2020. Jerry will do a real-time demonstration of his drawing techniques in a live performance.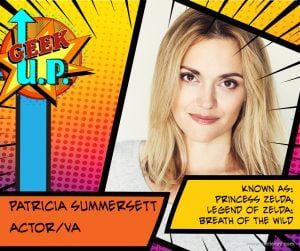 Patricia Summersett is known for providing voice and motion capture for several video games, most notably the voice of Princess Zelda in the video game The Legend of Zelda: Breath of the Wild (worldwide 2017 Game of the Year) but also Rainbow Six: Siege, Deus Ex: Mankind Divided, and the Assassin's Creed Franchise. Patricia was raised in L'anse, MI, and graduated from Houghton High School before pursuing her acting career in LA and Montreal.
All three celebrities will take part in Q & A sessions and autograph signings for attendees. Northbound Saga, an independent film company, is going to be with us and will be bringing actors, awesome props from their production, and some exclusive footage to share during a Q&A session.
We're very excited about what we have in store for GeekU.P. this year, we want to welcome folks of all ages, especially our students, to Geek.U.P. to come have a great time. Even if it's been years since you read a comic, or you've never played a video game, we can't wait to share the fun, have folks meet some celebrities and help us raise money for DDIY! —Shana Porteen, GeekU.P. co-founder and owner of Black Ice Comics

I'm thrilled to celebrate local arts and culture in the community I grew up in! I certainly hope to inspire and provide insight for budding artists who may be thinking of a related career path, Shana and I dreamed up this event two years ago and I'm amazed how the festival has evolved so considerably. I'm excited to imagine how it may grow and expand in years to come!Patricia Summersett, GeekU.P. co-founder and guest celebrity
More information and the developing schedule can be found at our website www.geekup906.com.
Michigan Technological University is an equal opportunity educational institution/equal opportunity employer.