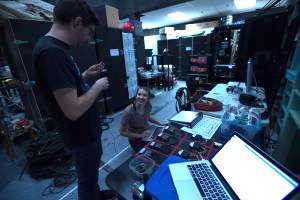 Taking advantage of her sound design major with a focus in productions, Samantha Palumbo worked on eight (and counting!) productions in the past three years at Michigan Tech.
She says, "One of the great things about Tech's undergraduate program is the Visual and Performing Arts Department allows students to work hands-on from the beginning…  That's why I love going to school here. You can have a wide range of jobs on different productions."
Samantha has worked a variety of positions – from hanging lights to being in charge of painting sets. After taking the Scenic Art and Illustration class, Samantha was the Scenic Charge Artist for Picasso at the Lapin Agile.
Read more about Samantha's experience through Career Services.