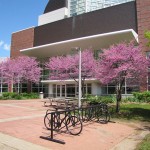 Chad Deering (GMES) has received $83,622 from the University of Wisconsin-Oshkosh for a two-year research and development project titled "Collaborative Research: RUI: Probing Caldera-Forming Magmatism: Crystal Accumulation in Large, Upper Crustal Silicic Magma Chambers."
PI Colleen Mouw (GMES) was awarded $256,946 from NASA for her research "Implications of Changing Sea-Ice on Phytoplankton and Zooplankton Biomass and Community Structure in the Bering Sea."
PI Simon Carn (GMES) and Co-PI Verity Flower (GMES) were awarded $30,000 from the National Aeronautics and Space Administration for their project "Identification of Volcanic Cycles Using a Multi-Sensor Satellite Data Analysis Technique."
PI Thomas Oommen and Co-Pis Rudigar Escobar Wolf and Greg Waite (GMES) have been awarded a $100,000 research grant from the Society of Exploration Geophysicists Foundation for "Building Local Capacities for Monitoring Eruptive and Catastrophic Landslide Activity at Pacaya Volcano (Guatemala), through International Partnership and Collaboration."
Michigan Tech Research Excellence Fund Awards Announced: The Vice President for Research Office is pleased to announce the 2015 REF awards and would like to thank the volunteer review committees, as well as the deans and department chairs, for their time spent on this important internal research award process.
Infrastructure Enhancement Grants: John Gierke, GMES
Research Seed Grants: Chad Deering, GMES; Thomas Oommen, GMES
Robert Shuchman, co-director of the Michigan Tech Research Institute, has been reappointed to the North Slope Science Initiative Science Technical Advisory Panel. He has served on the interdisciplinary panel, which studies and makes recommendations for research and science policy on the North Slope of Alaska, since its inception in 2007.
Society of Exploration Geophysicists' news website reported on three new Geoscientists Without Borders projects, including one in Guatemala led by assistant professor Thomas Oommen (GMES).
Simon Carn (GMES) has received a $16,772 grant for "Improving Constraints on Volcanic CO2 Emissions from the Vanuatu Arc" from the Carnegie Institution of Washington.
Guy Meadows (GLRC) has received $25,000 for the first year of a potential two-year project from the University of Michigan for "Restoring, Retrofitting and Recoupling Michigan's Great Lakes Shorelands in the Face of Global Climate Disruption."
Colleen Mouw (GMES/GLRC) has been awarded a four-year, $82,739 research grant from the National Science Foundation for "Collaborative Research: Continuation and Enhancement of MPOWIR."
Colleen Mouw (GMES) has received $228,117 for the first year of a three-year $667,117 research grant from NASA for "Parameterizing Spectral Characteristics of Optically Active Constituents in Inland Water for Improved Satellite Retrieval." Continue reading →