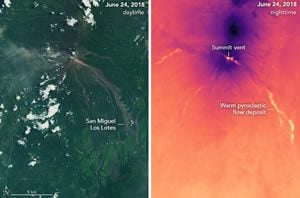 On June 3, 2018, torrents of hot ash, rock, and gas poured down ravines and stream channels on the slopes of Volcán de Fuego—Guatamala's Volcano of Fire. More than three weeks after the eruption, the Landsat 8 satellite continued to detect elevated temperatures in some of the pyroclastic flow deposits.
"Fuego left pyroclastic flow deposits that cooled down quickly at the surface but are still very hot inside," explained Michigan Technological University volcanologist Rüdiger Escobar-Wolf. "Cooling deposits can show surface temperatures above the background level for a long time—weeks, or even months. However, that temperature may be only slightly above the background level, as the heat from the interior slowly seeps out of the deposit to the surface."
Read more at NASA Earth Observatory.
Related: