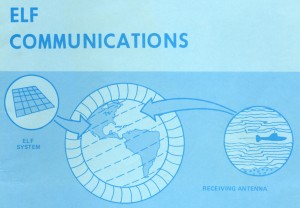 The Michigan Tech Archival Speaker Series will feature visiting scholar Dr. Louis Slesin at 6:30pm on Thursday, October 18 in the East Reading Room of the Van Pelt and Opie Library on the Michigan Tech campus. The event is free and open to the public.
Dr. Louis Slesin, editor and publisher of Microwave News, will discuss scientific research and local response to two United States Navy radio transmission installations in Michigan's Upper Peninsula and northern Wisconsin. Dr. Slesin's research visit is supported by a travel award from the Friends of the Van Pelt Library, a program which encourages out-of-town scholars to visit Houghton to undertake research using the collections of the Michigan Tech Archives.
Developed under the project names "Sanguine" and "Seafarer," the U.S. Navy sites operated extra low frequency (ELF) transmitters for communication with naval submarines from 1989 to 2004. Concerns about potential ecological and health effects of electromagnetic field (EMF) radiation prompted a series of scientific studies, some conducted by researchers at Michigan Technological University. Slesin, who holds a PhD in environmental policy from the Massachusetts Institute of Technology, intends to produce a book-length study of ELF-EMF effects from the submarine transmitter as well as power lines providing electricity to the facilities.
Since 1998, the Friends of the Van Pelt Library have supported more than 25 scholars and researchers from across the United States, Canada, and Europe to access the Archives' collections. Books, articles, presentations and web content have resulted from the work of travel grant recipients, helping to draw attention to the holdings of the Michigan Tech Archives and the history of Michigan's Copper Country and Upper Peninsula.
The event is free and open to the public. Contact the Michigan Tech Archives for more information at 906-487-2505 or copper@mtu.edu