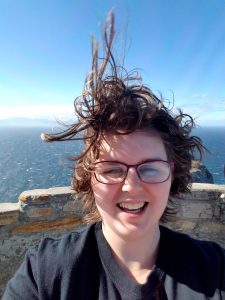 For American Archives Month, in addition to offering all of our regular services, we will also be posting special content on our social media platforms. We had a busy day yesterday for #AskAnArchivist Day and we hope to keep fresh content on our Facebook, Twitter, and blog all month long. Archives Month Staff Spotlights are one such example of archives-themed content for the blog, and here is our first one!
First Name: Becky
Title: Student Assistant
Where are you from? Mukwonago, WI
What is your major? Biomedical Engineering
What is your favorite thing about working at the Michigan Tech Archives? My favorite thing about working in the archives is being able to interact with the history of the UP.
What is your favorite collection? My favorite collection isn't really a collection, but rather a part of a collection. I find the employment cards really cool because a single card can hold so much information for someone.
What is your favorite photograph in CCHI?
 My favorite photograph is the one where a snow statue appears to be eating a child.
What is one interesting fact about you? One interesting fact about me is that I traveled to South Africa this past summer.
Why are the Michigan Tech Archives important to you? The archives are important to me because they offer a glimpse into a past we might not get to know if it weren't for the archives.