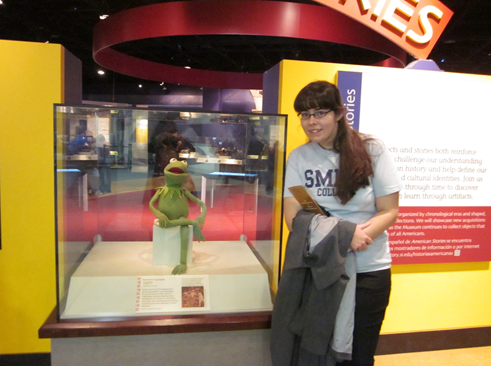 Emily is our next staff member to be featured in the Staff Spotlight for American Archives Month!
First Name: Emily
Title: Assistant Archivist
Where are you from? I was born and raised downstate in Grand Rapids, but my family roots in the Keweenaw stretch back many generations.
Where did you work before coming to Michigan Tech? My last job before coming to Michigan Tech was as a student worker in the curation division at the Bentley Historical Library in Ann Arbor. I also had internships at Keweenaw National Historical Park and the Ada Historical Society.
What is your favorite thing about working at the Michigan Tech Archives? I'd have to say that my favorite part of working here is getting to help people discover new parts of the local story or their family history. That moment when a patron lights up with irrepressible joy makes me just as happy as they are!
What is the most interesting thing you learned while working here? I can't count all the fascinating tidbits I've picked up since I started here. As a genealogist, the most interesting knowledge would probably be the kind that has filled in gaps in my family history. Thanks to our collections, I now know exactly when my maternal ancestors came over from England, for example, and I can also tell you that all the stories about my moonshining paternal relatives were true! In fact, I wrote a blog post about my family's Prohibition hijinks back in March.
What is your favorite collection? Choosing my favorite collection is a tall order! I think it's a tie between Brockway Diary Collection (MS-010) and the employment cards from the Calumet & Hecla Mining Companies Collection (MS-002).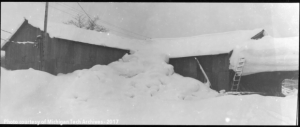 What is your favorite photograph in CCHI? Picking a favorite photograph is another challenge! One of my top choices is a winter picture of my family's sawmill in Winona–it really drives home just how much snow we get around here.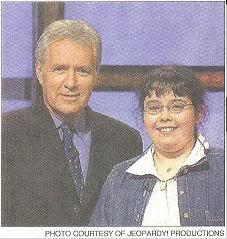 What is one interesting fact about you? When I was twelve, I appeared on "Jeopardy! Kids Week" and won.
Why are the Michigan Tech Archives important to you? The Michigan Tech Archives are important to me because of my love for the Copper Country; there's nowhere like it and nothing quite so interesting as the story of its past. I'm proud to be part of an organization that helps to keep the history of this remarkable place alive.