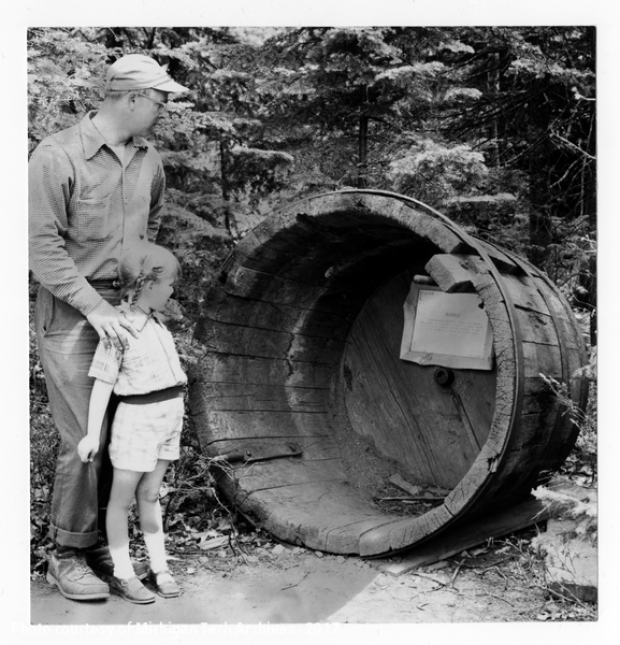 This week the Michigan Tech Archives had the privilege of once again taking part in the Copper TRACES event at the Keweenaw National Historical Park in Calumet. This field day for area 4th graders has provided hands-on learning opportunities since 2016. Topics covered during the event focus on Technology, Research, Art and Music, Community, Environment, and Service, or TRACES. Funded by the National Park Foundation through the Open OutDoors for Kids Grants program, students get to learn everything from area geology and Great Lakes shipping to mining and immigration history.
The Michigan Tech Archives and the archival staff from KNHP have hosted a station on primary sources since the beginning of the program. Students get to learn what the different is between primary and secondary sources, how they help us learn about history, and discover how they contribute to the creation of primary source material.
In honor of this unique collaborative venture, our Flashback Friday photograph highlights the learning opportunities children and adults have thanks to programs like this and our regional heritage sites. Pictured here is Fort Wilkins State Park Supervisor, Mac Frimodig and daughter, Karen, observing an old mining skip at the Fort Wilkins museum in 1953. Used to bring rock to the surface at one of the many mining operations here in the Keweenaw, the skip now serves as a historic artifact and teaching tool.
You can also visit the Michigan Tech Archives throughout the summer, Monday-Friday, 10 a.m. to 5 p.m., no appointment need.