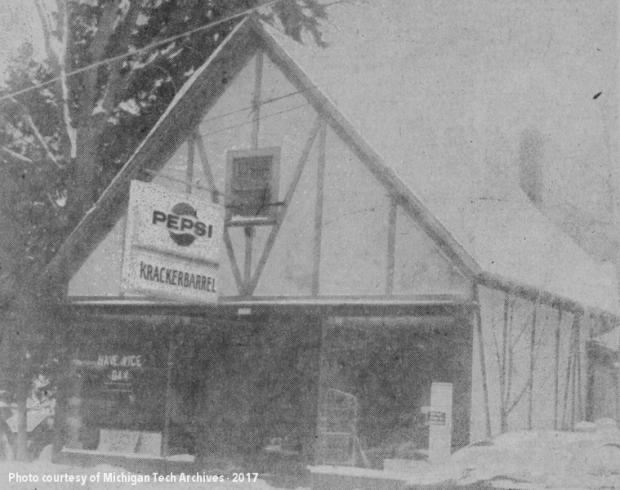 Behind every family business are two tales: the story of the business and the story of the family. Thurner Bakery in Calumet offers one such example. This week's Flashback Friday provides another intimate illustration by visiting the Krackerbarrel.
Students at Michigan Tech in the 1960s and 1970s would have known the little store as well as they knew their classrooms, dorms, or library. Its pointed roof and Tudor framing cheerfully greeted hungry students looking for sustenance. Positioned across from the university's Memorial Union Building, at an intersection erased by the rerouting of roads and the construction of parking lots, it was perfectly primed to capture young people wandering back to their rental houses on January evenings or needing a slice of pizza between lengthy sessions in the lab.
From December 1959 until its closure on New Year's Eve 1979, Edward Johnson and his wife, Ruth, operated the Krackerbarrel as their family business. The grocery (or "superette," to use a popular term of the day) had its roots in a much earlier enterprise that also sought to capture students' pocket change.
A February 9, 1980 Daily Mining Gazette article looking back on the recently-closed store recalled "the early Hixon firm," a concern about which little information survives, managing its earliest incarnation in the 1920s. The store then "catered to those who desired more than the regular routine of groceries, meats and fresh fruits. As a consequence the firm had special shipments brought in via the rail lines of the time." After the Hixon company surrendered its interest, English immigrant Charles Vivian took over the business. City directories in the 1930s listed Vivian's grocery at 279 Florence Street, with the proprietor residing in the company of his wife and three sons a few blocks away. To maintain the quality of his produce, Vivian installed innovative watering devices that spritzed what his staff dubbed "garden fresh vegetables." He held on to ownership through at least 1942, continuing "the sale of the more fancy goods which characterized the original caterance." When, at last, the time came for Vivian to give up the business, he turned it over to a proprietor by the name of Babe Simmer, who dubbed it Babe's Market. Lastly, at the very close of 1959, it became the Johnsons' Krackerbarrel.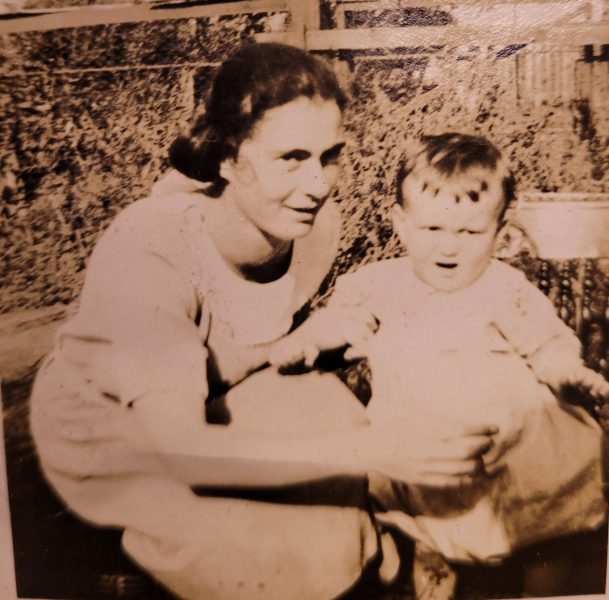 In many ways, it would be fair to call Edward ("Ed") Johnson a typical mid-20th century Copper Country man. He was born in Houghton on July 21, 1922, to parents who had celebrated their first wedding anniversary one month earlier. His father, another Edward, was twenty-eight at his son's birth and an employee of Hancock's Kerredge Theatre. The proud Johnson grandparents had come to the Keweenaw as teenagers in the mid-1870s, part of the first wave of Finns to arrive in the area. Ed's mother, twenty-year-old Ethel Moyle, also had immigrant roots: her own mother, Emily, moved from her native Cornwall to Central Mine in 1887, and her father, Alfred, was the first-generation American son of English parents. The young Johnson family enjoyed close ties with both sides: Ed was probably born at the Moyle home on Baraga Street, where Edward and Ethel resided until at least 1930. Later, they moved into the house next door to Edward's aging parents, Erick and Amanda, on Warren Street in Hancock. By this time, a daughter named Ramona Jane had been added to the family. Both Ed and his sister attended Hancock Central High School, a short walk from their home.
Ed turned eighteen in 1940, entering adulthood at the beginning of a nationally and personally tumultuous decade. His father died after prolonged poor health in August 1941, just months before the United States entered World War II. Ed worked for a time for the Fox Wisconsin Amusement Corps before joining the Army Air Corps; it appears that most of his service was stateside in Texas and Kansas. Within just three years, beginning in 1944, all four of the grandparents who had cherished him died: Amanda, Erick, Emily, Alfred. The upheaval must have seemed to come at breakneck pace. Yet the decade's changes also included joy. On July 7, 1944, with his sister as a witness, Ed married Ruth Loretta Schuster in Houghton. They welcomed their first son the following year; a daughter, named after Ed's sister, arrived in 1950 and a last son in 1953.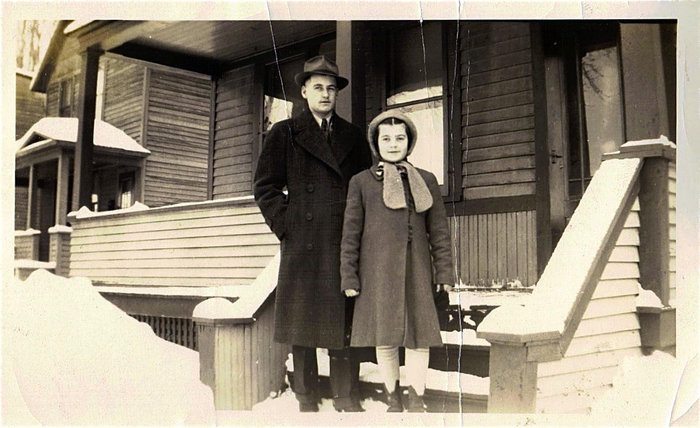 After an additional year of active military service during the Korean War, Ed was a full-time civilian once again, and he needed a way to support his young family. The opportunity to acquire Babe's Market and transform it into the Krackerbarrel seemed just the right one. When Ed and Ruth took over the business in December 1959, they maintained the spirit of Hixon's and Vivian's, placing alongside more traditional fare items that customers could not easily find elsewhere in town. For their predecessors, this had been exotic fruits and vegetables. The Johnsons chose more student-centric options: pizza and soft serve ice cream. Until her death in April 1963, Ethel Johnson joined her son and daughter-in-law in the kitchen of the Krackerbarrel, kneading pizza dough and prepping toppings in a true family operation. Hungry students carried the cheesy treat home to sustain them during another late night of studying. Asked for their memories of the building in 2008, several alumni named pizza as the Krackerbarrel's most noteworthy item; in the early 1960s, even the venerable Ambassador Restaurant did not yet serve it. Others visited the little store for more exotic tastes, with one graduate of Michigan Tech recalling that he and his friends drank sauerkraut juice purchased from the Krackerbarrel on a dare.
Whether it was the pizza, the sauerkraut juice, the snowfall totals posted on the windows each winter, or the big-city newspapers available inside, the Krackerbarrel's convenient items and welcoming atmosphere brought students through the doors year after year. The Johnson family maintained its intimate ties with the business even as campus changed around it. The 1960s and 1970s saw many Michigan Tech buildings torn down and replaced with modern counterparts: Hubbell, Hotchkiss, and Koenig halls gave way to the MEEM, the EERC, and Chem Sci. The Krackerbarrel held on longer than most familiar structures serving Tech students, but it, too, eventually fell prey to time and modernization. In 1979, Ed and Ruth determined that it was finally time to retire, shuttering their business on December 31. Within weeks, the university had acquired the building and demolished it to put up a parking lot to alleviate a crunch on campus.
Ruth Johnson passed away unexpectedly less than a year after the Krackerbarrel's closure. Ed lived another two decades before dying a few days before Christmas 2004. The couple, who worked so closely together in their business, are both buried a stone's throw away in Houghton's Forest Hill Cemetery. Ethel Johnson, assistant pizza chef, lies in an adjacent plot. The family rests together in death as they labored together in life.