All posts by Lindsay Hiltunen
---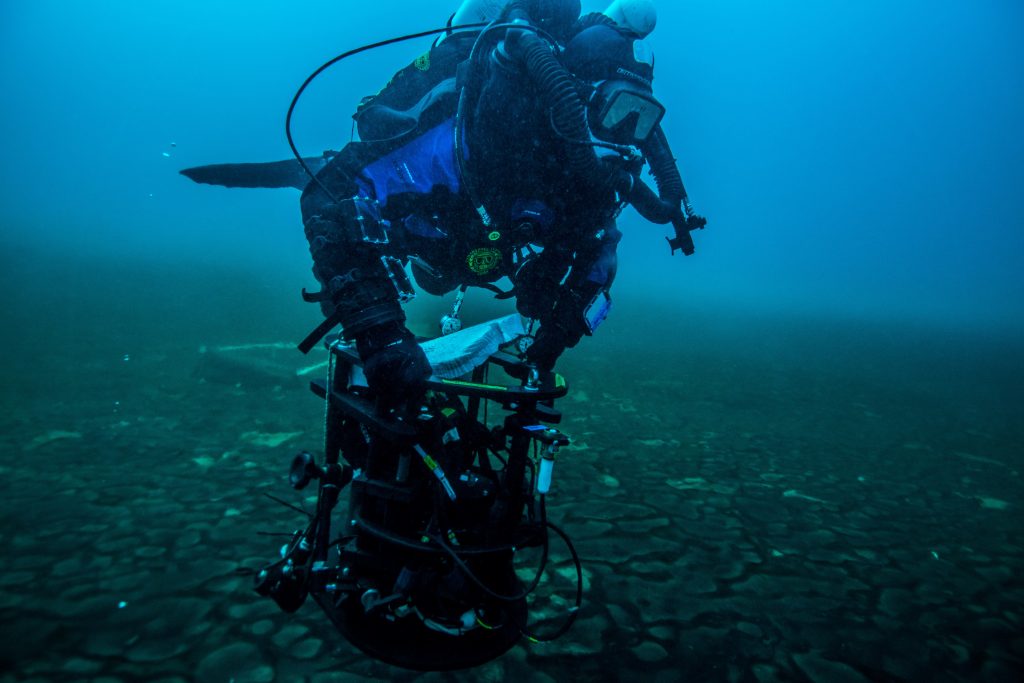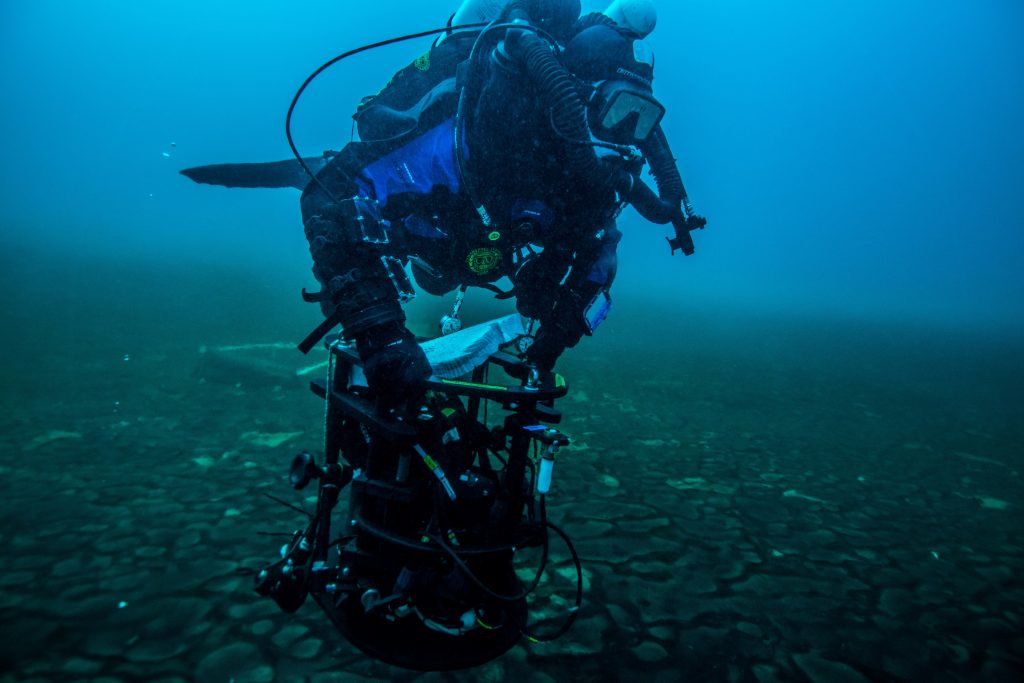 Please join us for visiting scholar Philip Hartmeyer at 4:00 pm on Friday, December 1 in the East Reading Room of the Van Pelt and Opie Library on the Michigan Technological University campus. This event is free of charge and open to the public. Refreshments will be served.
In this presentation, Hartmeyer will discuss the role, techniques, and applications of advanced digital documentation methods in surveying the shipwrecks within the Thunder Bay National Marine Sanctuary. Learn about photogrammetry and panoramic imagery and their applications for research, education, and outreach as well as the stories of the submerged cultural resources that line the shores of Thunder Bay on Lake Huron. Hartmeyer has made several trips to the Michigan Tech Archives in order to help document the history of some of the submerged ships in the Thunder Bay region.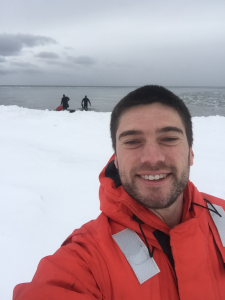 Philip Hartmeyer is a maritime archaeologist currently working at the Thunder Bay National Marine Sanctuary in Alpena, Michigan. Originally from San Francisco, California, Hartmeyer's passion for maritime heritage has taken him all over the world to conduct surveys and excavations of shipwrecks. He received his masters in maritime archaeology from East Carolina University, where he wrote his thesis on the passenger/package propeller Pewabic, a middle 19th-century vessel that was instrumental to the copper industry and the settlement of the Keweenaw Peninsula. He received his bachelors in archaeology from Saint Mary's College of California, and is also a Registered Professional Archaeologist.
Hartmeyer's research visit and presentation are supported by a travel grant from the Friends of the Michigan Tech Library. Since 1988, the Michigan Technological University Archives Travel Grant program has helped scholars advance their research by supporting travel to the manuscript collections at the Archives.

For more information, feel free to call the Michigan Tech Archives at (906) 487-2505, email copper@mtu.edu, or visit on the web at http://www.lib.mtu.edu/mtuarchives/. You can also find us on Facebook or @mtuarchives on Twitter.
---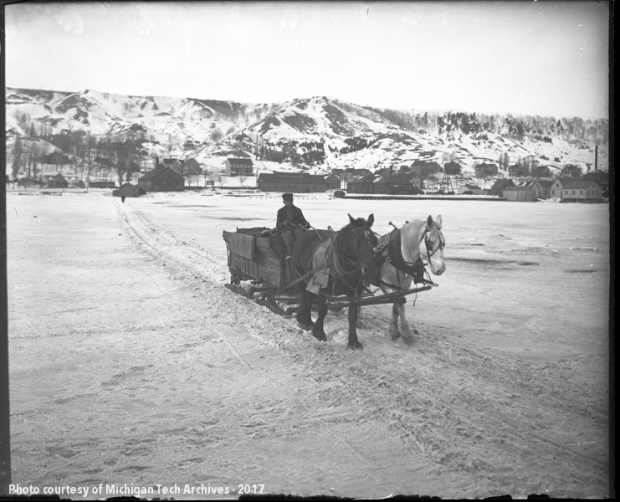 Today's photo of the day was taken by J.T. Reeder in 1925. A man drives his horse drawn sleigh along the ice road from Hancock to Houghton. You can see Quincy Hill and the smelter in the background. We haven't gotten to ice road conditions yet, but the big storm on the horizon might mean winter is here!
---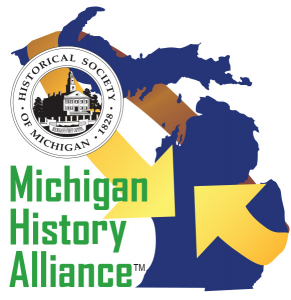 Each regional alliance meets at least twice a year to bring together representatives from HSM member historical organizations in several counties. The gatherings will feature a speaker to address a topic of interest and allow for conversations among each region's historical organizations. Attendance at the Michigan History Alliance networking sessions is free of charge for current member organizations of HSM. Membership is required for participation.
Alliance meetings will also offer separate three-hour History Skills Workshops led by authorities in the field. Lindsay Hiltunen, University Archivist at Michigan Tech, will facilitate a workshop and brainstorming session on All-Ages Archives. The workshop will discuss collaboration with community partners in order to plan, develop, implement, and assess creative outreach and primary source research instruction to K-12 students and community groups. The session will utilize examples to show the power of teamwork and good planning and will showcase successes and address challenges that come up in the planning process. There is a fee to attend the History Skills Workshops.
For more information about the program, contact Assistant Director for Education Programs and Events Robert Myers at (517) 324-1828 or myers@hsmichigan.org.
---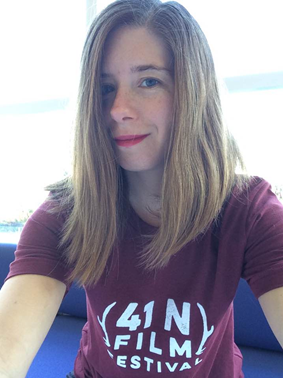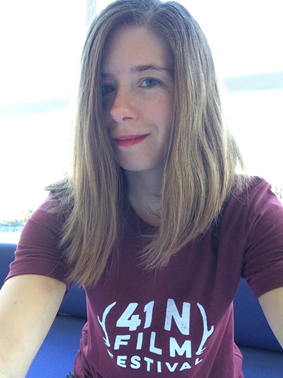 First Name: Allison
Title: Archivist
Where are you from? Born and raised in the Twin Cities (Minnesota), but have spent the majority of my adult years in Madison, Wisconsin.
Where did you work before coming to Michigan Tech? I first cut my teeth in the archives field as an intern with the U.S. Holocaust Memorial Museum and the Smithsonian National Air and Space Museum in Washington D.C. Prior to coming to the Michigan Tech Archives in July 2016, I worked as a cataloger at the Minnesota Historical Society, working primarily with audio-visual collections. I have to give credit to the Wisconsin Historical Society, University of Wisconsin-Madison Oral History Program and the Wisconsin Veterans Museum for my early career experience in archival work, providing me with the practical experience and knowledge that I'm excited to bring to Tech.
What is your favorite thing about working at the Michigan Tech Archives? My favorite thing about working at the Michigan Tech Archives is seeing our patrons leave the archive with a smile on their face. Whether it's an academic researcher who found a crucial piece of information for their research or a genealogist who was able to find a tangible connection to their ancestors, the joy on our patron's faces makes everything worthwhile.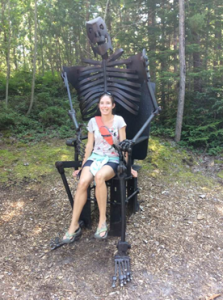 What is the most interesting thing you learned while working here? I feel that I make a new discovery every week, which is why it is hard to narrow it down. I would have to say the most interesting thing I've recently learned is that the Atlas Powder Company powerhouse whistle resides on the top of the Central Heating Plant of the Michigan Tech campus. Not only that, but the whistle has been used to mark the beginning of K-Day (Keweenaw Day) on campus. The names of several employees that were working at Atlas when the plant closed in 1960s are engraved on the whistle. What an obscure, but fascinating story, full of local and campus history!
What is your favorite collection? Picking a favorite collection among so many great ones to choose from is hard, but I would have to say the John T. Reeder Photograph Collection (MS-042). It was the first collection at the Michigan Tech Archives that I became acquainted with even before I came to work here. I think I will always have a soft spot in my heart for the beautiful photographs Reeder took of the Copper Country and its people.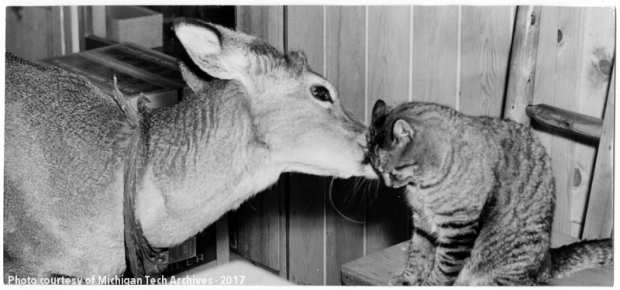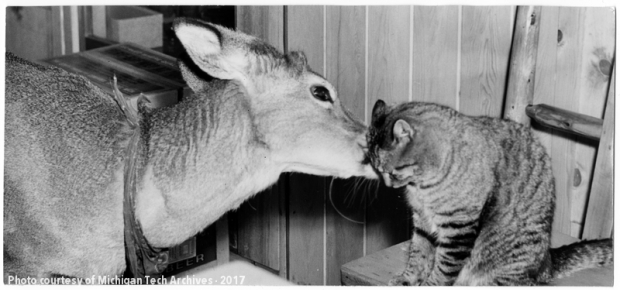 What is your favorite photograph in CCHI? So many to choose from! I'm partial to a lot of the animal photos in CCHI, particularly the 1957 photo from the Daily Mining Gazette (DMG) of "Paddy" the deer and "Pudgy" the cat nuzzling each other. Just such a sweet photo!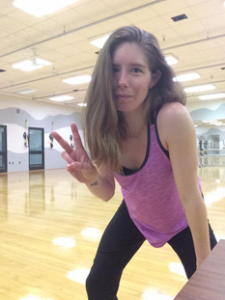 What is one interesting fact about you? One interesting fact about me is that while I'm an archivist by day, by night I'm a certified Zumba instructor for the HuskiesFit program. Come check out my class at the Student Development Complex!
Why are the Michigan Tech Archives important to you? For me, the archives represents a place where the past and present intersect. It's a place where Copper Country residents can discover their personal family stories and learn how those stories have both been shaped by and have influenced the history of the region. While my story doesn't have roots here, as a new community member it is an important place for me where I can learn about the history of the land and the community that I'm now a part of.
---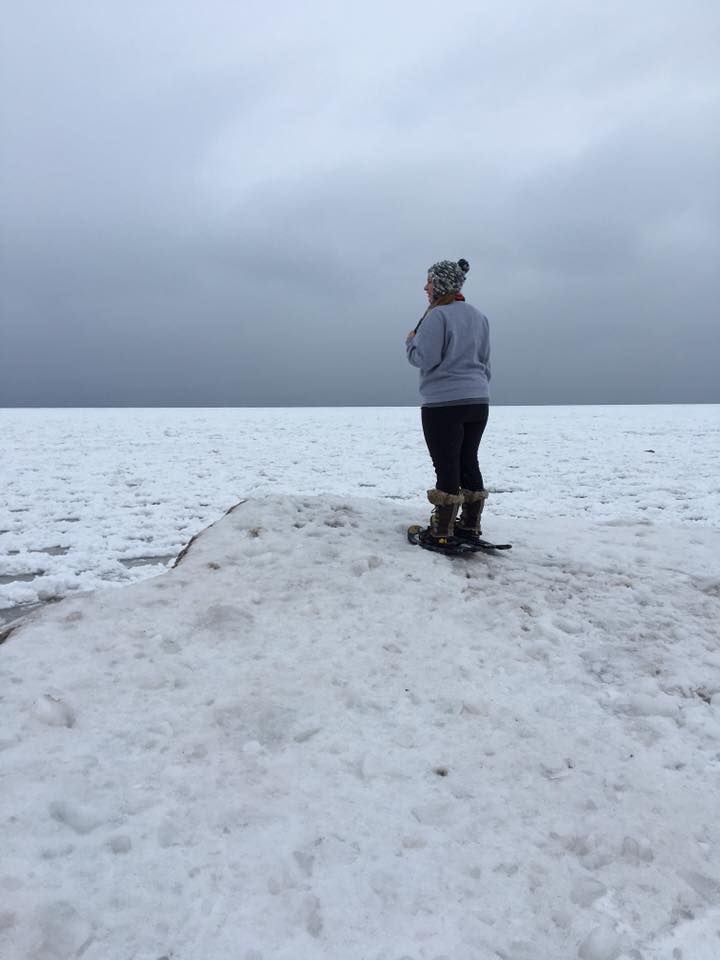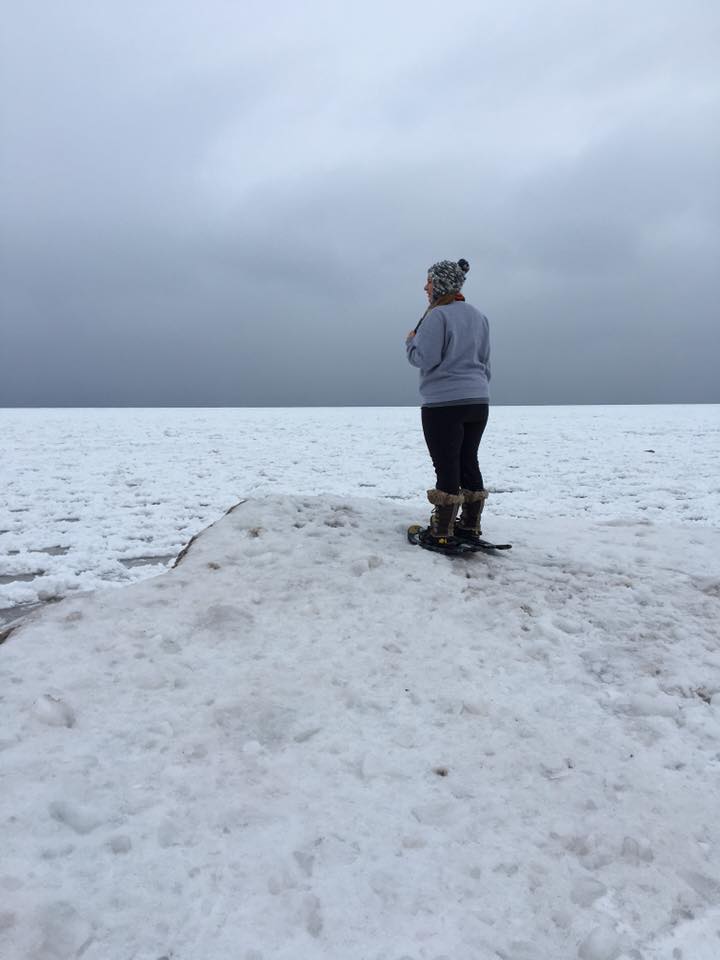 First Name: Georgeann
Title: Library Assistant (Resource Access and Discovery Services and Archives)
Where are you from? I grew up in Chassell, just down the road from Houghton, MI.
Where did you work before coming to Michigan Tech?
I worked for the Chassell Township School as the librarian.
What is your favorite thing about working at the Michigan Tech Archives?
I learn something new everyday. It has given me a greater appreciation for how special this area is and why it is so important to remember the things that have happened here.
What is the most interesting thing you learned while working here?
I've always been drawn to lighthouses, so it was great to learn about the Stannard Rock lighthouse. It's a tiny lighthouse out in the middle of nowhere on Lake Superior. It was named for Captain Charles C. Stannard who was the first to discover the highly dangerous rock reef. Stannard Rock has been called "The Loneliest Place in the World" because all you can see is water for miles around.
What is your favorite collection?

The Postcard Collection. It's very interesting to see the wide range of postcards that were produced. Some of them even have original written messages on the back and it's fascinating to read what people were writing about the area.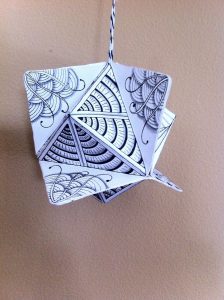 What is your favorite photograph in CCHI?
This adorable baby beaver taken by John T. Reeder. 
What is one interesting fact about you?
I enjoy drawing Zentagle Inspired Art to relax and unwind.
Why are the Michigan Tech Archives important to you? There are records here relating to my family and the various businesses they have owned in the area and it's great to know those histories will be preserved for the younger generations.
---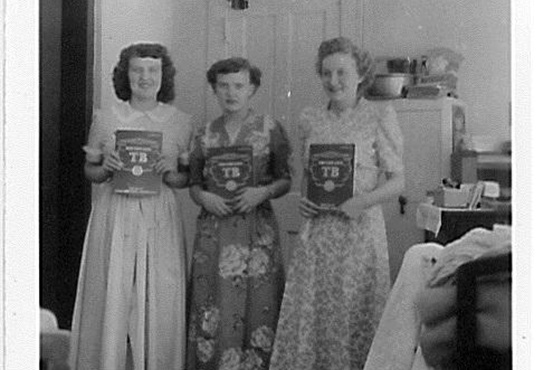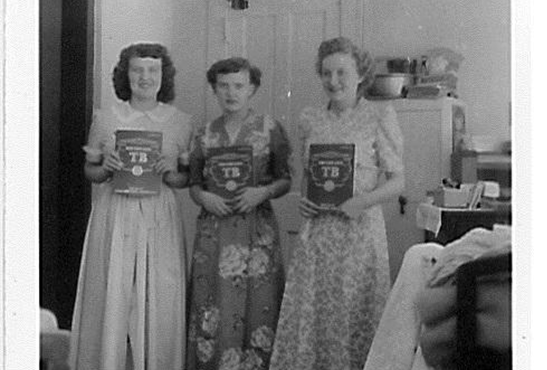 The following post was researched and authored by Emily Riippa, Assistant Archivist.
For most Americans of today, the word "tuberculosis" carries little weight. It might mean a needle prick to the forearm before being approved for a hospital volunteer position or a warning offered to vacationers bound for China, Brazil, or Kenya, three of the countries where the disease maintains a foothold. Those living in the United States now might forget a time in this country when tuberculosis (TB) was a dreaded scourge called the "white death."
In those days, the Copper Country was at the epicenter of Michigan's tuberculosis problem. By 1930, the death rate among those suffering from the disease was higher in Houghton and Keweenaw counties than anywhere else in the state and nearly double the statewide average: 117 deaths per 100,000 people in these two counties, according to data collected by contemporary public health officials, compared to 60 deaths per 100,000 statewide. Dr. James Acocks, a physician who spent most of his career treating TB patients in the Upper Peninsula, recalled that public health officials advanced many potential explanations for the apparent epidemic in mining country but never definitively determined its cause.
Even if the origin of the plague remained a mystery, the need for tuberculosis care in the Keweenaw was plainly apparent. In 1910, Houghton County voters approved a bond measure to construct a sanatorium on a plot of civic land near Houghton Canal Road, not far from the county's residential facility for the indigent. In keeping with the prevailing treatment philosophies of the time, which called for ample fresh air and natural light, the wood-frame building of the Houghton County Sanatorium featured a large screen porch to which patients were escorted on days when the weather was nice. The sanatorium was intended to house just twelve people at first, but the large local TB population quickly overwhelmed this small capacity, even with assistance from outpatient clinics. In 1915, the sanatorium was enlarged to house thirty-six patients; a second expansion two decades later added another twenty-nine beds–removing the much-heralded screen porch–and a 1940 WPA grant allowed for various other upgrades to the facility, now called the Copper Country Sanatorium. Just a few years after the WPA improvements, however, a state inspection found the tuberculosis hospital to be "an obvious fire trap" and unfit for continued use. Construction began soon after on a modern brick building in Hancock, not far from what was then St. Joseph's Hospital; the new facility would open in 1950.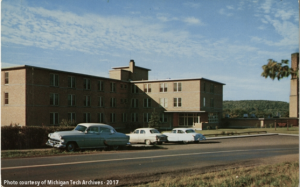 These twilight years of tuberculosis treatment at the Houghton Canal Road building, however, yielded a truly rare gem, one recently donated to the Michigan Technological University Archives and Copper Country Historical Collections. In 1950–the last year the original sanatorium operated–a resident patient apparently smuggled a camera into the hospital and captured snapshots of experiences there. Thirty-three of those photographs are now part of MS-963: Brenda Papke Photograph Collection, a newly-processed collection just made available for research. The images are a look behind the scenes, so to speak: a unique and sometimes furtive glimpse into the lives of people whose fight against a devastating, deadly illness had taken them away from home and family.
Although no information about the individual who took the sanatorium pictures has come down to us, it seems likely that the photographer was a woman. Many of the images depict women lounging in what appears to be a female ward of the sanatorium. Seemingly relaxed and content, for one photograph the ladies propped their legs on the bedside tables, rolled up their pajamas or bathrobes, and flashed views of their ankles and thighs that vaguely remind the viewer of 1940s pinups. For another picture, two women hopped into bed beside an open window and threw their arms around each other, beaming out at the camera in a manner that seems almost carefree. One of the women had decorated the area above her bed with a calendar, an image of a puppy and a kitten, an advertisement with a child's picture, and two wishbones–presumably for good luck in the face of tuberculosis. In several other images, a large contingent of female patients assembled for a group shot, all dressed in their best bathrobes or house dresses and with hair neatly curled. Tall women, short women, women whose wrinkled faces testified to many years already lived, women whose youthful appearance bespoke a hope that their whole lives still lay ahead of them–vastly different women all, part of a sisterhood forged by the scourge of tuberculosis.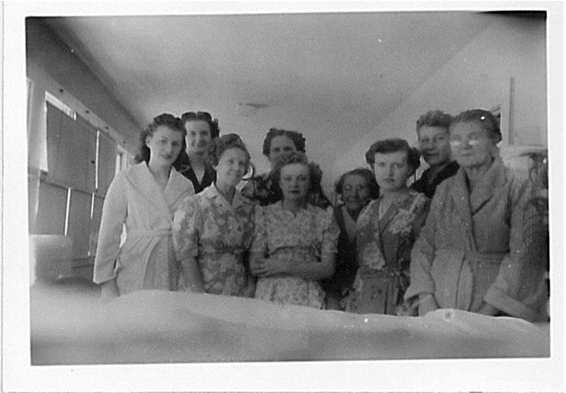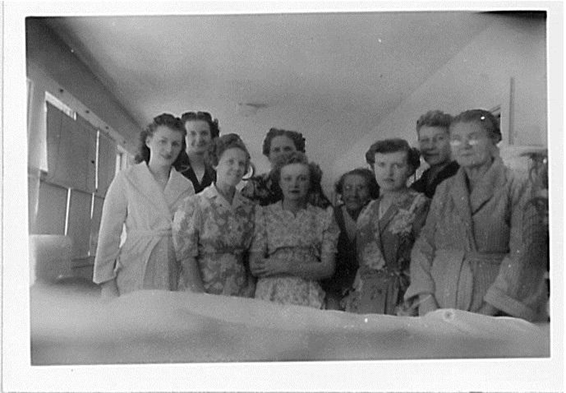 While many of the pictures show female camaraderie in the sanatorium wards, other images show the mingling and mixing that took place across the hospital. The photographer captured two men hard at work at some sort of machine, perhaps a kitchen tool or a shop instrument. Another young man was apparently a favorite model, repeatedly striking dramatic poses inside and outside the building while wearing his monogrammed pajamas. The women who had been pictured relaxing in bed crowded onto a bench with their male counterparts, squinting against the light of the sun as the photographer captured a group shot. In other cases, sanatorium staff got in on the action: the collection includes two pictures of nurses, both candid and posed. Then there were moments of pure absurdity, with one individual donning an outrageous mask and pushing a bookshelf in a wheelchair through the hallway. Despite the serious threat of tuberculosis hanging over their heads, fellowship and fun obviously persisted among the sanatorium's residents.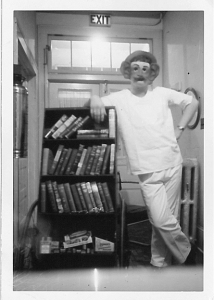 The Brenda Papke Photograph Collection is a trove of visual treasures, of which the photographs presented in this piece are only a part. The thirty-three sanatorium pictures truly take the researcher into the heart of the hospital, helping one to glimpse what life was like for those who found themselves on the front lines of the fight against tuberculosis. Interested in investigating the collection for yourself or finding out more about the treatment of TB in the Copper Country? Feel free to stop by the Michigan Tech Archives during our normal business hours, give us a call at (906) 487-2505, or e-mail us at copper@mtu.edu.
---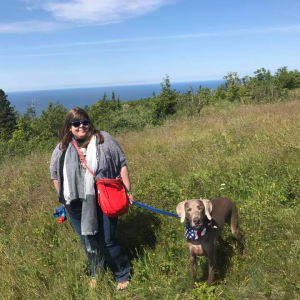 First Name: Lindsay
Title: University Archivist
Where are you from? Tamarack City, Michigan
Where did you work before coming to Michigan Tech? I started my career as a Librarian with the District of Columbia Public Library in 2007. My first job in academic libraries was as the Gifts Coordinator at George Mason University from 2010-2011. After leaving the DC metro area, I worked as a graduate specialist at the Western Illinois University Archives before coming to the Michigan Tech Archives in May 2014. I've held various archivist positions here before becoming the UA in May 2016.
What is your favorite thing about working at the Michigan Tech Archives?
My favorite thing about working here is the opportunity to meet interesting people. You never know who will walk in the door, send an e-mail, or who you will meet at a conference. My colleagues in the library are also top notch! We assist patrons from all over the world.
Working here has also allowed me to travel to participate in professional development, so I've enjoyed networking with fellow archivists and public historians all over the place. In the past year I've chaired panels and presented papers at conferences in Calumet, Traverse City, Indianapolis, Omaha, and Helsinki, Finland. I wake up happy to come to work everyday because I love the people I work with and the places I can go.
What is the most interesting thing you learned while working here?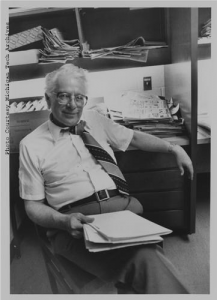 The history of my house, which was built in the late 1890s. We've learned some neat things, especially about the possible reason the house has a trap door and a secret room.
What is your favorite collection?
MS-134: Verna Grahek Mize – Save Lake Superior Campaign Collection, which was the first collection I processed here. May we always remember the First Lady of Lake Superior!
What is your favorite photograph in CCHI?
My grandpa, David T. Halkola, in his office at Michigan Tech. He was a history professor and also wrote the centennial history of the university, although I wish he would have used better citations!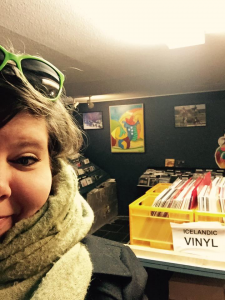 What is one interesting fact about you?
It is perhaps no surprise and not all that interesting that I am a collector! I have collections of books, Bosch breweriana (a local brewery), Thomas W. Benton, Hunter S. Thompson and Gonzo art, and vintage horror and sci-fi movie posters. However, the collection that brings me the most joy is my record collection. I lovingly maintain and build an eclectic collection of vinyl, with close to 4000 LPs and 500 45s. The bulk of my collection is punk, hardcore, classic rock, garage, surf, grunge, alternative, indie, rap and hip hop, funk, soul and old school blues. Some pop from the 1950s-today is mixed in. I also have an assortment of novelty records and soundtracks, from the (im)practical (Guy LaFleur's Instructional Hockey Disco Record) to the bizarre (It's Monster Surfing Time by the Deadly Ones).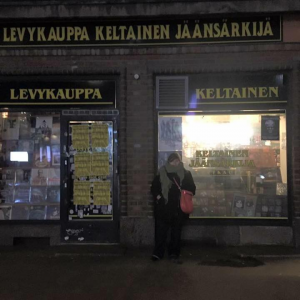 I really enjoy traveling and I try to hit up a record store in every city I visit. I've been to record stores all over to build my collection, from Santa Cruz to New York City, from Toronto, Canada, to Cleremont-Ferrand France, from Reykjavik, Iceland to Helsinki, Finland. When record hunting on a vacation, I always try to pick up a few local bands to learn about the local music scene. Pretty much the first thing I do when I get home from work everyday is spin a record.
Why are the Michigan Tech Archives important to you?
The Michigan Tech Archives are important to me because they help preserve and provide access to significant histories and memories. As a native of the local area and a Tech alum, I'm very grateful to preserve and share these amazing collections. I learn something new everyday!
---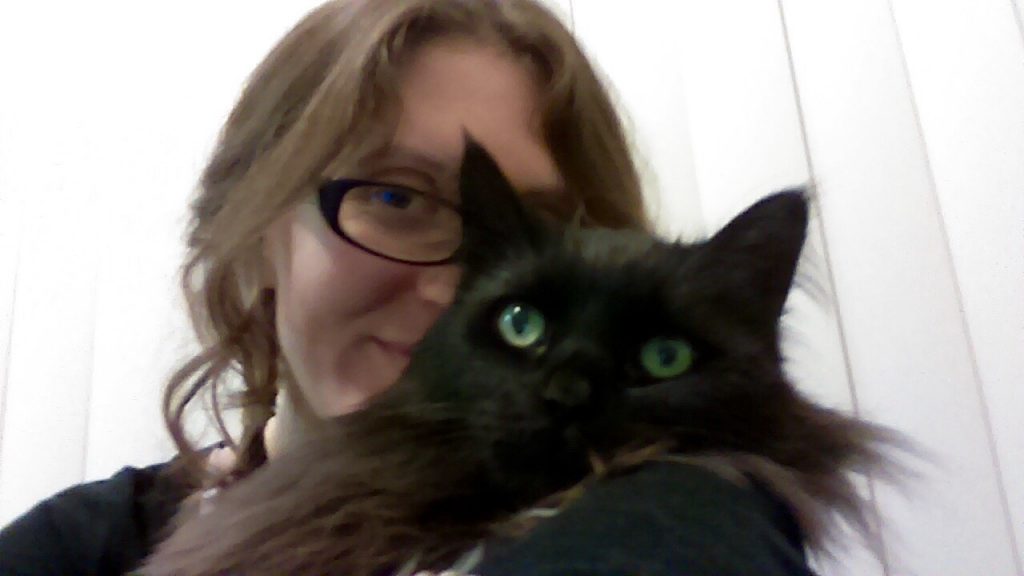 First Name: Allyse
Title: Archives Public Services Intern
Where are you from? I'm straight-up local.
What is your major:  Psychology, with a mix of everything else.
What is your favorite thing about working at the Michigan Tech Archives? Besides the delightful crew we have here? We connect our patrons with their long-lost relatives. The excitement they feel when discovering information about their families is so heartfelt to me!
What is the most interesting thing you learned while working here? There is always something new and neat to learn! Never a dull moment.
What is your favorite collection? The Vertical Files – we go way back! 😉
What is one interesting fact about you? I've been fortunate to be a member of the Michigan Tech Archives team since 2010. I give a shoutout to all my colleagues and supervisors who've put up with me over the years: "Thank you!"
Why are the Michigan Tech Archives important to you? The fact that we aim to maintain Copper Country and Michigan Tech historical resources, and that we share these resources with the public, is very important! I'm happy to be a part of such a great and community-minded repository.
---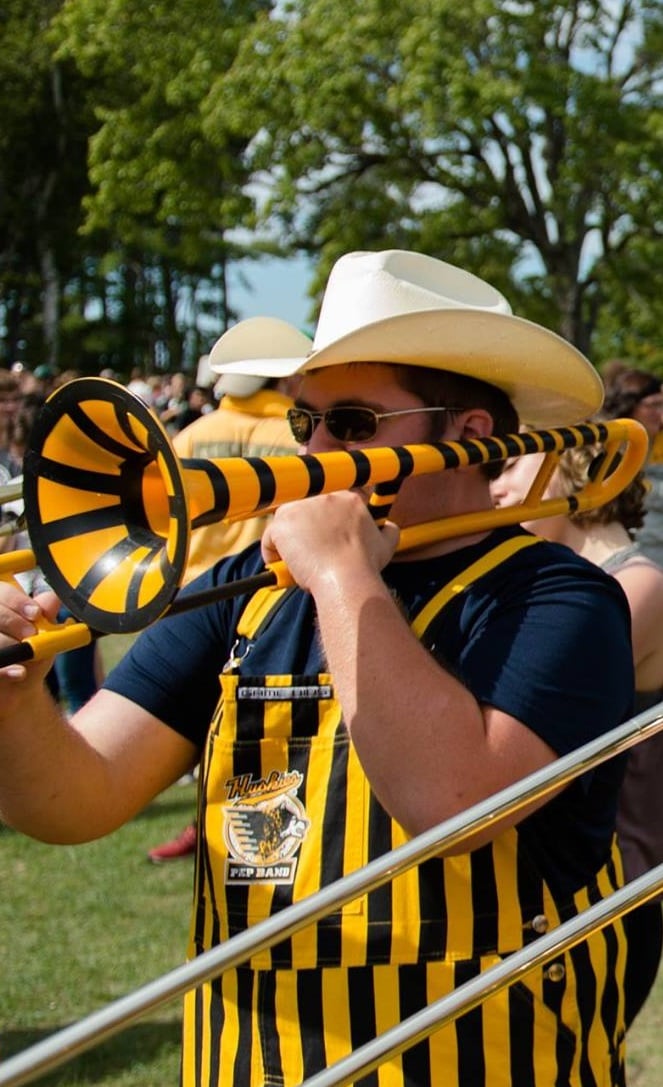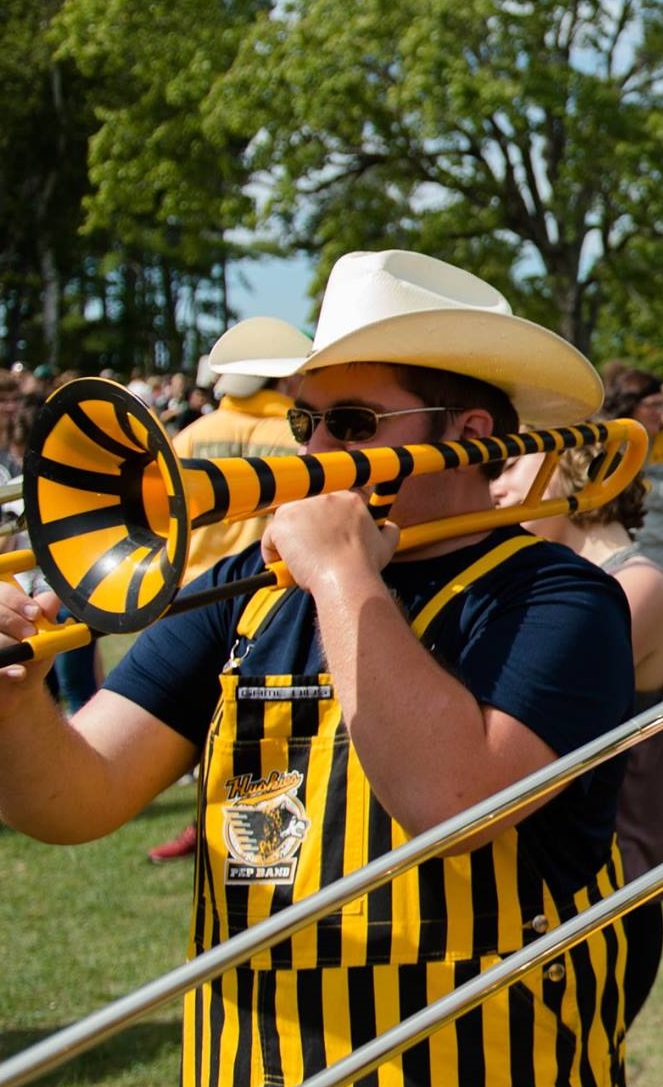 Jeremy is our next staff member to be featured in the Staff Spotlight for American Archives Month!
First Name: Jeremy
Title: Student Assistant – Copper Range Railroad Exhibit
Where are you from? Cadillac, MI
What is your major? Mechanical Engineering
What is your favorite thing about working at the Michigan Tech Archives?
Regularly handling historical documents and artifacts from the Upper Peninsula.
What is the most interesting thing you learned while working here?
The Bill Nichols Snowmobile Trail follows the route of the former Copper Range Railroad Company
What is your favorite collection?
The Copper Range Company/Railroad Collection.
What is your favorite photograph in CCHI?
A photo of the Copper Range Roundhouse in action.
What is one interesting fact about you?
I am a big stock car racing fan, and attended over 35 races during 2017.
Why are the Michigan Tech Archives important to you?
They help preserve the history of the Copper Country, and allow residents to access these pieces of history of the region they live in.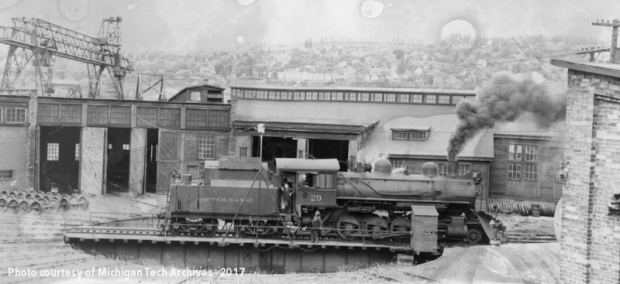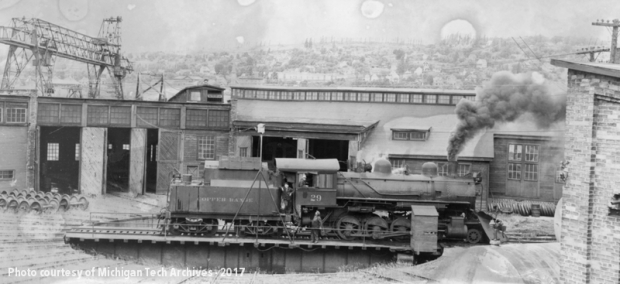 ---