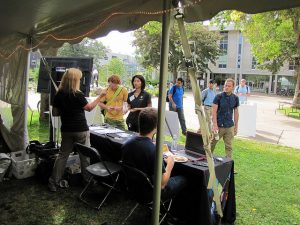 CareerFEST continues with Energy Day today, September 15, 2017. Eight companies representing electric, petroleum and alternative energy resources are here to greet students under the tent. CE Power brought their Power Bus, a traveling demo facility and a 6,000 pound, modified Ford Transit 350 for students to see and experience.
The Power Bus includes a retrofill breaker (MV), three LV circuit breakers, SEL relays, AC Pro trip units and GE Multilin Relay. Hemlock Semiconductor (HSC) will display various distillation tray styles used at HSC and will also showcase their raw material and final products using acrylic suspension trays.
HDR is bringing a 3D Oculus Virtual Reality Viewer for students to experience.
Displays and representatives from Systems Control, ITC Holdings, Marathon Petroleum, Flint Hills Resources, Black & Veatch and Michigan Tech's Alternative Energy Enterprise are also features of this year's event.
By Career Services.