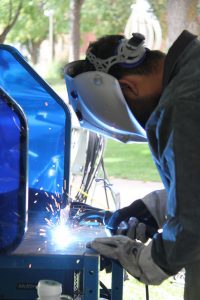 Eleven innovative companies leading the market in product design, robotics and controls, advanced manufacturing, construction and building design, and sustainability are taking part in Michigan Tech's Manufacturing Day tomorrow (Sept 19, 2017).
Miller Electric is bringing a 25-foot show trailer and will run live welding demonstrations throughout the event. Students will also have the opportunity to weld their own laser-cut souvenirs.
If students are curious about manufacturing machine controls, Kimberly Clark is bringing two electrical control displays that mimic those used to drive manufacturing machines in their company—one with physical controls, buttons and knobs, and one with touchscreen controls.
Whirlpool has a UR5 collaborative robot, a thermal IR camera and virtual reality goggles that illuminate in-plant technologies and the sustainability work being developed. Systems Control also plans to have augmented reality glasses available to try.
Additionally, students will get a firsthand look at what companies like 3M, Plexus, Georgia-Pacific and Greenheck are currently working on and developing.
In addition, there are five Enterprise Teams participating in Manufacturing Day; Velovations, Boardsport Technologies, Open Source Hardware Enterprise (OSHE) Wireless Communications and Innovative Global Solutions.
Manufacturing Day is from 11 a.m. to 2 p.m. tomorrow (Sept 19) in the center of Michigan Tech's campus.  It is the second largest industry-sponsored event hosted by the University during CareerFEST, a series of informal events leading up to Fall Career Fair, Wednesday Sept. 27.