When it comes to the abstract, my inspiration develops as I develop the painting. I always try to utilize the design principles of good balance between geometric and curvilinear shapes, development of value change throughout the painting, and a good use of complementary colors. It's all in the eye of the beholder, however, as to whether you like it or not. I've been fortunate to have had my paintings juried into Watercolor USA, a very prestigious exhibition in Springfield, Missouri. I've been juried in twice. I can't wait to see if I get lucky once again this year.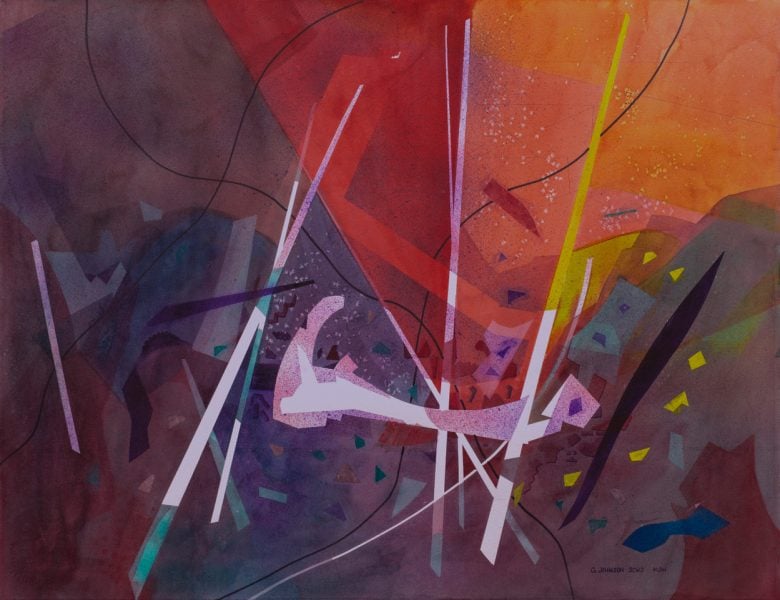 Other times I get inspired by just items around the house that we've collected over the years. It dawned on me that I hadn't painted a still life piece in quite a while, so I started looking at some china pieces we collected and thought they'd make a wonderful painting.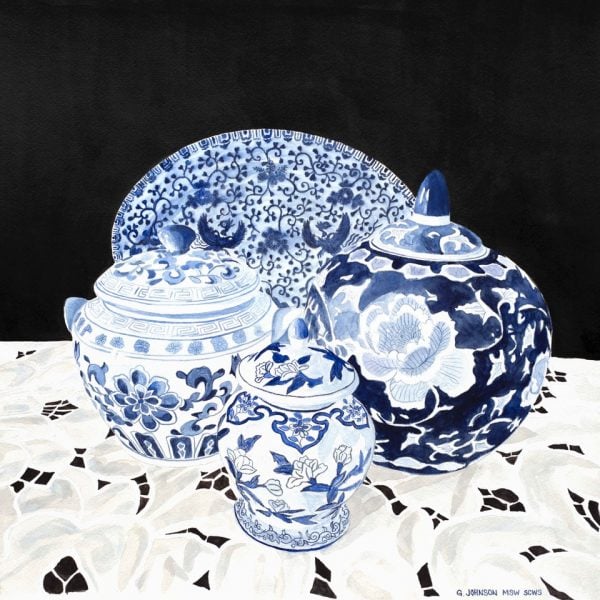 Sometimes it isn't so much that inspiration finds me, as much as it is that someone commissions a painting. Now that is the ultimate compliment: when someone has seen my work and trusts me to paint something they treasure. This requires a lot of careful consideration on my part to make a determination if I'm up to the task. First, I need a good photograph—not some pixelated picture, but a really good piece I can blow up as if I were right there to see it all. If I can take the photograph myself, so much the better as I like to take advantage of any shadows cast. Here's one — a portrait of a dog named Maximus. Portraits are difficult. My advice is this: always make sure you get the eyes right. Everything else from there will work out.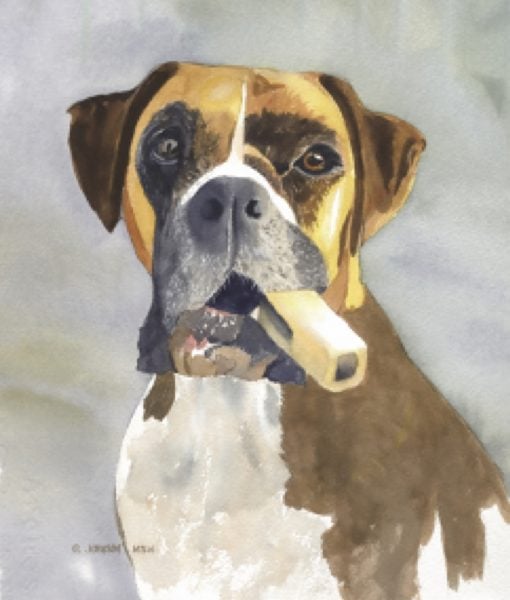 People ask where I paint. We designed our home with a studio in it. This makes it so much more convenient for me as I can wander up anytime during the day or night to work on a painting.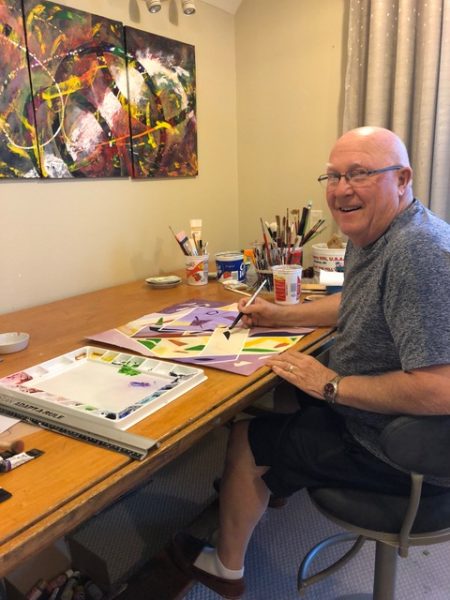 My studio is on the second floor of our house. When I decide I'm too old to walk up and down those stairs (18 in all, and yes, I counted them) it can easily be converted into a master suite or a mother in-law-suite as it has a closet and bathroom next to it. After all, watercolorists need water and a place to rinse out the brushes among other things. It's approximately 300 square feet—a comfortable size to house my good old-fashioned drafting table, flat files, and shelving units needed to support my habit.
I'm sometimes asked about my outlook on life as an artist. Is it different than my outlook as an engineer/business executive? To be honest, it isn't much different. I suppose now that I'm retired, I want to be sure I'm alive long enough to achieve some of my long-range goals. Goal setting is something I've always done, so not much change there. I don't have a concern about what my next job or position might be now that I'm a retired artist. The only thing interfering with my art is my golf, which I love to do, as well as our travel and my teaching. Basically I'm in control of those, so no issue there. In my working life, I wasn't always in control of my destiny. That's one big difference. Less stress today. If I don't finish a painting today, I can always work on it tomorrow. That's also a big difference from the working world. I can take as long as I want to finish a painting.
Have I ever experienced a creative block? I sure have, and that's when I usually put the brushes aside and start to read and study another person's work. It's also good to make a change in daily activity as well, to not get stuck in a rut, so to speak. Variety is the spice of life and that is true for artists as well. Change it up. Go on a trip, go fishing. You'd be surprised how quickly new ideas can pop up to jumpstart the creative juices and get them flowing again.
Am I a perfectionist? Not really, because if I was, I would have never taken up watercolor painting. It is extremely unforgiving and if you make an error, I consider it a happy accident and work around it, as opposed to trying to do it over again, or trying to fix it. Neither work well in watercolor painting.
Personality-wise, I'm pretty much an optimist and a fairly outgoing person. I engage people fairly easily and I suppose it's because of the confidence I gained while in management of companies and people. I enjoy making new contacts and I enjoy giving back to my community. That's why I've become a teacher of art, and a leader in our art organization here in Fayetteville. It's put me in front of a lot of people. I hope I've influenced them to become involved in the art scene.
People ask if I have developed a style in my art. I don't really think I have yet. I guess I'm still working in it, although people are starting to recognize my abstract pieces more and more as I display them at galleries in the area for people to see. More people now say that when they see a piece of mine, they easily recognize it as one of mine. I realistically think my style is still evolving, growing into a less structured photographic type of painting—a looser style that I personally love. It has taken years to break the engineers exacting look at something and feel comfortable in having people see what they want to see in my work as opposed to making it obvious. A couple of pieces I completed this year were looser in nature, with colors that go well together, but that you probably won't see in a natural setting, "Homestead" and "Homestead II".
Because of my engineering background, some people have asked if I ever took an art course at Michigan Tech. The answer to that is yes and no. Back in the day, we mechanical engineers took a drafting and sketching course. It wasn't exactly art, but we did make black and white drawings that were completely shaded, 3-dimensional drawings of recognizable objects like gears, pistons, or some other mechanical object. It was a great class and it helped me immensely as an engineer to translate a sketch into a real product. This was in the day before CAD, when drafting was done manually. We really needed the ability to sketch out our thoughts in order to communicate with each other, and especially marketing. I suppose that experience has helped me in my art, to understand perspective, and to create 3-dimensional objects that actually look pretty close to the real thing.
I went into engineering without knowing too much about what it was all about. Rock, Michigan was in the middle of the boonies without a lot of manufacturing around to relate what an engineer really did, and what it was all about. I learned the academic side at the Tech, and the practical side while at General Electric and other companies. Although I have my name on of a few patents from back in the day when I did design work, it turns out that I was probably a better manager than an engineer.
My advice to young people? Pursue what you think you love, be it engineering, art, teaching, medicine, computer technology, programming or something else, with passion and vigor. Study hard and become the best you can be. You may find after a few years that your thoughts about what you are doing might change. Be flexible, as you aren't going to be the same person 10 years down the road as you are today. You may find you want to switch fields completely.
I remember a senior level manager at GE who was in materials management who one day decided that he wanted to be a medical doctor. He had earned enough money, was frugal and saved a lot, and quit his position to pursue his dream of going to medical school. Wow. He gave up a really solid position in a very good company to take on a new challenge pretty late in his life. So, just because you get a degree in one discipline, it doesn't mean you'll end up there for the rest of your life. Flexibility is really the key and getting a well-rounded education is also important. Study something completely out of your field to get a different perspective on life in general. For those not ready to pursue a college education, look into the trades. It might be better to enter the trades today than other types of white-collar opportunities for employment. Companies are screaming for trades people of all types as there is a shortage of individuals qualified to do those jobs, especially technical trades. It may not always be that way—in that what is needed today might not be needed tomorrow. So again, the old adage of staying flexible is something everyone needs to strive for. The other thing I would advise is to never stop learning.
Speaking of learning, my next venture into watercolor art is the making a watercolor pigment from Ozark native stone. I am taking a workshop to learn more about making my own paint. I also plan to bring back some stone from Arizona this spring to develop more different colors The Geology majors would love this if they had an interest in art. Find your own rocks, grind them up into a very fine slurry and mix with water, gum arabic and glycerin to make your own paint. Sounds like a possible chemistry class to me. LOL. Anyway, that's the next step in my continuing education into watercolor.
People who are about to leave the workforce and move on into retirement also need to think about what they are going to do while retired. Yes, many want to start with travel. That is a great idea and do it as often as you can afford to do it, however, at some point, travel starts to wear on you, and you might run out of potential places you really want to go and visit. For those who traveled for a living, they may think about public service, volunteer work at any of a variety of places, perhaps run for public office while they still have the energy to take on that important role. If you live in a University town, consider taking courses at the local university or junior college in something that will help fulfill your lifelong dream, like becoming an artist. Find workshops or individuals who have similar likenesses who might be willing to help you. It's up to you not to become a couch potato, unless that is your goal. Far be it from me to lecture someone on what to do with their golden years, but I would suggest doing something you have never done and/or have always had a hankering to do.
I hope you enjoyed my story as much as I've enjoyed putting it in writing. Feel free to contact me through my website at: garyjohnsonfineart.com or through my email at: garyj357@yahoo.com. Thanks MTU for reaching out to me for my story.
Gary