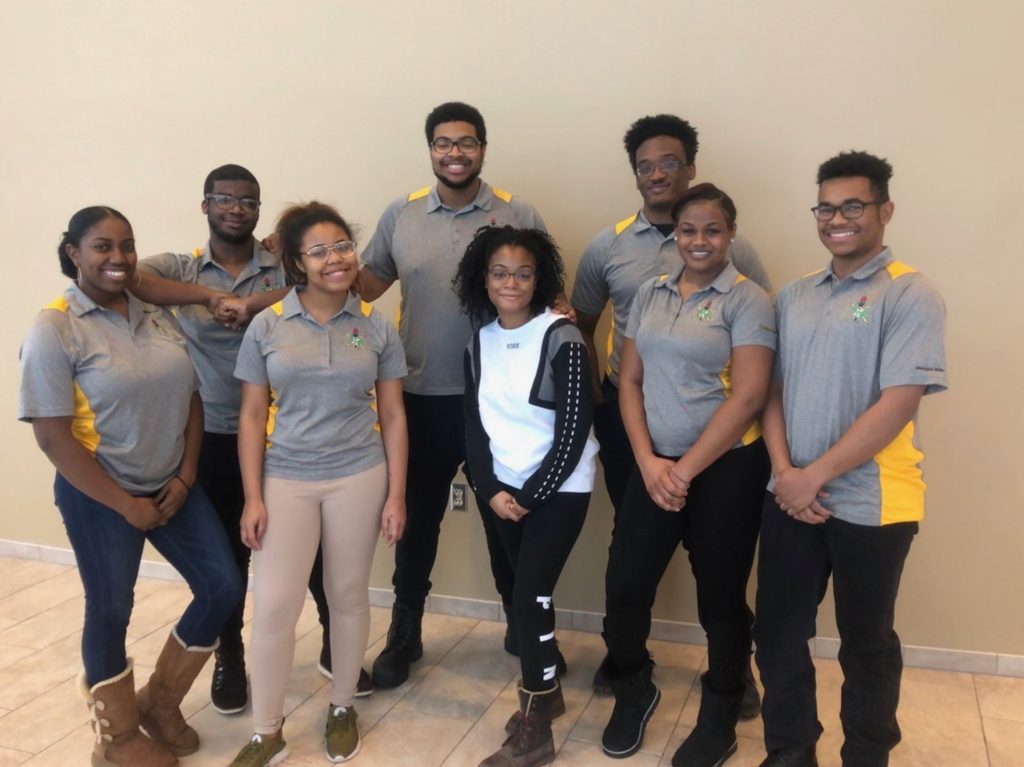 In March, students from the Michigan Tech Chapter of the National Society of Black Engineers (NSBE) traveled to the Motor City, visiting middle and high school classrooms as part of the chapter's 8th Annual NSBE Alternative Spring Break trip in Detroit. Their goal—to engage, inspire, and encourage diverse students to consider careers in STEM—science, technology engineering and math.
Nine Michigan Tech engineering students participated: Christiana Strong (biomedical engineering); Jalen Vaughn (computer engineering); Andrea Smith (chemical engineering and pharmaceutical chemistry); Bryce Stallworth (mechanical engineering); Kylynn Hodges (computer science); Stuart Liburd (mechanical engineering and materials science and engineering); Rebecca Spencer (mechanical engineering); Jemel Thompson (environmental engineering); and Logan Millen (chemical engineering).
During the day, the NSBE students gave classroom presentations at middle and high schools. After school, they conducted Family Engineering events for K-8 students and their families with fun, hands-on activities.
"Having the NSBE Alternative Spring Break program at our school has sparked new conversations in classes and hallways about the reality of attending a university after graduation," said Matthew Guyton, a robotics, coding, and math teacher at Communication and Media Arts High School, and a graduate of Michigan Tech's Teacher Education Program ('07).
"The high school students have a lot of questions specifically about applying to college," said Stuart Liburd, president of Michigan Tech's NSBE chapter. "We also share our own experiences as college students. For instance, while living in the Virgin Islands, I realized that I wanted to develop technology that would help people in their everyday life," he said. "I applied to a lot of schools but settled on Michigan Tech because I wanted to get out of my comfort zone. It was located in a place I'd never been, and I heard they got a lot of snow. I had never seen snow before coming to Michigan Tech!"
This was Liburd's third alternative spring break in Detroit. "I want to make a positive impact," he adds. "To put it simply, I want to live up to the NSBE motto—'to increase the number of responsible Black engineers who excel academically, succeed professionally, and positively impact the community.'"
"It was so great to have the NSBE members share their experience with our students. They opened up my students' vision of possibilities for the future. Particularly in Detroit, engineering is typically discussed in the context of automotive so it was helpful that the broad scope of engineering was presented," said Nicole Conaway, a science teacher at the Communication and Media Arts High School. "The students' personal stories were especially important for our students to hear in order for them to see themselves as future engineers. A few weeks after the visit, one of my seniors proudly brought me his letter of acceptance from Michigan Tech—it was so exciting!"
"Each year, the NSBE Alternative Spring Break provides an opportunity for community-building between the Michigan Tech NSBE student chapter, and our school and parents," said Tracy Ortiz, a middle school science teacher at Clippert Academy. "We appreciate their time and dedication. Families gain an appreciation of the STEM concepts required for engineering careers, and both parents and children engage in collaboration and teamwork to solve engineering challenges. It was awesome to have the NBSE students share their college experiences and have my students come away with the idea that engineering can be a career path for them," added Ortiz.
"They helped me to see that you can do anything you want with your life," said Tiara Carey, a student at Communication and Media Arts High School. "When Michigan Tech came to visit CMA, it opened my eyes to just how many different branches of engineering exist," said fellow student Caleb Bailey.
"The students from Michigan Tech helped me understand more about myself by playing a game with all of us," adds CMA high school student, Kayleon Anderson-Jordan. "They showed us how important it is to listen and to be very specific. They had us follow directions and understand how one small thing can mess up a larger goal, so be careful with planning."
"NSBE Alternative Spring Break provides an opportunity for our students to see people who look like them, studying for careers that they, too, can attain," said Kwesi Matthews, a science teacher at Ben Carson High School. "Even if they don't go into engineering or a STEM field, we have introduced them to a group of college students who are accessible to them, and like themselves."
"I'd like to personally thank our Michigan Tech NSBE members for taking time in their spring break and investing it to help inspire, and encourage diverse students to consider STEM-intensive careers," remarked Dr. Janet Callahan, Dean of Engineering at Michigan Tech. "When our middle and high school students hear directly from college students about the different majors in STEM, and about how they chose those majors, it's inspirational."
Additional comments from the students at Communication and Media Arts High School include:
"I learned about many kinds of engineering that I didn't know existed until the Michigan Tech visit."
Jada Williams
"They helped me understand how important and critical proper teamwork is—without good communication, errors can potentially result."
Angel McLaurin
"I learned that there are more kinds of technology than I thought, such as the technology in the fashion industry associated with making jeans."
Alexandria Johnson
"They expanded my knowledge of career choices in engineering and even in the field of engineering education. Engineering is one of my potential career choices, so it's reassuring to know that colleges welcome all future engineers in every aspect."
Davion Stinson
General Motors funded their effort, along with the Office of Admissions and College of Engineering at Michigan Tech, in partnership with Detroit Public Schools Community District. The effort was coordinated by the Michigan Tech Center for Science & Environmental Outreach.