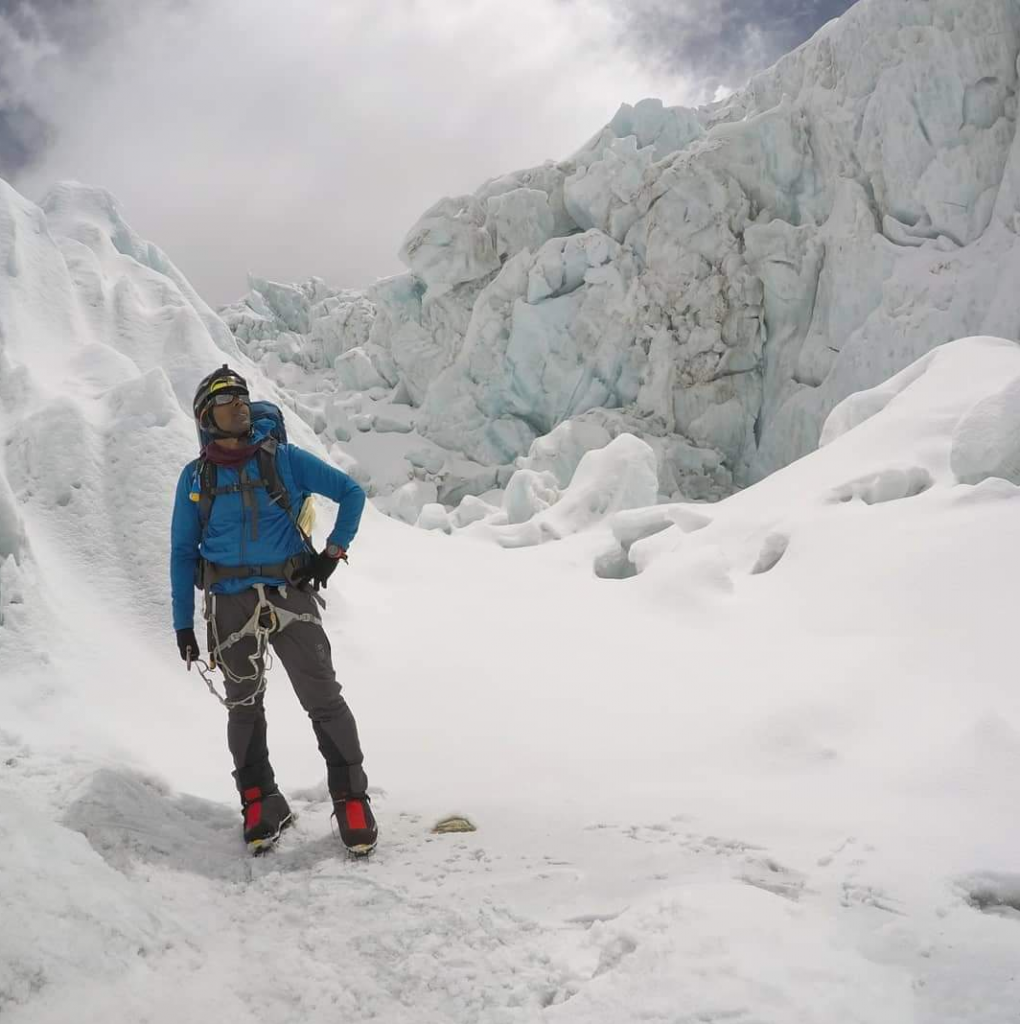 This past spring Michigan Tech ECE alumnus Sirak Seyoum, an electrical engineer living in San Francisco, took time off his professional position at Cargill to climb Mount Everest. His goal: to become the first Ethiopian to conquer Everest, the highest mountain in the world.
As a young boy, Sirak Seyoum grew up in Gondar, Ethiopia, idolizing sports legends like soccer superstar Pelé and Olympic marathon champion Abebe Bikila. After discovering his own passion 11 years ago, Seyoum has been climbing mountains pretty much nonstop ever since, some more than once, about 21 in all. (Scroll down to the end of this post to see the full list.)
Seyoum and members of his rope team started their trek from Lukla to Everett Base Camp on April 5th. Their bid for the summit took place 41 days later. Starting at Camp 4 at 9pm on May 15th, the team climbed throughout the night. By 9:54 AM the next morning, Seyoum was just 200-300 meters from the summit of Everest, at 28,210 feet. "I could literally feel the summit and how beautiful it was, but obeyed the order from my Sherpa, telling me to go back down."
Check out Seyoum's Everest Power BI chart, to see the live data gathered from his Gen3 satellite device throughout his climb.
Now back home in the Bay Area, Seyoum is already preparing for next year. He's planning to climb Everest once again, but this time via the north side in Tibet, China—a more challenging and difficult route.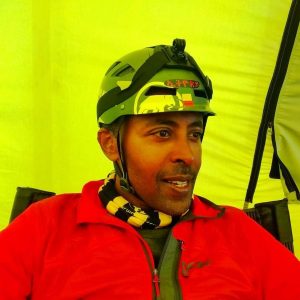 Q: When did you first start to climb mountains?
I began climbing in 2008 while living in Las Vegas, Nevada. It started out with a small hike up a 5,000 ft. mountain after declining a coworker's repeated invites and then finally accepting. I was hooked right away and spent every weekend hiking and climbing.
Q: Does being an engineer help you as a mountain climber? And how does being a mountain climber help you as an engineer?
Interesting question. Being an engineer helps support part of my mountain climbing with the necessary funds needed to train for such climbs. Being a mountain climber helps me purge thoughts, and sometimes great ideas come to life during my climbs.
Q: This year especially, there were many news reports about overcrowding on Mount Everest. What was your experience, and how might the problem best be solved?
Overcrowding has always been an issue over the years but what makes this year stand out most is the amount of inexperienced climbers and Sherpas. The combination of both together is deadly. This year there were only a few days to plan the summit bid, due to bad weather. Our team went for the summit during the coldest period of the 2019 season which didn't attract most climbers hence traffic was minimal. The temps were at -40 degrees. The winds were estimated at 35-45 km/hr.
Q: Is descending the mountain harder than climbing up? Is there a greater risk of falling?
Very true. Descending is more challenging because of muscle loss and fatigue due to not having enough calories during the entire climb.
Q: During your bid for the summit, while climbing at night at such a high elevation, how did it feel?
The stars are way closer and the sky seems to be running out of room for them. What's also incredible is that at Everett Base Camp, during the day when the sun is out, we could hear the melting of the glaciers all around us, sounding like a tropical island with a nearby stream or waterfall. In the evening, melting stops and sounds of avalanche cascade one after another throughout the night. It was incredible.
Q: What was the biggest lesson you learned by attempting Mount Everest?
Never ever stop supplementing your body with electrolytes, water, and energy bars (Ollybars) during and after climbing, especially on the summit bid day.
Q: What was the best part?
The views from Lhotse Face. Reaching Camp 4 with ease and feeling the summit.
Q: What was the biggest challenge?
Lhotse Face. Standing just below Hillary Step, feeling the peak and deciding to turn back around.
Q: You plan to climb next year, via the North side. How will you prepare⁠—mentally, emotionally, physically⁠—for this more difficult route?
Though every step of climbing via the south side was challenging in every way, I have learned a lot about my abilities, and most of all nutrition. My tolerance for high altitude was much higher than I expected, which provides me with a huge boost of mental confidence. The rest will come in line because the hardest part of training is the mental confidence.
Q: Anything more to add?
I would like to recognize and thank my sponsors, Walia and Ollybars. I'd also like to thank Brenda Rudiger, Assistant Vice President for Alumni Engagement at Michigan Tech, for mailing my MTU neck gator and MTU stickers. I have one showing on my mountaineering suit, top left side.
Seyoum's conquest of some of the most challenging mountains around the world is testament to his level of fitness. Visit Sirak Seyoum's Facebook page to read posts and watch videos from his climb of Mt. Everest, and learn more about his second attempt.

Last, but not least: While a little anxious, Seyoum's mother, Dr. Fantaye Mekbeb is his number one fan. Seyoum's father, Dr. Seyoum Taticheff, passed away in 2011 but was always proud and supportive of his son's mountain climbing ambitions.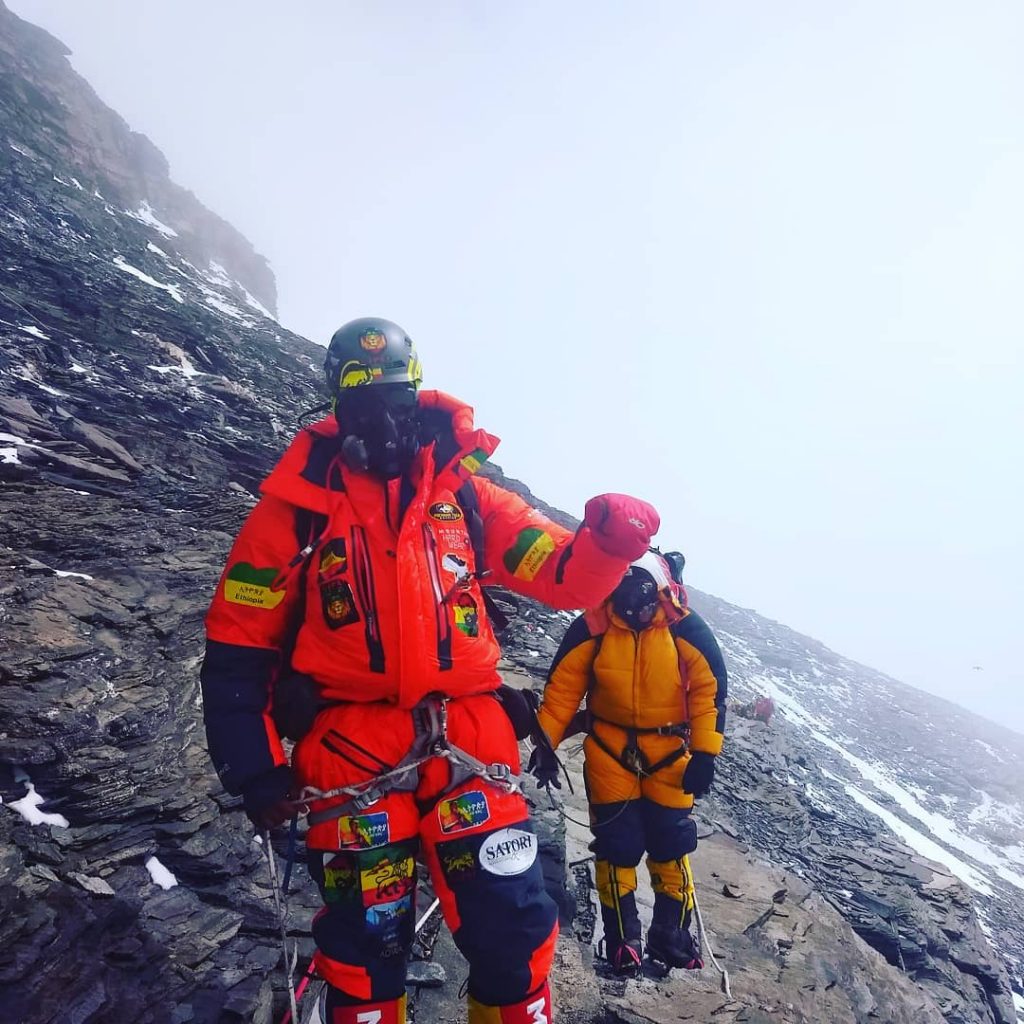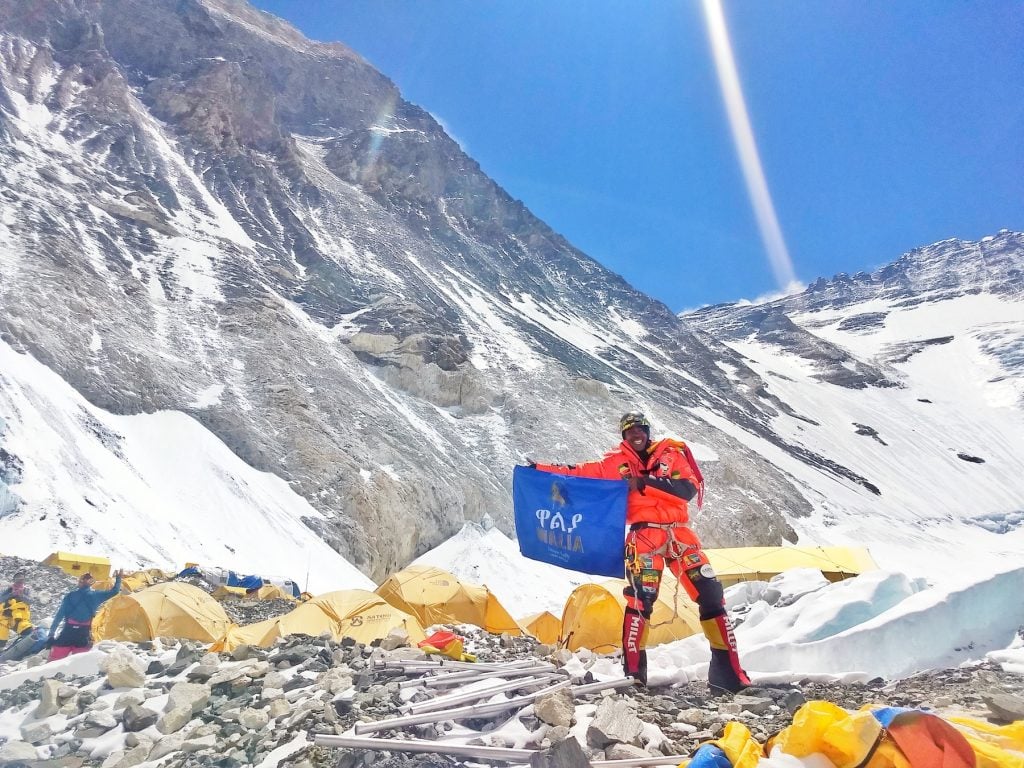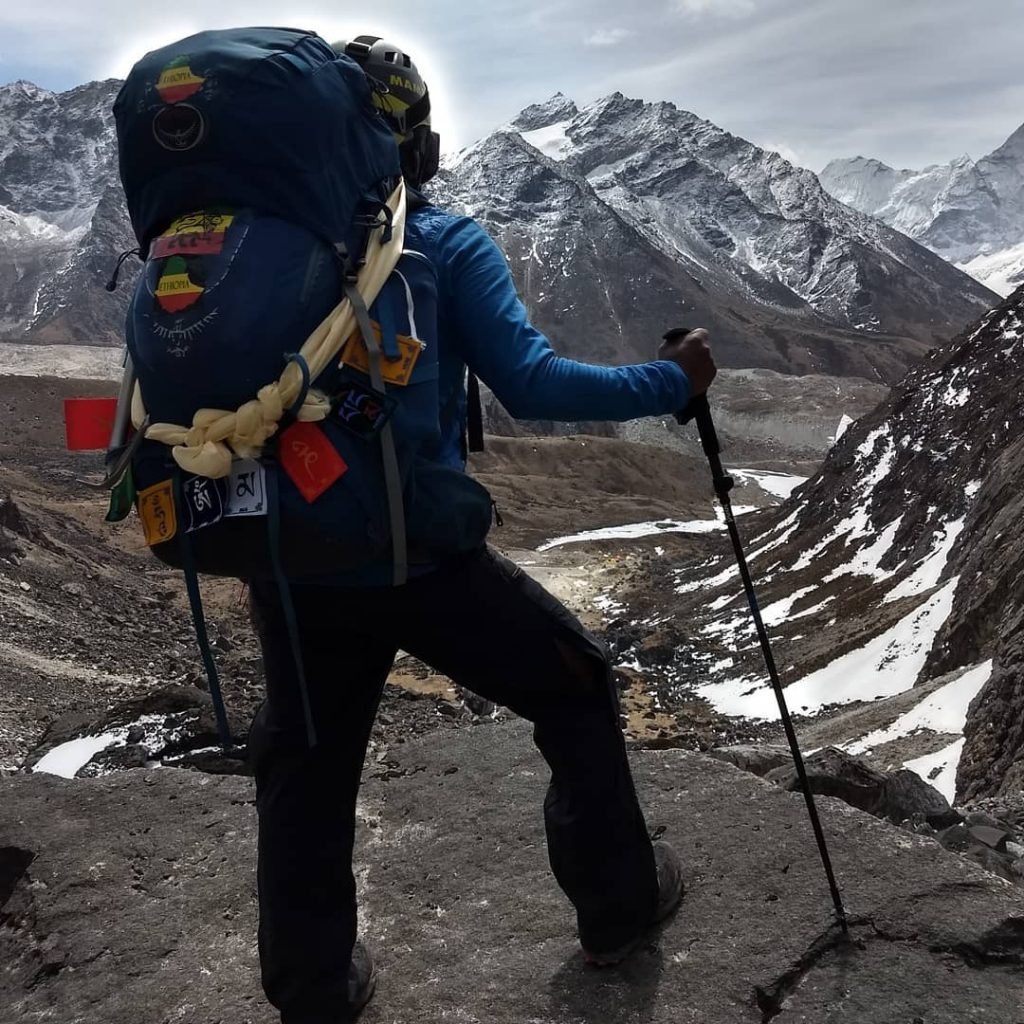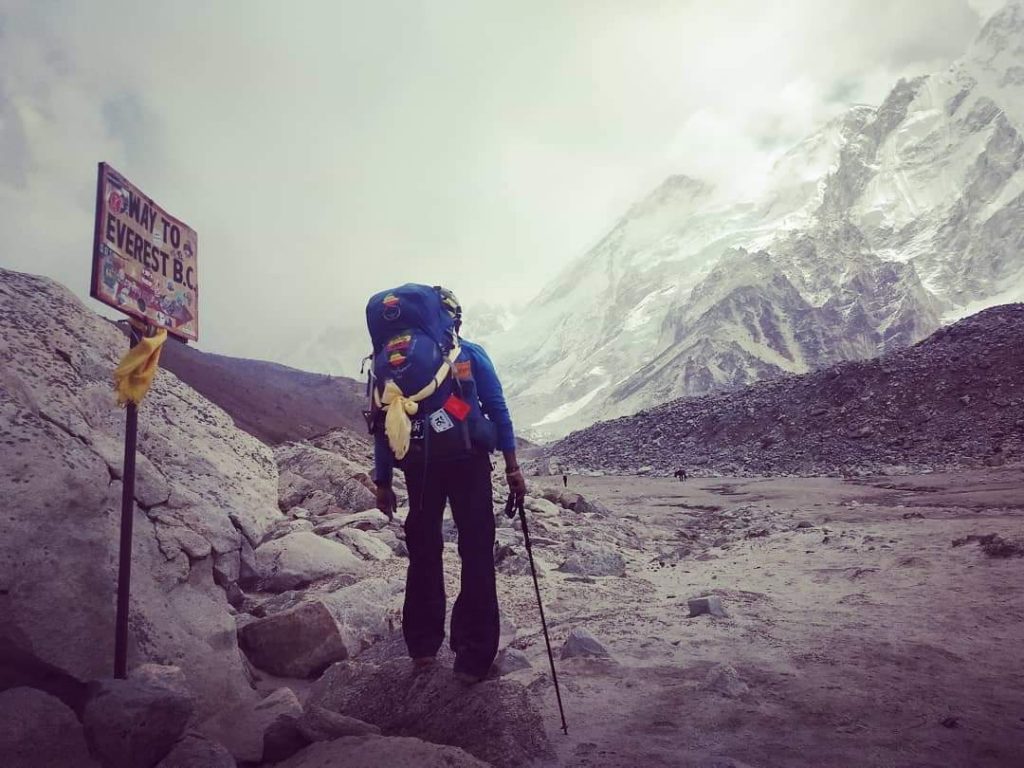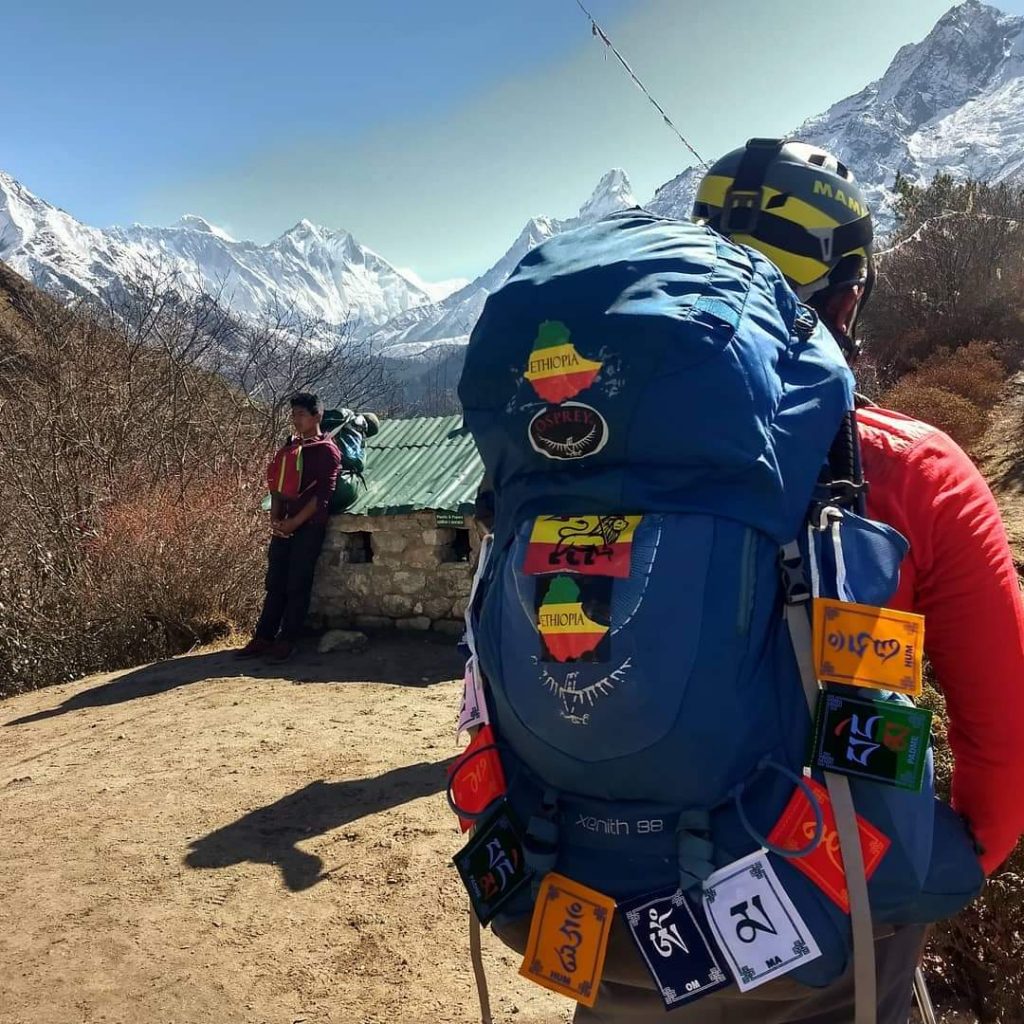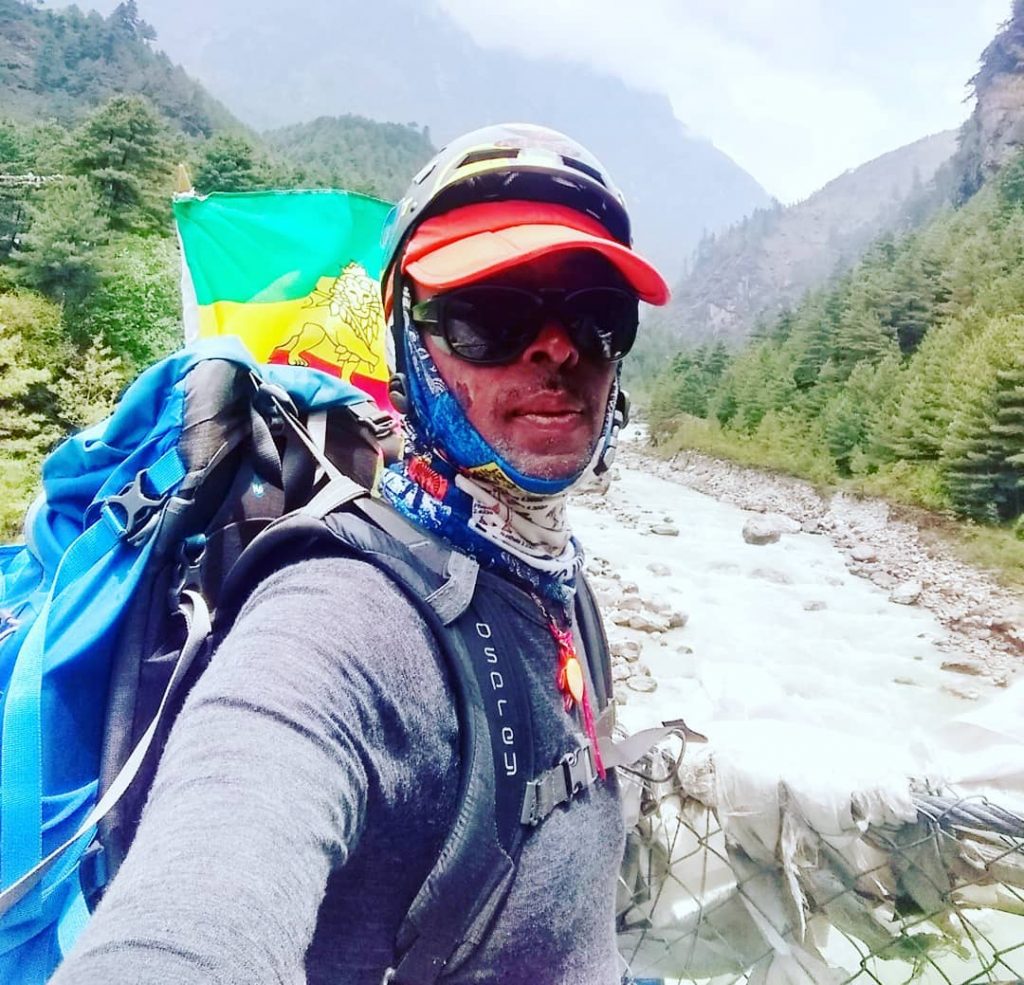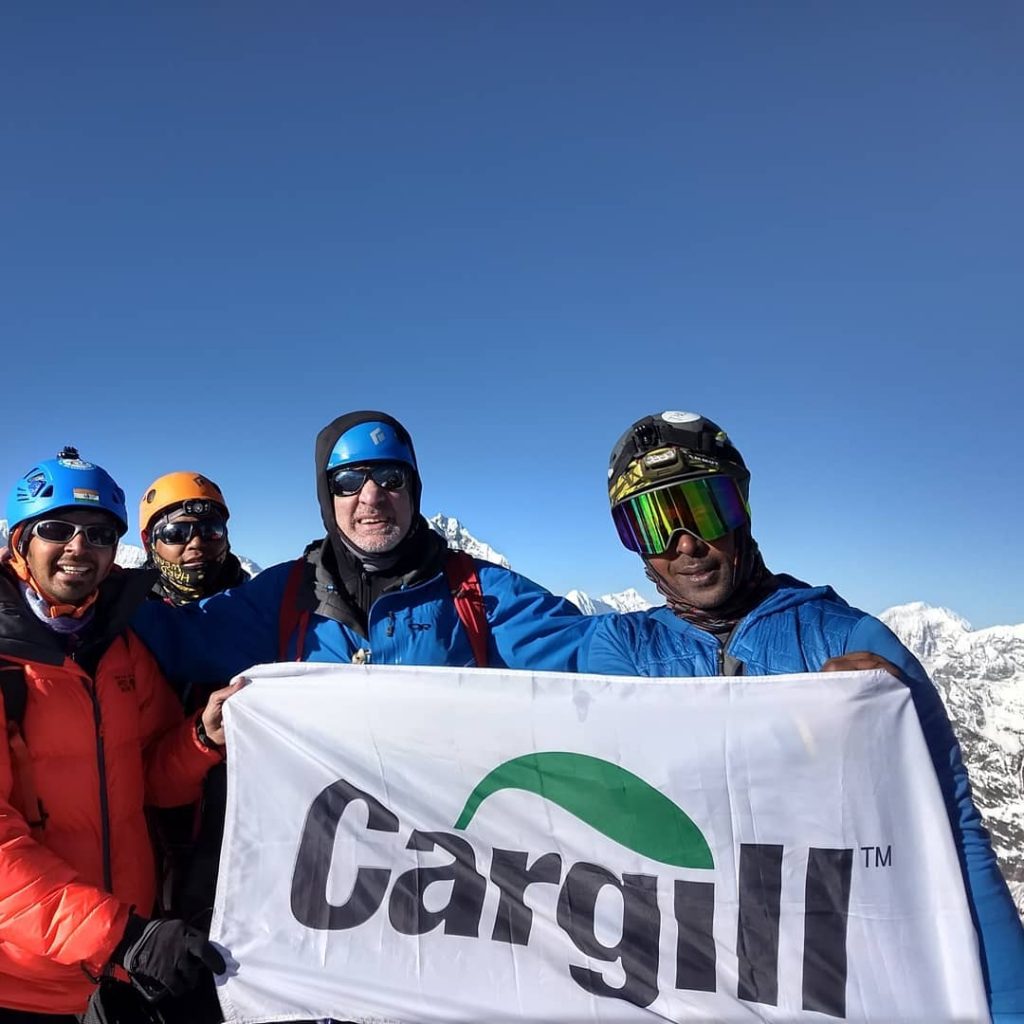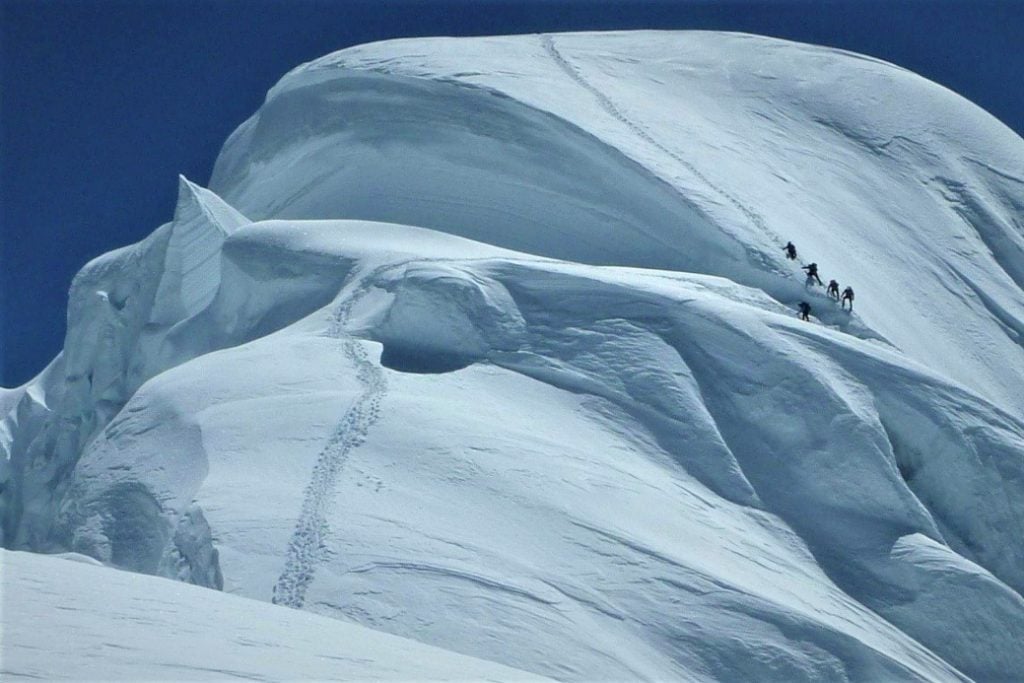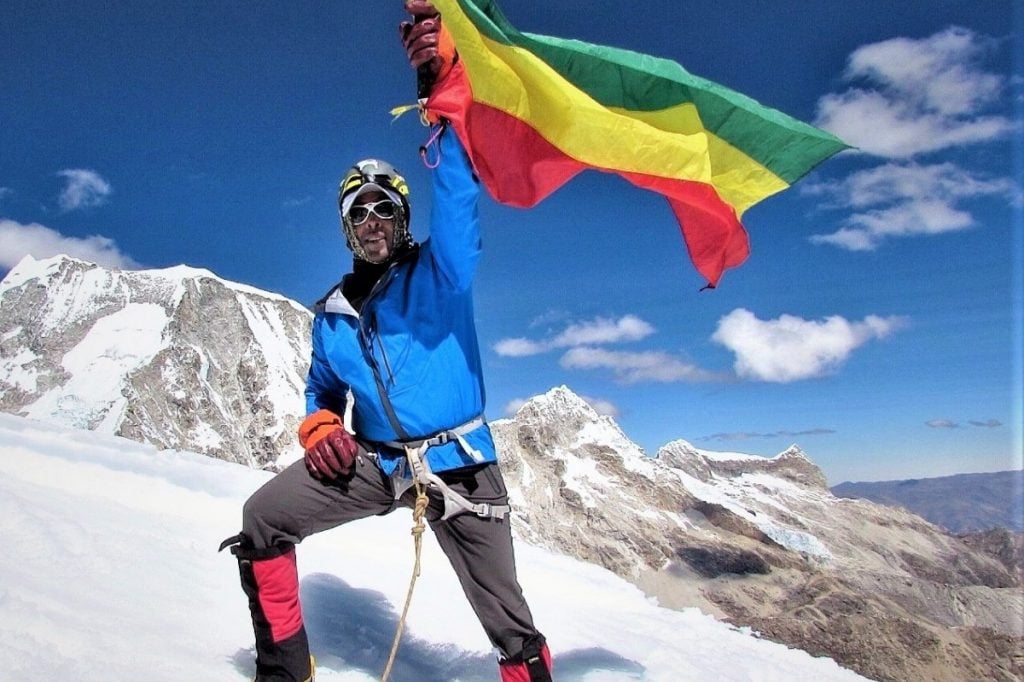 All the mountains (excluding Everest at 8,848 meters) Seyoum has climbed to date:
UNITED STATES
Mt. Rainier, WA, 4392 meters
Mt. Whitney, CA, 4421 meters
Mt. Shasta, CA, 4321 meters
Mt. Wilson, NV, 2056 meters
Mt. Charleston, NV, 2289 meters
Griffith Peak, NV, 3371 meters
Black Mountain, NV 5092 meters
Bridge Mountain, NV, 6955 meters
Mummy Mountain, NV 2264 meters
Rainbow Wall, Red Rock Canyon, NV
MEXICO
Nevada de Toluca, 4680 meters
NEPAL
Mt. Kalapathar, 5644 meters
Island Peak, 6189 meters
Lobuche East, 6119 meters
PERU
Mt. Chopicalqui, 6345 meters
Mt. Pisco5752 meters
Mt. Urus, 5423 meters
Mt. Ishinca, 5530 meters
ECUADOR
Mt. Cotopaxi, 5897 meters
Mt. Chimborazo, 6263 meters
Mt. Antisana, 5704 meters