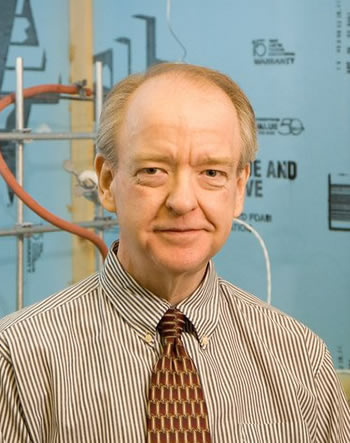 Our second-to-last Deans' Teaching Showcase member for this spring is Tony Rogers, associate professor in Chemical Engineering and co-advisor of the Consumer Product Manufacturing Enterprise.
He was nominated by Chair Pradeep Agrawal and selected by College of Engineering Dean Wayne Pennington for his long and excellent history of teaching in three "real-world" aspects of the chemical engineering undergraduate curriculum: Enterprise, the Unit Operations Lab and the Capstone Design course.
Rogers has taught the capstone plant design course (Process Analysis & Design) for senior-year students since 1993. He draws on his industrial design experience at Research Triangle Institute (RTI, Durham, North Carolina) working under contract for industrial clients.
Agrawal comments on Rogers' unique focus within this course, saying "While safety and environmental constraints are critical to chemical process design, all project investments are based on economic considerations. Professor Rogers sees to it that chemical engineering students graduate with this important perspective and speak the language of cash-flow analyses and profitability. Economics is the deciding factor when choosing between competing technical options."
Rogers has also been advising Consumer Product Manufacturing (CPM) since the Enterprise program first began in 2000. His goal in this role is to give students further industry insight through internship-like experience with corporate sponsors during the regular academic semester. Rogers observes, "It is a fun challenge in all of my courses to keep the students engaged in an era of advancing computer technology and entertainment. The trick is to realize that there are no short-cuts for the hard work of mastering engineering concepts. I try to contribute to my department's goal of turning out industry-ready graduates who are ready to work."
Pennington himself echoes this same practical, balanced focus in summarizing his selection, but emphasizes Rogers' work in a third area—the Unit Operations lab. In Pennington's words, "Every visitor to the Chemical Engineering Department comes away impressed with the Unit Operations lab and the hands-on training that our students receive, in addition to the usual formal education in the discipline. This relationship to the 'real world' of industrial (or research) chemical engineering practice has been largely driven by the initiatives and perseverance of Dr. Tony Rogers over the years. His combination of practical considerations, including safety, environment and economics, with the goal of production on a schedule and within specifications, is unique among undergraduate educational practices. Tony helps make Michigan Tech the respected institution that it is."
Rogers' long and successful history will be recognized at an end-of-term luncheon with other showcase members. He is now eligible for one of three new teaching awards to be given by the William G. Jackson Center for Teaching and Learning this summer, recognizing introductory or large-class teaching, innovative or outside-the-classroom teaching methods, or work in curriculum and assessment.