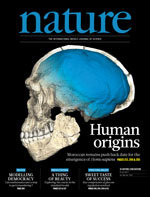 The prestigious journal, Nature, published a correspondence last week titled "A rescue package for imperiled collection" by Ted Bornhorst, executive director of the A. E. Seaman Mineral Museum, along with co-authors Chris Poulsen, chair and professor of earth and environmental sciences at the University of Michigan and Rod Ewing, professor in the Department of Geological Sciences and Frank Stanton, professor in nuclear security at Stanford University.
The correspondence was in response to an editorial in Nature on how academic natural history collections can be saved from destruction by uniting them at regional hubs. The correspondence discusses "rescue" the University of Michigan mineral collection under an agreement between the University of Michigan and Michigan Tech termed the Michigan Mineral Alliance. (To learn more about the agreement see here.)
The correspondence is publicly available as part of Springer Nature Content Sharing Initiative here.