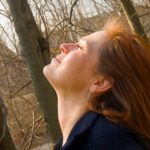 Through generous support from a Michigan Council for the Arts and Cultural Affairs (MCACA) mini-grant, the English Education Program, partnering with the Copper Country Reading Council (CCRC), invites the Michigan Tech community to a family-oriented concert in Houghton at at 7 p.m. Friday, Oct. 20 at Saints Peter and Paul Church (Madeline Street).
We are able to offer the community accomplished musician and children's author, Kitty Donohoe. Donohoe will be in the Copper Country this fall as the CCRC's visiting artist in the schools for the CCRC's North Woods Kids Project. The concert is free, and family-oriented; however, donations to the CCRC at the door would be appreciated and are used to support classroom and community literacy projects in the Copper Country.
Ann Arbor based songwriter and Michigan Emmy recipient Donohoe is not an Irish or Celtic singer, but she clearly draws from that part of her heritage, as well as her American roots, as an artist.
Iconic WFMT-Chicago folk DJ Rich Warren calls Kitty "far above and beyond most singer songwriters."
She writes music that has been called "earthy, luminous and compelling" (The Weekender), and she's been praised in the press equally for her voice, her musicality and her songwriting.
Donohoe will visit schools during the week prior to her concert, performing and working closely on creative writing with students for the North Woods Kids project, now in its third year. Any young person between the ages of 5 and 19 (and not in college) is eligible to submit writing or art to Evelyn Johnson, Dept. of Humanities, MTU by Dec. 1.
The 2017-2018 prompt is, "In creative writing or visual art, show your appreciation of Lake Superior."
For more information on how to submit work to NWK, or on the Donohoe concert, email evjohnso@mtu.edu.