At some point in all of our lives we've had things we've wanted to achieve, whether it was in 1st grade and all you wanted was to be the best at shooting chocolate milk from your nose, or your very first day of college when you were determined to be "the best student you can be." While some people would call these goals, a Lean practitioner might call them dreams. In the area of continuous improvement, goal setting is a very precise and important activity. The difference between having a dream and setting and achieving goals is what I want to focus on today.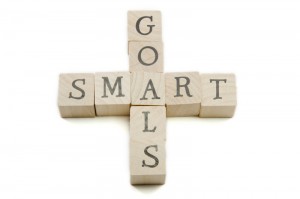 How exactly does one go about fulfilling the dream of becoming the best student they can be or the best chocolate milk shooter? …and how is it determined? By setting SMART goals. SMART stands for specific, measurable, achievable, relevant, and time-bound. SMART goal setting helps bring substance and measurability into your goals and objectives.
Specific
When setting a SMART goal, it is important to know exactly what you want to achieve. The level of specificity you use is directly correlated to the chances of you achieving the goal.  SMART goal setting clarifies the difference between "I will be the best student I can be" and "I will do all of my homework, attend professor office hours once a week, and go to tutoring twice a week."
Measurable
How will you feel? What will you see? How will you know when you've achieved your goal? With a measurable goal, there is no question as to if the goal was met. Instead of stating your goal as "being a better parent" a more measurable goal would be "spending 3 hours of one-on-one time a week with your child."
Achievable
Can you actually do this? Your goals should always push you slightly out of your comfort zone in order to make you feel challenged. However, it is important to keep the scope small enough that you avoid becoming discouraged. The timeliness aspect of SMART goals also comes into play here. Most goals are attainable when you carefully plan your steps and give yourself a time frame that allows you to succeed. Goals that you never thought you could achieve become more realistic as you work through your plan and systematically break down any road blocks.
Relevant
Your goals need to matter. How does the goal tie into your key responsibilities? How does this goal align with the strategic goals of the organization? These are questions that need to be answered to determine whether the goal you are setting is even worth achieving. A lawyer's goal to "make 50 peanut butter and jelly sandwiches by 2pm" may be specific, measurable, attainable and time-bound but completely lacks relevance.
Time-bound
Things are always more likely to get done when there is an established target time or date in place. When setting your SMART goals, put deadlines in place to push progress along and keep yourself, or your team, working efficiently. Deadlines, however, should always be reasonable; there's nothing worse than feeling the pressure of an unreasonable deadline. A time frame is necessary in creating a sense of urgency within yourself; saying "I want to lose 20 lbs" is great but saying "I want to lose 20 lbs by June 1st" gives you a definitive end date to complete your goal by.
If you're interested in a coaching session using SMART goal setting or any other continuous improvement technique(s), let us know at improvement@mtu.edu or call the Office of Continuous Improvement at 906-487-3180.
References
"Creating S.M.A.R.T. Goals." Self Improvement and Personal Development Community. Top Achievement, n.d. Web. 31 Jan. 2015. <http://topachievement.com/smart.html>.
"SMART Goals." Coaching Tools. YourCOACH, n.d. Web. 3 Feb. 2015 <http://www.yourcoach.be/en/coaching-tools/smart-goal-setting.php>.