This is the second installment of Lean in Their Own Words. At the April graduation ceremony for our new Lean facilitators, the graduates each said a few words about what Lean means to them. Many of them have given me permission to share their thoughts with you. Here is what Gina Goudge, Manager of Business Operations and Student Employment for Career Services, had to say.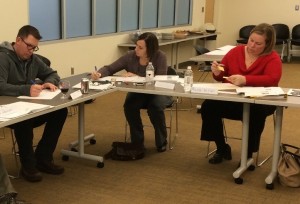 "When I asked my boss, Steve Patchin, if I could sign up for Lean Facilitator Training, I thought I knew exactly what I was getting myself into. Lean was all about organization, right?  I'm organized, I create checklists, I already know all about Lean!
This will be a breeze, I thought…maybe I'll pick up a few new tools!  Well, I was so wrong, because Lean is so much more.
As I embarked on my Lean journey (and it has been a journey!) I quickly realized Lean was going to push me, force me to move outside of my comfort zone, force me to work on my presentation skills, to face my fear of public speaking!
So as I stand here, facing my fear, I'd like to present my elevator speech…what I believe Lean is and is not.
Lean is NOT about being skinny or "cutting to the bone."  Lean IS about having the right resources to ensure we are providing the best quality product or service.  Lean IS a way of approaching and thinking through any problem, system, or situation.
Lean is NOT just a few tools to use.  Lean IS an entire toolbox of management practices to help you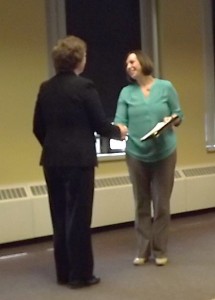 streamline a process and continuously strive for improvement.
Lean is NOT mean.  Lean IS respectful toward everybody–a no fault/no blame game that locates the flaw in the system when an error occurs rather than the individual.
This is why I'm so excited to become a Lean Facilitator.  I get to share with others a new way of thinking, a new mode of operation, empowering them with the Lean tools and strategies to constantly question their status quo, inspiring cooperation, respect, change and growth both personally and professionally."
When you see one of our Campus Facilitators, be sure to ask them about Lean!