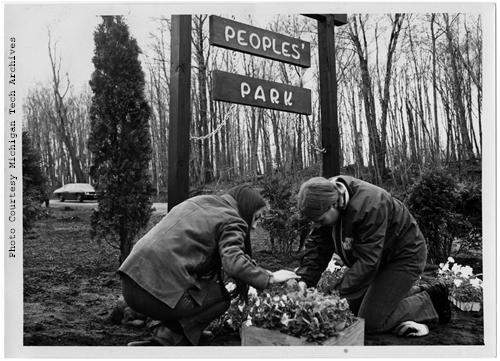 Please join us for visiting scholar Kera Lovell at 4:00 pm on Thursday, August 13 in the East Reading Room of the Van Pelt and Opie Library on the Michigan Technological University campus. This event is free of charge and open to the public. Refreshments will be served.
In this presentation, Lovell will present a portion of her dissertation which examines the devices and material construction of activism after World War II. In particular, Ms. Lovell will trace the history of the "People's Park" movement. These coalitions of activists and students spread across the United States from Berkeley, California to Houghton, Michigan, and in places abroad, including South Africa. These spaces protested environmental and socioeconomic injustices. Ultimately, the protests took form through the creation of public parks in vacant lots, signifying a permanent occupancy that was visible to the public.
This talk will examine the visual and rhetorical strategies these activists used to equate their peaceful occupancies with territorial reclamation, and frame their creations as public memorials to colonized peoples. By examining some essential case studies of People's Parks and situating Michigan Tech's own People's Park within this global movement, the talk will shed light on how activists saw space not as property, but as a symbolic representation of power.
Kera Lovell is a PhD candidate and Instructor in American Studies at Purdue University in West Lafayette, Indiana. She received her Master's degree in American Studies from Purdue in 2011, and her Bachelor's in History and Spanish from Agnes Scott College in Decatur, Georgia. She has received several awards from institutions to conduct and present her research, including Purdue University, Boston University, the Wisconsin Historical Society, and Michigan Tech. Her dissertation, titled "Radical Manifest Destiny: Urban Renewal, Colonialism, and Transnational American Identity in the Urban Spatial Politics of the Postwar Left" traces the global popularity of a particular post-World War II protest tactic in which activists permanently occupied vacant lots by converting them into politicized urban green spaces they called "People's Parks."
Lovell's research visit and presentation are supported by a travel grant from the Friends of the Van Pelt Library. Since 1988, the Michigan Technological University Archives Travel Grant program has helped scholars advance their research by supporting travel to the manuscript collections at the Archives.
For more information, feel free to call the Michigan Tech Archives at 906-487-2505, email at copper@mtu.edu, or visit on the web athttp://www.lib.mtu.edu/mtuarchives/.