World War I & the Copper Country Opening Reception and Constitution Day Speaker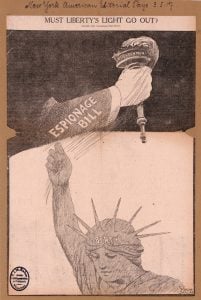 Dr. Brett Gary, Associate Professor of Media, Culture and Communication at NYU, will deliver "World War I Speech Catastrophes and the Postwar Struggle for Free Political and Sexual Speech" as a talk for Constitution Day and the opening reception of the World War I & the Copper Country commemoration.</span? Dr. Gary will explore the history of the wartime crackdown on political dissent and sexual impurity, and the development of the parallel civil liberties traditions that emerged in the war's aftermath.
Dr. Gary will be speaking on Thursday, September 13th, at 4 p.m. in the East Reading Room of the Van Pelt and Opie Library. Light refreshments will be provided.
The following evening, Dr. Hillary Virtanen, Assistant Professor of Finnish & Nordic Studies at Finlandia University, will deliver a related talk entitled "An Unpopular History: Uncovering Copper Country Antiwar Stories in World War I". Virtanen's talk will introduce and discuss the process for developing the historical exhibit, "Copper Country Voices of Dissent in the Great War," opening in the Finnish American Heritage Center the day of her talk. Refreshments will be served.
Dr. Virtanen will speak on Friday, September 14th, at 7 p.m. in the Finnish American Heritage Center at Finlandia University.
Both events are FREE to the public. For more information, visit online or email ww1cc@mtu.edu.