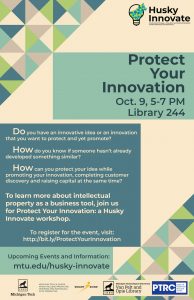 Do you have an innovative idea or an innovation that you want to protect and yet promote? How do you know if someone hasn't already developed something similar?
If you would like to learn more about intellectual property as a business tool, please join us for Protect Your Innovation, a Husky Innovate and Patent and Trademark Resource Center collaborative workshop that will be held from 5 – 7 p.m. Wednesday (Oct. 9) in Library 244. We will discuss the fundamentals of intellectual property such as patents, trademarks, licensing and trade secrets, including how to initiate a prior art discovery with resources here at the Library. Register for the seminar at https://bit.ly/ProtectYourInnovation .
Our workshop will start with an introduction into the practical considerations and trade-offs involved in protecting your idea and how intellectual property protections can be used as a tool to develop your innovation. Michigan Tech's own IP expert, Licensed Patent Agent and Associate Vice President for Research Administration Jim Baker, and local Michigan Tech Enterprise Corporation (MTEC) SmartZone CEO Dan Jamison will open up the conversation with compelling scenarios and be available for questions throughout the event. Annelise Doll and Katie Edson will provide us with an overview and hands-on search activities available at the local Patent and Trademark Resource Center offered through the US Patent and Trademark Office.