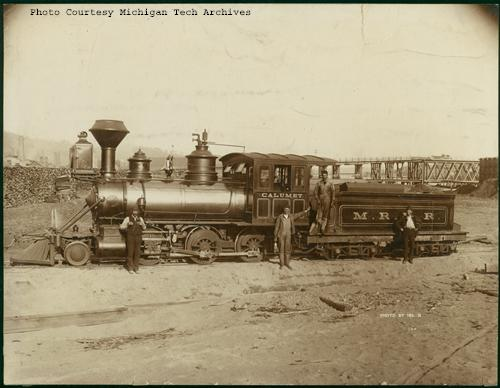 Please join us for visiting scholar Mark Worrall at 4:00 pm on Monday, November 10 in the East Reading Room of the Van Pelt and Opie Library on the Michigan Technological University campus. This event is free of charge and open to the public. Refreshments will be served.
In this presentation, Worrall will explore the history of the section of the Mineral Range Railroad that extended from Keweenaw Bay, through Mass City, to Riddle Junction. Many aspects of the line's tenure will be examined, from its construction at the beginning of the twentieth century to its final abandonment in the 1930s. Major topics include the railroad's connection to local industries, driving factors behind the line's installation, complications faced during construction of the branch, passenger train operations and the influence that local Finnish culture had on the railroad.
Mark Worrall is a railroad historian whose research interests include the Duluth South Shore & Atlantic, historic interactions between Michigan's railroads and the mining industry, Michigan rail wrecks and disasters, and late nineteenth and early twentieth century imagery of Michigan railroads. He is the current president of the Michigan Railroad History Conference and chaired the last two conferences. Mark's research goals are to promote awareness and interest in Michigan's rich railroad history.
Worrall's research visit and presentation are supported by a travel grant from the Friends of the Van Pelt Library. Since 1988, the Michigan Technological University Archives Travel Grant program has helped scholars advance their research by supporting travel to the manuscript collections at the Archives.
For more information, feel free to call the Michigan Tech Archives at 906-487-2505, email at copper@mtu.edu, or visit on the web athttp://www.lib.mtu.edu/mtuarchives/.