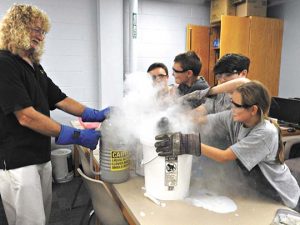 HOUGHTON — From purifying water to learning the reactions creating ice cream, Houghton Middle School seventh-graders got hands-on learning as part of the school's annual Day of Science activity at Michigan Technological University.
About 120 students took in four stations out of 11 throughout the day, intended to engage them in various science, engineering, mathematics and technology (STEM) fields.
In Ed Laitila's session, the materials science assistant professor taught students about the properties of matter and how it shifts between states.
"When we put that nitrogen in there, it's going to transform into a gas and it needs energy," he said. "It's going to pull that energy out of the cream. And if you pull energy out of the cream, what happens to the temperature?"
Read more at the Mining Gazette, by Garrett Neese.
The Day of Science took place on September 18, 2019.