Category Archives: Students
---
NPS Intern Position Announcement:
The NPS George M. Wright Climate Change Youth Initiative internship
program has a summer internship located at National Park Service's
National Center for Preservation Technology and Training (NCPTT), located
on the campus of Northwestern State University in Natchitoches, LA, that
has re-opened. This internship is open to undergraduate and 1st year
graduate students. Graduating seniors are eligible, as are students
enrolling in graduate school or who are just completing their 1st year of
graduate school.
This project will integrate climate change models with the science of
historic preservation. The intern will work closely with NPS material
scientists and historic preservation specialists and the NPS Climate
Change Response team to develop critical baseline information about the
thresholds of historic buildings and materials to environmental change.
For example, what are the effects of increased humidity or rainfall
intensity on historic mortar? On wooden roofs? This information will be
used throughout the NPS as it develops adaptation plans for its historic
structures and cultural landscapes for coming decades.
The project will be located at NCPTT with some local fieldwork in the
Natchitoches and New Orleans areas. The salary is $12 per hour. The intern
should be enrolled in or have completed a four year degree program with a
focus or degree in with primary coursework in: heritage preservation,
materials science/architecture, or environmental science, with additional
coursework in anthropology, geography, or historical fields relevant to
issues of climate change and heritage, the geographic or biological
sciences (e.g., geography, ecology, biology, geology), and/or civil and
environmental engineering. The ideal candidate has intermediate to
advanced GIS skills, experience working in small teams with effective
communication skills including report writing, and good interpersonal
skills.
The position will remain open until Monday, May 20 at 5:00 p.m. PDT.
Students may apply at www.ccyi.org AND they should send an email to
ccyi@uw.edu to notify the program of their application.
Please forward to your advising staff, students, fellow faculty, and any
other interested parties. And for questions, please contact the program
coordinator, Adrienne Karpov, at email (ccyi@uw.edu) or at 206-616-5350.
---
Email: patrick.mccurdy@colostate.edu
Name: Patrick McCurdy
Organization: Colorado State University
Title-Subject: [Filtered] Materials TEM position
Message: The position of Electron Microscopist and Imaging Specialist is a full-time, special, 12 month Research Scientist/Scholar I administrative professional position in the CSU Chemistry Department's Central Instrument Facility (CIF) Imaging and X-ray Spectroscopy laboratories. Responsibilities will include providing advanced research services and training for, and routinenmaintenance of, electron microscopy methods (EM) including ultra-high resolution transmission EM. All instruments in the CIF are available for use by the successful candidate,who will be expected to collaborate with colleagues, staff scientists, faculty and other principal investigators to advance CSU's primary research, education and service mission.  Additional information about the CIF can be found at http://cif.colostate.edu/.  The successful candidate must have Ph.D. in a chemistry-related discipline. Familiarity with UHV, EM and X-ray techniques is required and development of collaborations with senior investigators is expected.  Familiarity with the chemistry of hard materials, electron energy loss spectroscopy, lithography and focused ion-beam milling will be considered advantageous.  Salary is negotiable and will be commensurate with experience.
For more information or to apply see –   http://cns.natsci.colostate.edu/employment/Chem-EM/. A full application will include a cover letter, curriculum vitae and contact information for three professional references. For full consideration, applications must be received by May 27; however, the search will remain open until a suitable candidate is identified.  Anticipated employment start date is  July 14, 2013. Files of semifinalists will be available to all Chemistry Department faculty.
CSU is an EO/EA/AA employer.  Colorado State University conducts background checks on all final candidates.
---
Materials science and engineering professor Jiann-Yang "Jim" Hwang and 2012 PhD graduate Zhiwei Peng have been chosen to receive Michigan Technological University's 2013 Bhakta Rath Research Award for their studies on the use of microwaves in steelmaking.
The award, endowed by Michigan Tech alumnus Bhakta Rath and his wife, Shushama, recognizes a doctoral student at Michigan Tech and his/her faculty advisor for "exceptional research of particular value that anticipates the future needs of the nation while supporting advances in emerging technology." Hwang and Peng, now a research assistant professor, will share a $2,000 prize.
Peng's solid foundation in math and science and his interdisciplinary approach have been key to the project's success, said his advisor. "He is not afraid of challenges, and he willingly took courses from other departments that advanced his research," Hwang said. "By combining knowledge from several disciplines, Zhiwei has developed a new field of research."
Read more at Tech Today, by Marcia Goodrich.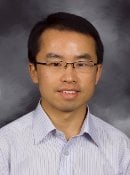 ---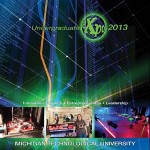 Seniors in Materials Science and Engineering were involved in several interdisciplinary collaborations for their Senior Design Projects. Each project had a faculty advisor and industry sponsor. Students worked together to address issues in medicine, transportation, manufacturing, metallurgy, and other areas.
Senior Design Projects 2012-13
Projects were presented at the Undergraduate Expo 2013. Learn more about Expo activities in the Expo 2013 Booklet.
---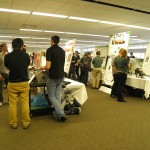 More than 60 student teams displayed their research projects at the Undergraduate Expo last Thursday, April 18, at the Van Pelt and Opie Library. You can check out Expo videos, slide show, booklet and results at http://www.expo.mtu.edu/awards.html
Senior Design Second Place
Sickle Section Material and Heat Treatment Investigation
Team Members Kelsey Michael, Anne Wiese, Luke Operhall, and Bradley Pasionek, Materials Science and Engineering; 
Advisor Mark Plichta
; Sponsored by Kondex
Senior Design Honorable Mention
Design of an ETA Phase Strengthened Nickel-Based Alloy
Team Members Peter Enz, Bryan Turner, Ben Wittbrodt, and Matthew Wong, Materials Science and Engineering
; Advisor Calvin White
; Sponsored by John Shingledecker, Electric Power Research Institute
Senior Design Honorable Mention
Stainless Steel Bonded Titanium Carbide
Team Members Max Rebottaro and Michael Buhr, Mechanical Engineering; Carolyn Lahti and Andrew Miko, Material Science and Engineering; 
Advisor Paul Sanders, Materials Science and Engineering
; Sponsored by Kennametal
Expo Image Contest Second Place
Advanced Metalworks Enterprise: Pouring molten iron from induction furnace into crucible for filling sand molds
http://www.flickr.com/photos/michigantechcoe/8529382690/sizes/c/in/set-72157632859208850/
Students show expo work
The 13th annual expo, held for the first time on the third floor of the J. Robert Vane Pelt and Opie Library, featured projects from Tech senior design (generally five senior-level students from one degree program) and enterprise (essentially cross-disciplinary student-run businesses), as well as three high school enterprise teams (including Dollar Bay High School's Student Organization of Aquatic Robotics).
Read more at the Mining Gazette, by Stephen Anderson.
---
Michigan Tech faculty, staff members, and students received awards tallying $ 96,635 in funding through the Michigan Space Grant Consortium (MSGC), sponsored by the National Aeronautics and Space Administration (NASA).
Undergraduates in MSE receiving $2,500 research fellowships include:
Jacob Braykovich (MSE): "Optimizing processing techniques for high ductility magnesium alloys"
Zachary Morgan (MSE): "Computational Study of Improved Damping Capabilities in Metal Matrix Composites with Functionally Active Ferroelectric Reinforcement"
Evan Schaefer (MSE): "Antimicrobial polymeric composites with clay-copper hybrid filler"
Matthew Tianen (MSE): "Corrosion of bioabsorbable materials"
Bradley Villeneuve (MSE): "Antimicrobial copper-vermiculite filler"
Michael Warhus (MSE): "A predictive study of magnesium alloy bioabsorbable stents by computer modeling"
Read more at Tech Today.
---
SURF will Fund 26 Students
This summer, the Summer Undergraduate Research Fellowship (SURF) will fund 26 students from across the University with funds from the Vice President for Research, the Honors Institute, the School of Forest Resources and Environmental Science, the Earth Planetary and Space Sciences Institute, and the Department of Physics. The total funding for the program this year is $85,800.
From Tech Today.
SURF award recipient in MSE includes:
Matthew Tianen
Advisor: Jaroslaw Drelich
Development of Zn-based Alloys for Bioabsorbable Stents
---
Waltek Inc., an investment casting company in Ramsey, MN (outside Minneapolis) is looking for a summer intern to work with our sales engineer. Work would include new part processing, improving existing parts, and analysis of customer profitability. If you know any students who might be interested please have them send a copy of their resume to David Hilden at dhilden@waltekinc.com with "Waltek Summer Internship" in the subject line.
---
Megan Kreiger (graduate student MSE) and Joshua Pearce (MSE/ECE) co-authored and article "Environmental Impacts of Distributed Manufacturing from 3-D Printing of Polymer Components and Products" in the MRS Online Proceedings Library, 1492, mrsf12-1492-g01-02 Proceedings.
From Tech Today.
Megan Kreiger and Joshua M. Pearce (2013). Environmental Impacts of Distributed Manufacturing from 3-D Printing of Polymer Components and Products. MRS Online Proceedings Library, 1492, mrsf12-1492-g01-02 doi:10.1557/opl.2013.319.
---