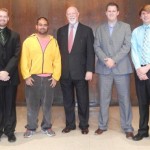 Winning first prize and $1,000 was MyPaar (My Love), a dating website for India, created by physics PhD student Abhi Kantamneni.
At the Fourth Annual Bob Mark Elevator Pitch Competition at Michigan Technological University, more than 20 teams made their best pitches promoting ideas for new businesses, and the judges had some hard choices to make. The contest emulates an elevator ride with a potential investor, and this year featured sound effects, dramatic lighting and entertainment.
Read more at Michigan Tech News, by Dennis Walikainen.