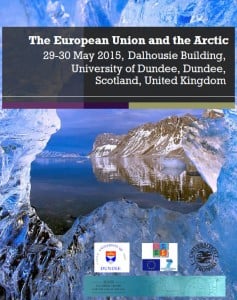 On Friday, May 29, 2015, Associate Professor Mary Durfee (SS) gave an invited paper, The EU in the Arctic: Where will it live? at a conference on the EU in the Arctic held in Dundee, Scotland.
The European Union and the Arctic (2015 EU-Arctic Conference)
This conference will bring together academics and practitioners from relevant disciplines such as international law, international relations, political science and marine biology, NGOs, representatives from EU institutions and international organisations to discuss the EU's potential contribution to enhance Arctic governance. A roadmap for increasing the effectiveness of the EU's action in the Arctic will be drawn at the end of the conference.