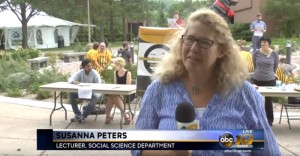 University Students celebrate Constitution Day
Students at Michigan Tech gathered outside for a ceremony on campus to honor the occasion. The founding document was signed on September 17, 1787 in Philadelphia, Pennsylvania. It is a federal requirement that all universities do something to mark the anniversary date.
"I think it gives students a really good reminder to think about the Constitution as the document that we all admire and has worked a long time for this country," said Social Sciences Department Lecturer Susanna Peters.