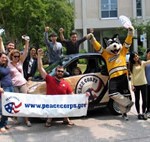 HOUGHTON — Michigan Tech's mascot, Blizzard T. Husky, met the challenge of squeezing into the driver's seat of the US Peace Corps' Peace Car, which arrived on the Michigan Tech campus this afternoon — one of many stops on a Midwest Tour by representatives from the Peace Corps Midwest Region office in Chicago. The Peace Car enables Peace Corps staff to share their mission while limiting their carbon footprint.
Michigan Tech has the greatest number of Peace Corps Masters International programs in the US. The programs — from Forestry to Environmental Engineering, Geology and more — are now in ten different MTU departments that offer a Master's Degree combined with Peace Corps service.
Kari Henquinet, Michigan Tech Peace Corps Master's International Program director and senior lecturer in Social Sciences, was on hand to welcome the Chicago Peace Corps team.
"They'll come back in the fall for recruiting," Henquinet said.