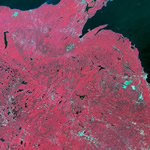 PhD student Riccardo Tortini (GMES) has won free satellite imagery to aid in research. The firm DMCii provided the prize and conducted the contest, which drew entries from all over the world.
Over the summer, Tortini has been working with Associate Professor Audrey Mayer (SS) to monitor land cover change from timber to non-timber use in Michigan and calculate the rate and intensity of forest harvesting in the area.
Tortini's advisor is Associate Professor Simon Carn (GMES).
From Tech Today.