Michigan Tech faculty, staff, and students win numerous awards each year. UMC has been asked to recommend a template for promoting award winners on departmental and academic websites.
Posting the Award
We recommend creating a new post on your WordPress blog. Follow these steps:
Post Title: this should include the name of the award and the winner(s) if they are able to fit.
Post Description: this is the information about the person, award, location, date, etc.
Profile Link: if the award winner has a profile webpage on your CMS website, it is nice to link their name to that profile, so that readers can learn more about the person.
Photo(s): these are optional. If you have a related photo, it would be great to use it. If you do not, you could opt to use the award winner's portrait photo from your staff listing. Simply download the photo from the staff listing page and load it into WordPress.
Category: we recommend adding an "Awards" category to your blog and selecting this category each time you post an award winner.
Tags: we recommend tagging each award a "faculty," "staff," and/or "students" depending on who the award is going to.
Sample Award Posting
The following is a sample of what an award post may look like:
---
Joel Vertin recognized at Student Affairs Celebration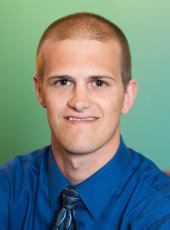 At the Student Affairs and Advancement celebration held on May 4, Joel Vertin received The Force award. The award recognizes people that go above and beyond to get the work done. The award is described as:
How does this person do it? The Force Award goes to a person, who somehow, someway, manages to get big things done no matter what kind of odds are stacked against them. The Force is strong with this one.
Mr. Vertin was nominated for the award by Bonnie Gorman, Dean of Students at Michigan Technological University.
Ian Repp, Director of University Marketing and Communications stated: "I have no idea how Joel gets so many websites finished each year. It is amazing."
Mr. Vertin is the Digital Services Manager within University Marketing and Communications. He has managed the web team since 2012 and has been a part of UMC since 2010. He enjoys golfing, softball, and long walks on the beach.
---
Feeding your CMS Site
Once the award is posted to your departments blog, it should automatically feed into your homepage news widget (if you have one). If you do not have a news feed set up already, please email cmshelp@mtu.edu for assistance.
If you use an "Award" category in your blog, we can also create a special feed that is only of award winners. This may be useful if you have any internal webpages where an awards feed would make sense. If you would like a specific awards feed created, please email cmshelp@mtu.edu.
If you have any questions about posting awards, organizing them, or making them appear on your website, please let us know.