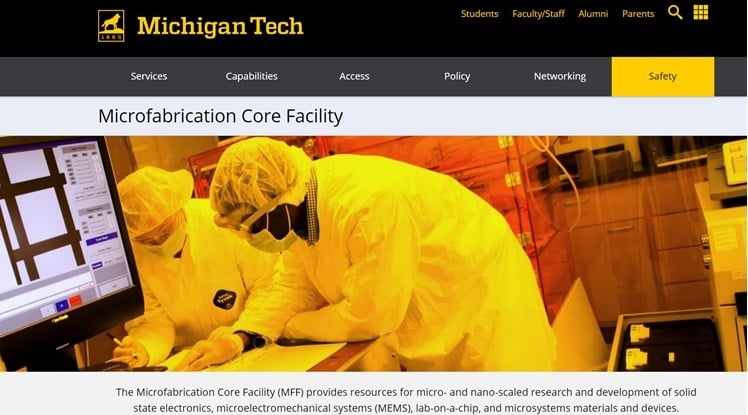 Michigan Tech's Microfabrication Facility, housed under the Department of Electrical and Computer, has launched its new website mtu.edu/microfabrication.
The Microfabrication Facility (MFF) consists of thin film, plasma etching, photolithography, and temperature processing equipment. MFF capabilities are broad and applicable to areas of biomedical engineering, chemistry, chemical engineering, electrical engineering, physics, materials science, and mechanical engineering. Deposition, sputtering, etching, and photolithography capabilities together with microcharacterization measurement systems enable precision device engineering.
The new site enables users to schedule reservations and check the live status of the MFF equipment, along with other user friendly features.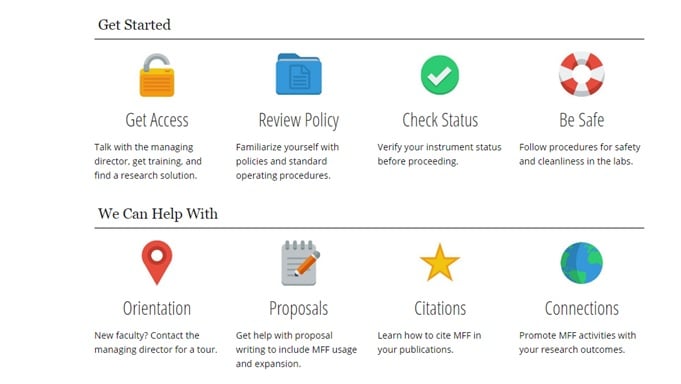 The MFF was also recently selected as a member of the Northern Nano Lab Alliance (NNLA), a regional network of university fabrication facilities. The mission of the NNLA is to help each member improve their support of academic research in applied nanotechnology.
MFF managing director Chito Kendrick, PhD, says "Being a member of the NNLA allows for a partnership with some of the local regional universities that have similar nano/micro fabrication facilities, and will indirectly expose Michigan Tech to the National Nanotechnology Coordinated Infrastructure (NNCI), which has replaced the National Nanotechnology Infrastructure Network (NNIN). This opens up availability to systems that are currently not provided by the MFF. The partnership will also benefit the MFF staff with access to technical support and loaning equipment from the other groups; also we are exploring ways to reduce the operational costs of these facilities."