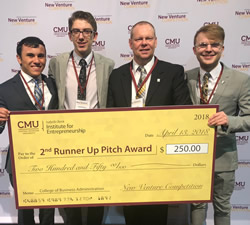 Six undergraduate student teams from Michigan Technological University traveled to Central Michigan University (CMU) to compete in the eighth annual New Venture Competition held Friday, April 13, 2018. The event was co-sponsored by Michigan Tech's Innovation Center for Entrepreneurship (ICE). Student teams from Michigan Tech and CMU presented business plans and pitches to panels of experienced entrepreneurs. Four of Michigan Tech's six competing teams, including those with engineering students, took home cash and in-kind awards.
Team Fitstop took first place in the pitch competition and was awarded $1,000. Fitstop founders, Gabe Giddings (computer science) and Jacob Carley (electrical engineering), participated in Michigan Tech's I-Corps Site Program in January.
Pavlis Honors College student Kyle Ludwig won the $250 Audience Choice Award in the pitch component of the competition for his startup Looma. In addition, Looma was also awarded $1,500 in legal assistance from Foster Swift.
Michigan Tech's Hinge was awarded second runner up in the pitch component of the competition and $250. Isaiah Pfund (mechanical engineering), Jack Horrigan (electrical engineering), and Tanner Sheahan (chemical engineering), of Hinge, participated in the Michigan Tech Consumer Products Challenge last January and are working on a self-sanitizing toilet as well as other consumer and industrial product ideas. Horrigan and Pfund were also winners of best elevator pitch at the Bob Mark competition last fall.
Read more at the Pavlis Honors College Blog, by Amy Karagiannakis.