By Amy Karagiannakis
Six undergraduate student teams from Michigan Technological University traveled to Central Michigan University (CMU) to compete in the eighth annual New Venture Competition held Friday, April 13. The event was co-sponsored by Michigan Tech's Innovation Center for Entrepreneurship (ICE). Student teams from Michigan Tech and CMU presented business plans and pitches to panels of experienced entrepreneurs. Four of Michigan Tech's six competing teams took home cash and in-kind awards.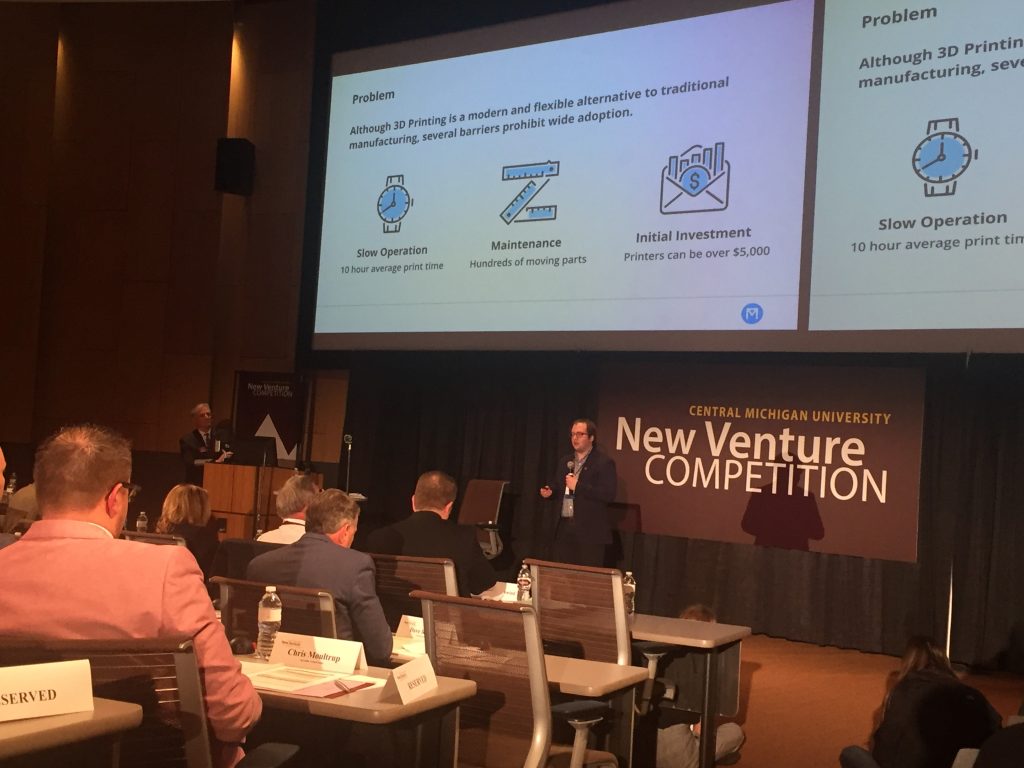 Team Makerhub led by Cedric Kennedy (business administration and management '16) and Adam Weber (computer network and system administration) won the Korson Family Highest Growth Potential award and $10,000. Makerhub crowdsources 3-D printers in order to fulfill the need for 3-D printed parts. When asked what's next for Makerhub, Weber shared, "Right now, Makerhub is being tested in a private beta with a large handful of users. The prize money will be used to accelerate the development process and release it to the general public very soon."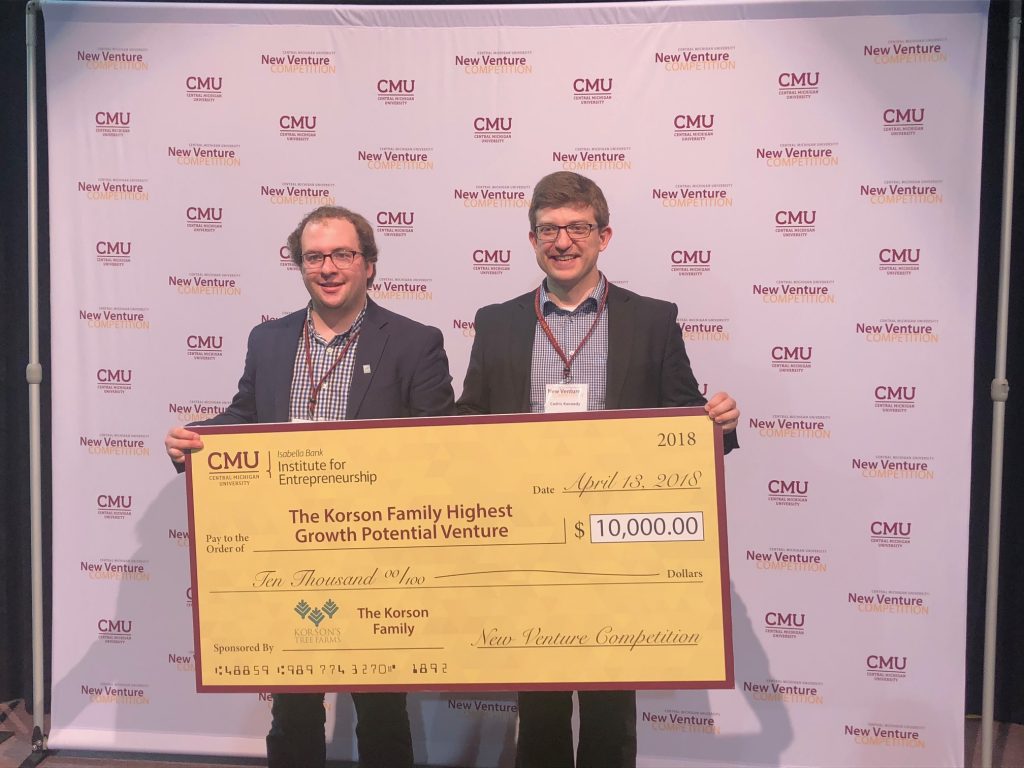 Team Fitstop took first place in the pitch competition and was awarded $1,000. Fitstop founders, Gabe Giddings (computer science) and Jacob Carley (electrical engineering), participated in Michigan Tech's I-Corps Site Program in January. Directed by Mary Raber, assistant dean of Pavlis Honors College, I-Corps is a team-based program structure that was developed through a partnership between the National Science Foundation (NSF) and Silicon Valley entrepreneurs. The workshop provides an introduction to the Lean Start-up business development methodology, which focuses on getting out of the lab and using the tools of customer discovery and the business model canvas to evaluate the commercial potential of innovative technologies. Jim Baker, executive director of innovation and industry engagement at Michigan Tech served as mentor for Fitstop's participation in the competition. "Gabe and Jake have worked hard on engagement with customers, including gym owners and travelers seeking a better workout experience on the road. Understanding the needs of both customer segments has been very helpful in presenting a compelling value proposition that translates into a very effective pitch, as shown by this award," noted Baker.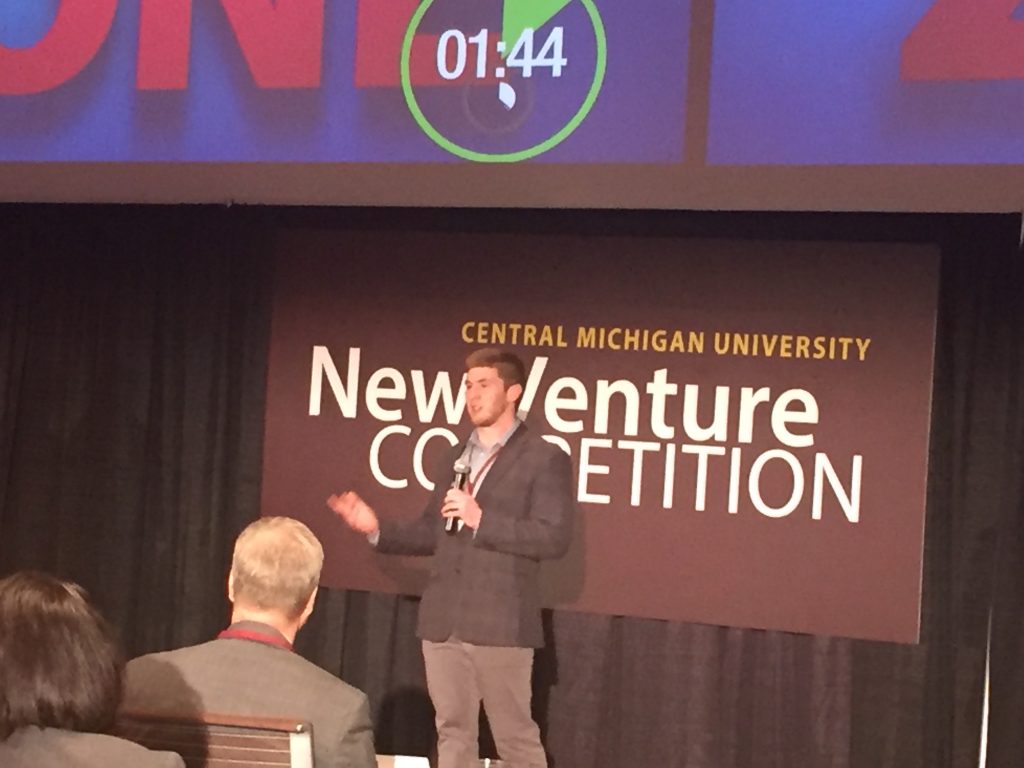 The core themes of CMU's New Venture Competition are the hands-on approach to proving that a product works and providing a business model that demonstrates an understanding of concepts that attract investors and customers. Pavlis Honors College student Kyle Ludwig won the $250 Audience Choice Award in the pitch component of the competition for his startup Looma. In addition, Looma was also awarded $1,500 in legal assistance from Foster Swift. Ludwig also participated in Michigan Tech's I-Corps Site Workshop and found it to be very helpful in developing Looma's business plan. "The I-Corp Site Program at Michigan Tech helped me realize the direction for my business by introducing me to processes which inspire product development around the customer," shared Ludwig.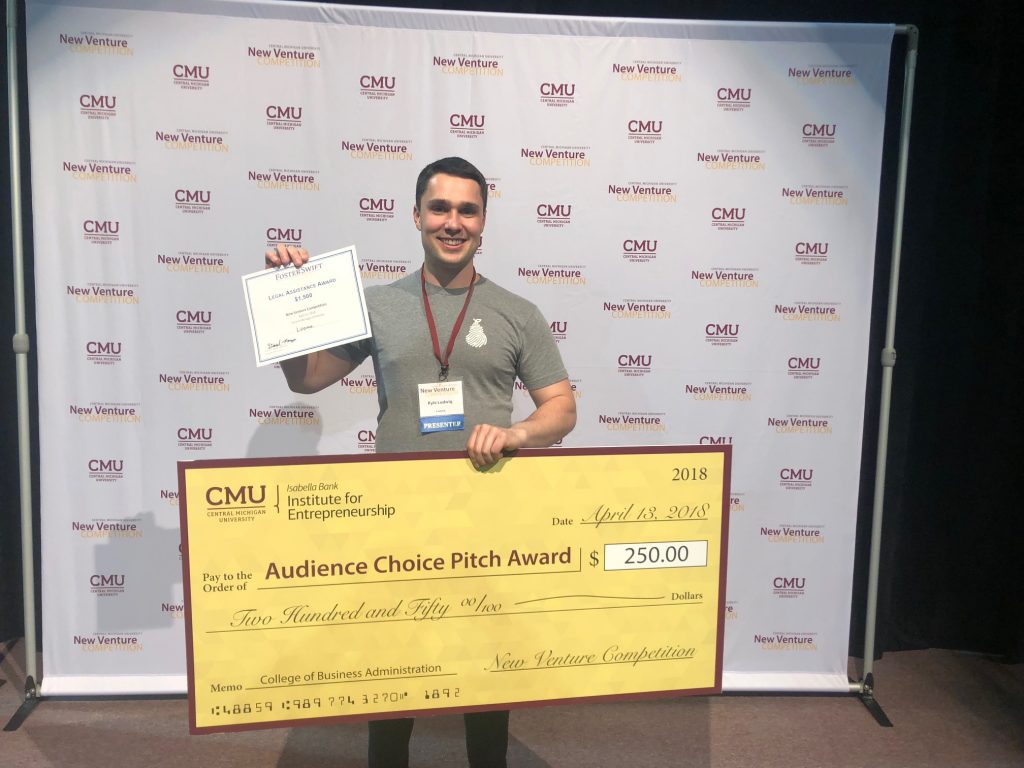 Michigan Tech's Hinge was awarded second runner up in the pitch component of the competition and $250. Isaiah Pfund (mechanical engineering), Jack Horrigan (electrical engineering), and Tanner Sheahan (chemical engineering), of Hinge, participated in the Michigan Tech Consumer Products Challenge last January and are working on a self-sanitizing toilet as well as other consumer and industrial product ideas. Horrigan and Pfund were also winners of best elevator pitch at the Bob Mark competition last fall.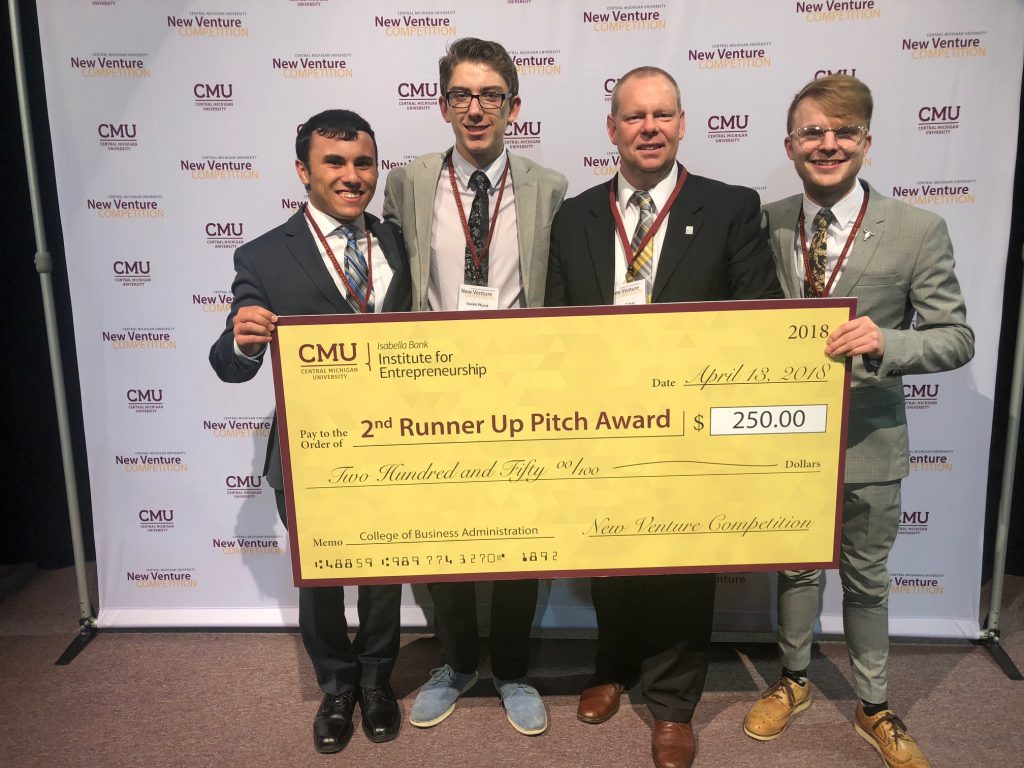 This is the eighth year of the New Venture competition and the seventh year of Michigan Tech's partnership with CMU. Last year, Michigan Tech students Nick Dubiel and Morgan Crocker won Best Overall Venture, which came with $30,000 and a year of mentoring support from Blue Water Angels in Midland for their product The Metaloid.
Michigan Tech's Innovation Center for Entrepreneurship (ICE) within the Pavlis Honors College continues to be an excellent resource for students looking to start their own business or bring new ideas and concepts to the next stage of development. The mission of the center is to harness the potential of the Michigan Tech campus community to innovate, develop, and implement ideas and inventions by building and maintaining a strong and integrated ecosystem with a cohesive set of entrepreneurial and innovation resources to enable success. Students interested in innovating, developing, and implementing their ideas and inventions are encouraged to visit the Pavlis Honors College (M&M 722) to learn more about ICE and the resources available to them. A schedule of upcoming student innovator and entrepreneur competitions, in order of registration deadlines, can be found on our website.