By Amy Karagiannakis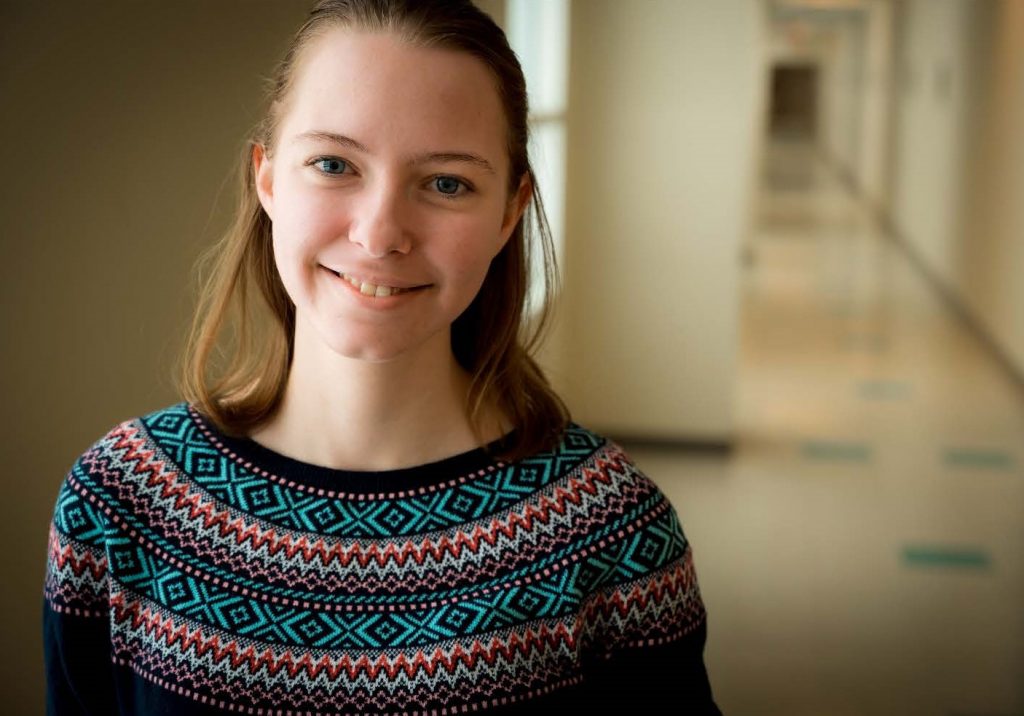 Within one year of undergraduate research at Michigan Tech, Tessa Steenwinkel went from assisting in Dr. Thomas Werner's genetics lab to co-authoring his book. Tessa started at Michigan Tech in the fall of 2017. She is majoring in Biochemistry and Molecular Biology-Biological Sciences with a minor in Pharmaceutical Chemistry. Originally from the Netherlands, Tessa has lived in the United States since she was 12 years old. Growing up with a brother who has Down Syndrome drew Tessa to science at a very young age. Her desire to explain to her peers why and how her brother was different led to a later interest in fertility and early development.
She met Dr. Werner as a high school student visiting Tech during Preview Day weekend. He opened up his genetics lab for tours, and Tessa knew then that she wanted to be a part of his research team. She followed up the campus visit with an email to Dr. Werner requesting a copy of his book and inquired as to if there was possibly an opening on his research team for the 2017-18 academic year. Tessa has been part of Dr. Werner's research team since her first day on campus as a husky.
She started in the fall of 2017 washing lab equipment, quickly transitioned to a research assistant, and then laboratory manager. Biologists use fruit flies to study wing spots, metabolism, and aging. This is important because the same genes and major metabolic pathways in fruit flies affect cancer and other diseases in humans. Dr. Werner's book, Drosophilids of the Midwest and Northeast, is a field guide to the drosophilid species of fruit flies in the region that provides some insight into their biology and importance. His intention was to introduce researchers, teachers, and young students to these amazing flies and the diversity of their potential use in research. That's where Tessa's contribution to the book comes in.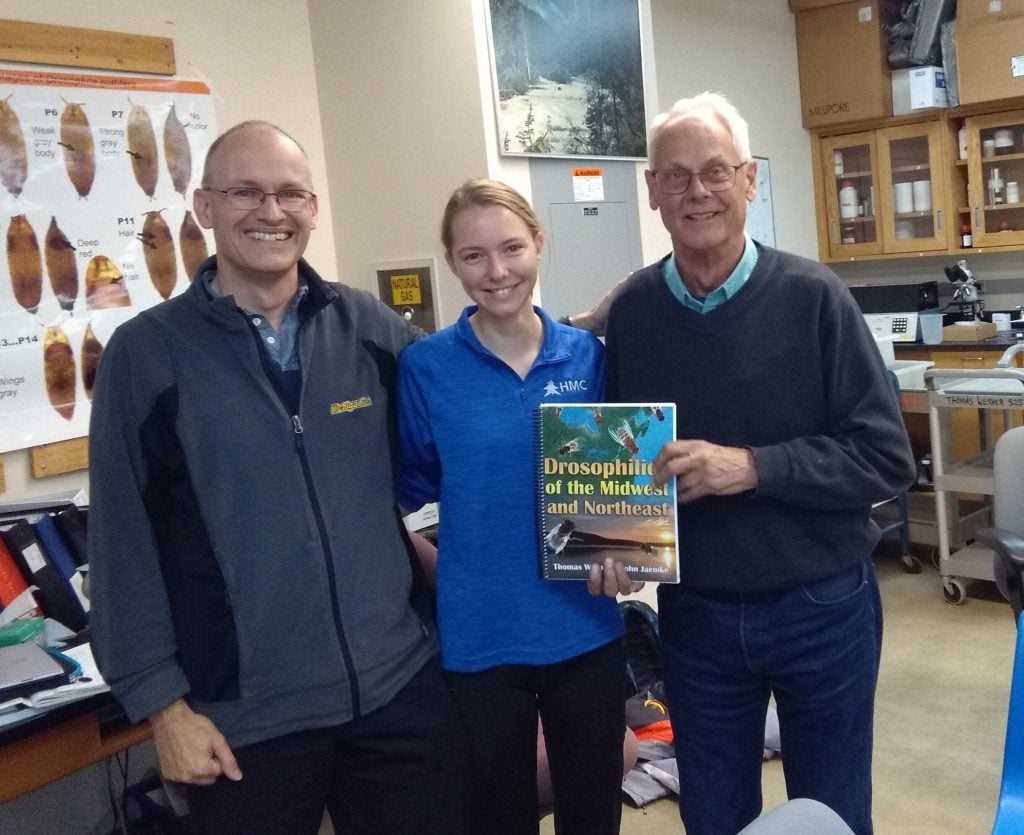 The second version of Werner's book was published in 2018 with an interesting new chapter. Tessa wrote a children's bedtime story about fruit flies that is now included at the end of the book. Now, rather than just being a scientific field guide, Drosophilids of the Midwest and Northeast includes a significant outreach component that hopefully speaks to young children and gets them excited about science and nature. The book and a beautiful poster can be downloaded for free here.
Tessa became the first recipient of the Soyring Foundation Scholarship last Spring. John Soyring, Tech alumnus and Pavlis Honors College External Advisory Board member, established the new scholarship through a generous gift that awards one deserving student $1000 each year. The scholarship is available exclusively to Pavlis Honors students expressing interest in research and innovation related to water quality management, renewable energy, or solutions to prevent and cure cancer. Tessa was awarded the scholarship this past fall semester for her research in Dr. Werner's lab.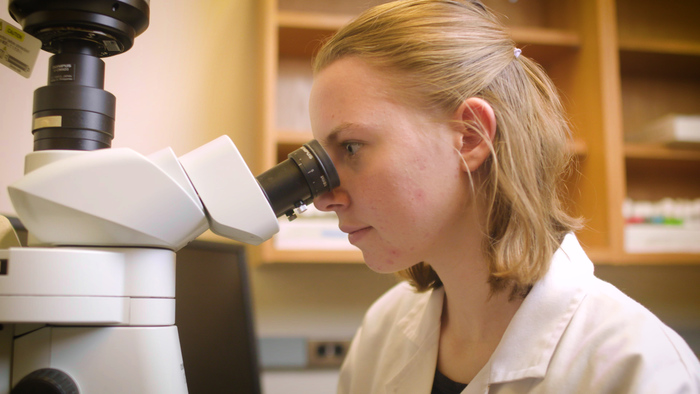 Tessa is a Pavlis Honors student in the Research Scholars pathway. Last summer, Tessa completed her immersion experience here at Tech on a research project that focused on the evolution of color patterns in animals. Researchers study this because the genes that control the pigmentation are also some of the key players in cancer growth. The focus of Tessa's research this past summer was to perform transgenics, where they inserted pieces of foreign DNA into fruit fly embryos in order to control those genes. This would give them real causative evidence that these genes play a role in pigmentation in fruit flies.
This past fall, Tessa became the first undergrad in Dr. Werner's lab to start her own research. She was given the autonomy to develop and set up the project for this academic year herself. Over the last few decades, we have seen a dramatic increase in diseases such as obesity and diabetes, which have long been linked to misregulation of what is known as the metabolic mTOR pathway. Currently, Tessa is looking at four diverse fruit fly species all with their own feeding patterns and preferences and the effect of different types of nutrition on their fecundity (number of offspring) and life expectancy.
When Tessa is not hard at work in Dr. Werner's genetics lab, you can probably find her at Mont Ripley teaching local elementary school kids to ski, or in her dorm with a book or a knitting project and some tea. Tessa also enjoys playing tennis with the Michigan Tech Tennis Club and going on walks along the Portage.