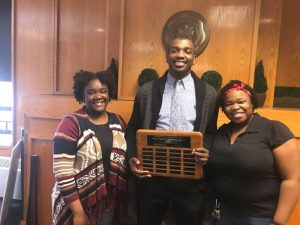 Outstanding students, staff and a special alumna were honored Friday, April 20, at Michigan Tech's 24th Annual Student Leadership Awards Ceremony. The event's keynote speaker, Captain Amanda (Taylor) Nerg '10, was also the winner of the 2018 Outstanding Young Alumna Award. Captain Nerg earned a bachelor's in business administration at Michigan Tech and is currently the Chief of Contracting Office at Morón Air Base in Spain, where she supports multiple Air Force, Marine and NATO missions.
Nerg says Tech helped her discover who she wanted to be, "Everything you do and have done at this University has shaped you into who you are today. Aspire to be your best and do your job with integrity and passion," she says.
The President's Award for Leadership, perhaps the most prestigious undergraduate award, was presented to Sarah Jo Martens, who is pursuing a degree in Environmental Engineering. Her nominators cited Martens' numerous accomplishments including serving as President of Blue Key Honor Society, Campus Tour Guide, Orientation Team Leader and co-section Leader of the Huskies Pep Band. Martens has also played an important role in the Michigan Tech Theatre Company, having taken part in seven productions.
Gina Roose was the recipient of the Vice President for Student Affairs and Advancement Award for Service, Hossein Tavakoli received the Exceptional Leadership in Student Governance Award. The Exceptional Enthusiasm as Student Leader Award was presented to Nathan Shaiyen and the Student Employee of the Year was awarded to Madison Olmstead.
The Rising Star of the Year, presented to a first or second year student showing great potential for leadership, was awarded to Gi West. Erica Coscarelli was named Outstanding Future Alumna and Brendan Beecham was named Outstanding Future Alumnus. These awards are presented to a student living the Alumni Board of Director's motto of "Celebrating Traditions, Creating Connections."
Other awards handed out included:
Exceptional Program of the Year: Undergraduate Student Government's Snowman Left Behind
Most Improved Student Organization: Indian Students' Association
Exceptional Community Service Project: Order of Omega – Fall & Spring Blood Drives
Claire M. Donovan Award: Hossein Tavakoli
Student Organization of the Year: Mind Trekkers
Student Organization Advisor of the Year: Ellen Horsch, Alpha Gamma Delta
The Provost's Award for Scholarship was selected from the Departmental Scholars. This year's recipient was Dillon Babcock, Departmental Scholar from Mechanical Engineering – Engineering Mechanics.
Award recipients who received their awards at previous ceremonies were also recognized Friday. They include:
Percy Julian Award: Logan McMillan
Exceptional Graduate Student Leader: William Lytle, PhD Student, Social Sciences Department
Exceptional Graduate Student Scholar: Haihang Ye, PhD Student, Chemistry
Exceptional Graduate Mentor: Chelsea Shelly, Associate Professor, Social Sciences Department and Kathleen E.
By Student Activities.
Related: 
Pavlis Students Recognized at 24th Annual Student Leadership Awards