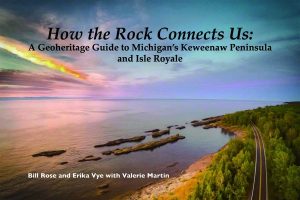 Erika Vye and Bill Rose will give a presentation on how Isle Royale and the Keweenaw Peninsula have a rich cultural, industrial, and mining heritage, all connected by their geologic underpinnings.
The topics are showcased in their new book, How the Rock Connects Us: A Geoheritage Guide to Michigan's Keweenaw Peninsula and Isle Royale, published by the Isle Royale Natural History Association, Incorporated, Nov 24, 2017 – 64 pages. ISBN 0935289216, 9780935289213
Interested in exploring the geology of the Keweenaw and Isle Royale this summer? Join Erika Vye and Bill Rose to learn about exciting geosites in our area, upcoming tours, and how to navigate their new geoheritage field guide. Daniel Lizzadro-McPherson will also join to showcase a Story Map he developed highlighting Isle Royale geology during a National Park Service Geoscientist in the Park internship. The book will be available for sale, and proceeds from this sale will support library services.
This event is sponsored by the Friends of the Calumet Public Library.
The book signing and presentation will take place at on Wednesday, June 27, 2018, from 6:30 to 8 p.m. at the Calumet Public Library.
Calumet Public Library
57070 Mine St.
Calumet, MI
906-337-0311 ext. 1107
clkschools.org/library