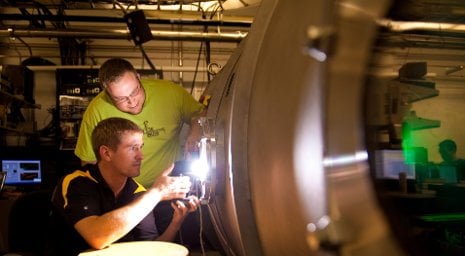 The National Science Foundation (NSF) has released its annual research spending report, and Michigan Tech has moved up in its rankings. Of 634 institutions that received research funding in 2014, Tech received $68.5 million, ranking 163rd overall nationwide. The University ranked 117th among public institutions. Mechanical engineering research at Tech received $13.1 million in research funding, ranking 19th in the nation. Atmospheric science—a new interdisciplinary category—received $3.1 million and ranked 34th.
14 Disciplines in Top 100
Fourteen disciplines at Michigan Tech ranked in the top 100 for research spending.  They are:
atmospheric science (34th)
business and management (76th)
biomedical engineering (94th)
chemical engineering (90th)
civil engineering (89th)
electrical engineering (62nd)
environmental science (52nd)
humanities (94th)
mechanical engineering (19th)
metallurgical and materials engineering (58th)
mathematical sciences (88th)
oceanography (56th)
overall engineering (84th)
visual and performing arts (85th).
"The research funding environment is increasingly competitive, and our improvement in overall ranking, as well as the increases in last year's funding that will impact future rankings, all indicate the exceptional efforts of our faculty, staff, and students," said David Reed, vice president for research.
NSF ranks research activities by discipline, not by organizational structure, Reed pointed out, so the spending in some of Tech's institutes and centers, such as the Michigan Tech Research Institute, the Keweenaw Research Center and the Great Lakes Research Center, are included with the appropriate academic departments rather than reported separately.
(This article originally appeared in Tech Today.)