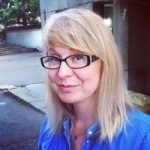 There will be a poetry reading by Saara Raappana and reception held from 5 to 7 p.m. Thursday, March 30 in Walker 134. Raappana will read new and selected poems, share anecdotes about ice fishing and rhapsodize about Trenary Toast.
Raappana is the author of the poetry chapbooks "A Story of America Goes Walking."
There will be a screening of selected works from recent seasons of Motionpoems and reception from 5 to 7 p.m. Friday, March 31 in Walker 134.
Motionpoems, a non-profit arts organization, brings the work of inspired contemporary poets to the screen through collaborations with talented emerging filmmakers. The results are poignant, heart-wrenching, uplifting and not to be missed.