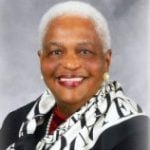 Michigan Tech Humanities Professor Emerita Glenda Gill passed away Jan. 27, in Huntsville, Alabama at the age of 78. Gill, who taught at Michigan Tech from 1990 until her retirement in 2006, was a well-respected drama instructor and theatre historian.
Born in Clarksville, Tennessee and raised in Normal, Alabama, Gill graduated from Alabama A&M University, received her MA from Wisconsin-Madison and earned her PhD in English and Theatre from the University of Iowa. She focused much of her research on the dynamics of race, gender and class and how they intersect with the African-American in the performing arts, especially in non-traditional roles.
Gill was promoted to associate professor with tenure in 1993 and to full professor in 2000. Former Michigan Tech Provost Max Seel was dean of the College of Sciences and Arts during this time. "Our tenure and promotion process is a vigorous one," Seel says. "Being tenured and promoted is a recognition of hard work well done. Dr. Gill was recognized for her effectiveness in the classroom, her achievements in research and in her professional field and her overall contributions to our University's  programs. May she rest in peace."
Prior to her arrival at Michigan Tech Gill was head of Tuskegee University's Department of English. A particular area of expertise focused on African-American actors in Shakespearian roles. Gill was frequently published and often cited in theatre journals. She is the author of "White Grease Paint on Black Performers: A Study of the Federal Theatre, 1935-1939," "No Surrender! No Retreat! African American Pioneer Performers of Twentieth-Century American Theatre" and "The Transforming Power of Performing the Classics in Chocolate, 1949-1954."
In 2011, she was the subject of an extensive Q&A profile in the American Society for Theatre Research website. Also in 2011, she was inducted into the Consortium of Doctors, a group of African American women who have completed doctoral degrees and have made extraordinary contributions to society.
Her awards and accolades included fellowships from the Rockefeller Foundation, the Smithsonian Institution and the National Endowment for the Humanities. She was a recipient of a Michigan Tech Faculty Grant Scholarship Award in the 1999-2000 academic year.
Funeral services for Professor Glenda Gill were held on February 6th at the First Missionary Baptist Church with burial in Oakwood Memorial Gardens, both in Huntsville, Alabama.